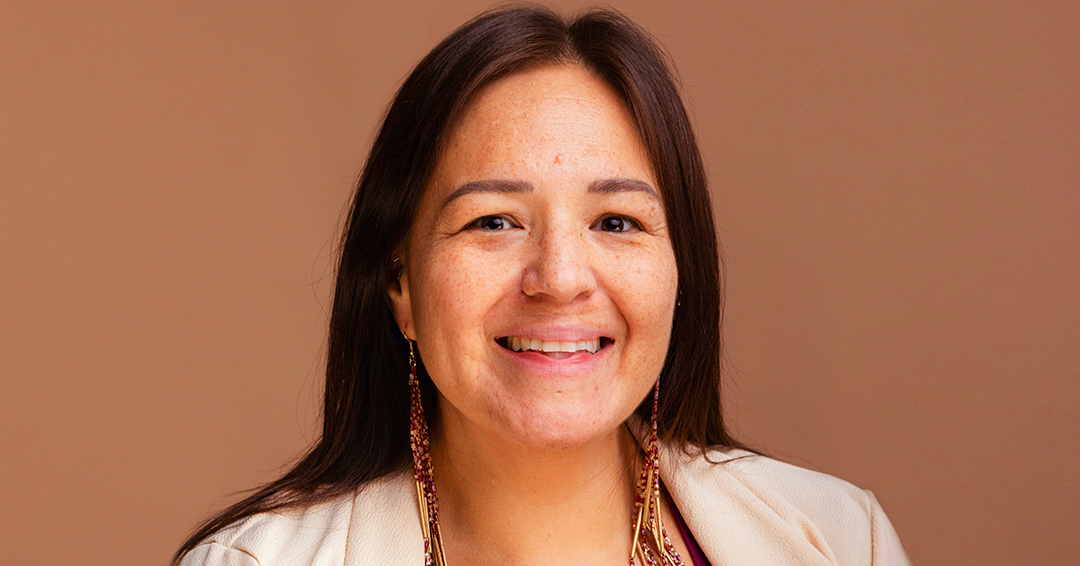 We are pleased to announce the appointment of Sarah Konwahahawi Rourke, Ed.D., as Director, Indigenous Health Professions Program (IHPP), Faculty of Medicine and Health Sciences (FMHS), McGill University. Ms. Rourke succeeds Kent Saylor, MD, who was the inaugural director of the IHPP when it launched in 2017. Ms. Rourke, a member of the Akwesasne Mohawk Nation, will lead the IHPP in the ongoing implementation and evolution of its long-term action plan to increase the number of Indigenous students in all health-related professional programs. Her work will be based on needs and priorities identified by Indigenous communities, in particular within the McGill Réseau Universitaire Intégré de Santé et Services Sociaux. She is also appointed as a part-time Faculty Lecturer in the Department of Family Medicine.
Ms. Rourke brings more than 15 years' experience to her new role. She has worked with traditional knowledge holders, teachers and elders, and has extensive expertise in strategic planning, policy development and representing Indigenous communities. She has a Master's in Educational Leadership from St. Lawrence University, Canton, NY. Last year she completed the Executive Leadership Doctoral Program in Social Justice at St. John Fisher College, Syracuse, NY.
From 2016 to 2018, Ms. Rourke was the Ontario Community Liaison (Community Outreach and Support Services) for the National Inquiry into Murdered and Missing Indigenous Women and Girls. In this role, she provided trauma-informed support to family members and survivors. She was also responsible for strategic planning of the Community Hearings, statement gathering and expert knowledge-holder hearings.
Since early 2020, Ms. Rourke has been a consultant for Rematriation Magazine and the non-profit Kanenhí:io Iokwaiénthos-Sisterhood Gatherings, part of the Native North American Travelling College (NNATC), a cultural educational institution and organization promoting and preserving Kanien'keha (Mohawk) culture and traditions. From 2014 to 2016, she served as NNATC's Executive Director, and was responsible for operations, site management and development, partnerships with community organizations and cultural workshops.
Previously, Ms. Rourke held several positions in the Akwesasne community, including Community Educator for an HIV/AIDS Education Program and Junior Policy Analyst for the Nation Building Program, Mohawk Council of Akwesasne. There she gained knowledge about self-governance, Indigenous rights and negotiations with Indian and Northern Affairs Canada (now replaced by two departments, Crown-Indigenous Relations and Northern Affairs Canada and Indigenous Services Canada) on governance and land jurisdiction.
In 2021, Ms. Rourke was a panellist at the UN Food Systems Summit-Indigenous Youth Global Declaration on Sustainable and Resilient Food Systems. She currently serves on the Akwesasne Cultural Center Board of Directors, and has been an Indigenous Young Women's Council Youth Mentor/Auntie and Global Indigenous Youth Caucus Mentor for more than 10 years.
In her new role, Ms. Rourke will report to the Dean of the FMHS and develop and implement an FMHS Indigenous Strategic Plan to support all prospective and current Indigenous students, faculty and staff. She will oversee development and delivery of outreach programs to Indigenous communities to attract promising First Nations, Métis and Inuit students to apply to the FMHS and other faculties with health-related programs.
Ms. Rourke will provide support to Indigenous students from pre-admission to post-university, identify and foster relationships with Indigenous alumni, and provide support and guidance in the development of Indigenous health teaching curricula. She will also identify areas of alignment with the Truth and Reconciliation Commission Calls to Action, and act as the Faculty's liaison with the Elder in Residence.
Please join us in welcoming Ms. Rourke to the McGill community and congratulating her on this appointment. We wish her every success in her new role.
David Eidelman, MDCM

Vice-Principal (Health Affairs) Dean of the Faculty of Medicine & Health Sciences

Lesley Fellows, MD, PhD

Vice-Dean, Academic Affairs