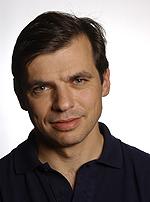 It is our pleasure to announce the appointment of Dr. Benoît Gallix to the position of Chair of the Department of Diagnostic Radiology, Faculty of Medicine, McGill University. Dr. Gallix replaces Dr. Robert Lisbona who has served in this role since 1998. We take this opportunity to thank Dr. Lisbona for his distinguished leadership as Chair over the course of the past fifteen years.
Dr. Gallix brings a wealth of leadership experience to the Faculty, having previously served in a variety of senior positions. Dr. Gallix has been Chairman of the Saint-Eloi Hospital Department of Medical Imaging in Montpelier (France), as well as the hospital's Chief of its Interventional Radiology Unit. He has been both the Director of the Medical Imaging Residency Program and the Vice-Dean for International Affairs of the Faculty of Medicine at the Medical College of Montpellier, and has been an elected member of the college's administrative board.
Dr. Gallix is Professor of Radiology and Medicine. After completing Medical School and his Radiology Residency at the University of Montpellier in 1995, he joined McGill in the Department of Medical Imaging for a clinical fellowship in abdominal imaging as well as a subsequent turn as a Visiting Professor within McGill's Department of Radiology. He then returned to the Montpellier University Hospital and Medical School, where he remained for 15 years, during which time he was appointed full time professor (tenured) in 2006.
Dr. Gallix's work has focused on abdominal imaging, both diagnostic and interventional, with a special interest in liver cancer. His main interest is developing new imaging techniques for the detection of cancer, as well as methods to assess early response of tumours to treatment.
Dr. Gallix has over 100 peer-reviewed articles, book chapters, reviews and editorials to his name. He has been an invited lecturer at numerous events across the world. Among his honours, awards and associations, Dr. Gallix was awarded the fourth prize as a laureate of the Medical College of Montpellier in 1989.
As Chair of McGill's Department of Diagnostic Radiology, Dr. Gallix will work to further the successful teaching programs and to help develop and refocus the research program, such that the Department will be firmly entrenched as a leader in its field.
Please join us in welcoming Dr. Benoît Gallix to his new position and in wishing him the greatest success in building on the Department's excellence and enhancing its national and international reputation.
David Eidelman, MDCM

Vice-Principal (Health Affairs)

Dean of the Faculty of Medicine
Mara Ludwig, MD

Associate Dean, Faculty Affairs
June 14, 2013