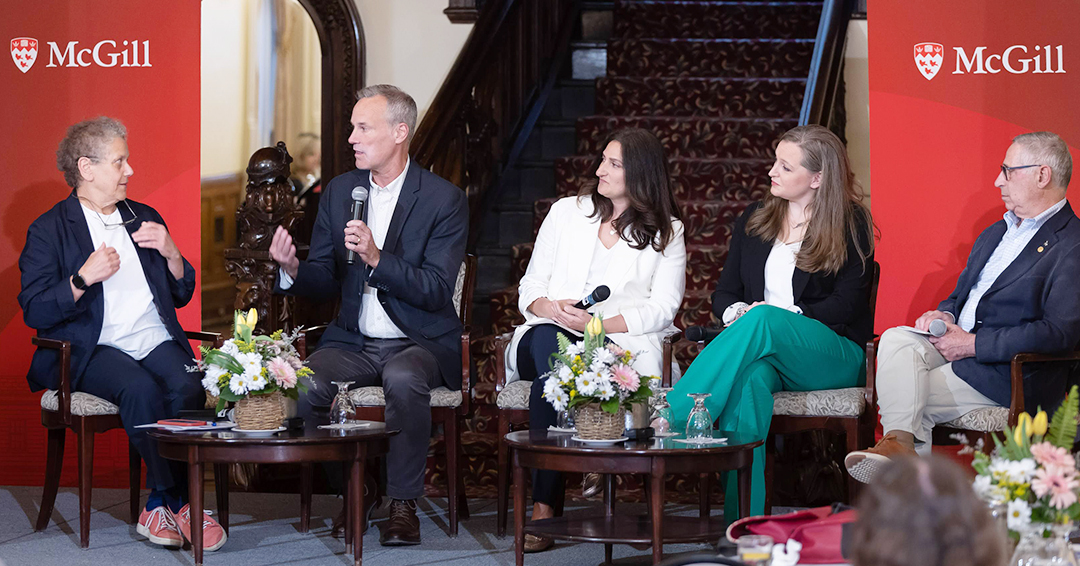 IHSE explores the future of research in the field at community event, bestows inaugural IHSE Research and Scholarship Catalyst Award upon Aliki Thomas 
At a time of enormous change, McGill's Institute of Health Sciences Education (IHSE) focused firmly on the future at a community event on May 10, 2023.  
More than 60 scholars, graduate students, clinicians, staff, donors and friends gathered at the McGill Faculty Club to engage in a dialogue about the future of health sciences education (HSE) research, with insights from leading experts from the IHSE, the Steinberg Centre for Simulation and Interactive Learning (SCSIL), and Western University's Centre for Education Research and Innovation.  
From reckoning with AI to empathy in education
One highlight was a panel on the future of HSE research, moderated by Linda Snell, MD, MHPE, Faculty Member at the IHSE and Professor of Medicine and Health Sciences Education at McGill University. The panel featured a lively and evocative conversation with the following scholars, clinician-educators and thought leaders:
Christopher J. Watling, MD, MMEd, PhD, Director, Centre for Education Research and Innovation and Professor, Departments of Clinical Neurological Sciences, Oncology and Family Medicine in the Schulich School of Medicine & Dentistry at Western University, and visiting scholar at the IHSE 
Joanne Alfieri, MMEd, MDCM, Assistant Dean, Curricula, Postgraduate Medical Education and Associate Member of the IHSE  
Meredith Young, PhD, Associate Director, Research and Associate Professor at the IHSE 
Gerald Fried, MDCM, Associate Dean, Education Technology and Innovation, Director of the SCSIL, Department of Surgery, and Associate Member of the IHSE 
The panellists discussed looming opportunities and challenges and called for research on how technological innovations like artificial intelligence, virtual healthcare practice and electronic records, advances in simulation and online education will change healthcare delivery and education.  
The panel also emphasized the need for practitioners to become lifelong learners, think critically and navigate rapid change. The importance of equity, diversity and inclusion and the urgency of preparing empathic healthcare providers were also highlighted, as were the democratization of patient care, rising rates of burnout among health professionals and the need to think from a systems perspective.  
Showcasing future leaders at the IHSE
The event underscored the IHSE's potential to shape the future of HSE research through its graduate programs.  
 "We already have 10 illustrious PhD students in our community, with three new students to join us next September," said Peter Nugus, PhD, Associate Director of Graduate Programs at the IHSE. "These people are incredibly accomplished, and they come from highly diverse backgrounds and disciplines." 
The IHSE's current PhD students all presented their work to guests through a series of posters. "When I look at the projects that our PhD and postdoctoral fellows are working on," observed IHSE Director Elizabeth Anne Kinsella, PhD, "I believe we are at the cutting edge of the field and are moving toward the realization of a living lab, where educational practice feeds into research, and where research findings feed back into educational practice." 
Achievements rooted in past successes 
Also speaking at the event, David Eidelman, MDCM, Vice-Principal of Health Affairs and Dean of the Faculty of Medicine and Health Sciences, said that advancing HSE research at this dynamic moment would require "bold moves". He invited attendees to consider how their research can change how health professionals are educated.  
The event was one of Dr. Eidelman's final speaking engagements during his mandate as Dean, which ends on July 31.    
"This success of the Institute of Health Sciences Education is just an example of the kind of positive reinforcement you get when you do a job like this," he said. "So, thank you for giving me that thrill." 
Prof. Kinsella noted: "Dean David Eidelman has been a true champion of educational research. He has consistently encouraged us to expand our reach, to take risks, to be creative, and to think outside of the box." 
Later, Yvonne Steinert, PhD, Founding Director of the IHSE and former Director of the Centre for Medical Education, celebrated the contributions of the IHSE community and its supporters.  
"Our future is rooted in the people who have dedicated themselves to health sciences education, and health sciences education research, with their passion, with their commitment, with their dedication and their vision," she said.  
A new award for a valued IHSE member 
The evening concluded with the presentation of the inaugural IHSE Research and Scholarship Catalyst Award to Aliki Thomas, PhD, OT (c), erg., Associate Member of the IHSE and Associate Professor at the School of Physical and Occupational Therapy. 
The award recognizes faculty members who show commitment to catalyzing, supporting and facilitating HSE research and scholarship. Presenting the award, Donald Boudreau, MD, Associate Professor at the IHSE, said it honours someone who "builds our community and waves our flag." Prof. Thomas called the award "truly an incredible honour".  
"I have been a member of the IHSE since 2011 and have witnessed first-hand the commitment of its members to HSE scholarship. This is a true community of practice that has, in more ways than I can count, helped contribute to my successes." 
Exciting and transformative moment 
Closing the event, Prof. Kinsella said: "It's clear that we are in an exciting and transformative moment for the future of health sciences education research, and I believe that the IHSE is uniquely positioned to be at the forefront of addressing the challenges of this time." 
"I'm excited to see how we can continue to work toward the expansion of educational research in the years ahead," she concluded. 
To find out more about HSE scholarship at McGill, visit the IHSE website.  
Photos by Owen Egan and Joni Dufour