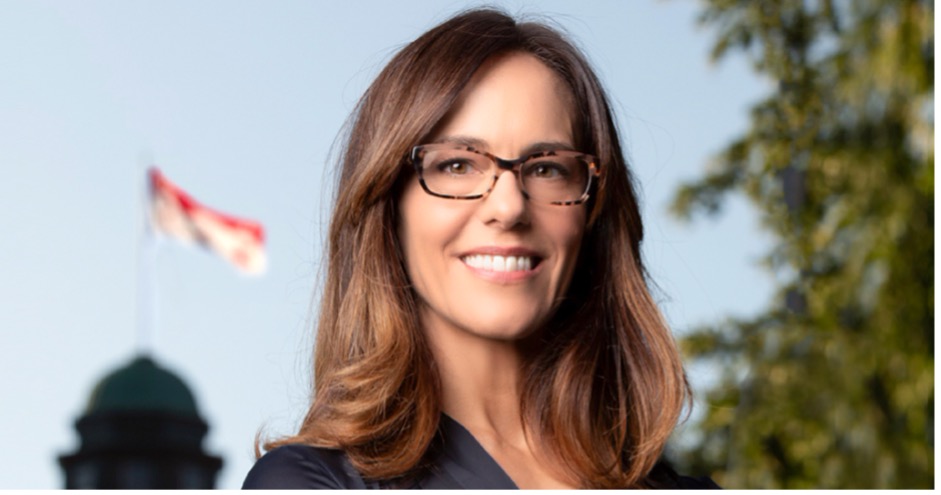 We are pleased to announce the appointment of Amélie Quesnel-Vallée, PhD, as inaugural Chair of the Department of Equity, Ethics and Policy (DEEP), School of Population and Global Health (SPGH), Faculty of Medicine and Health Sciences at McGill University, effective May 1, 2023. We would also like to thank Arijit Nandi, PhD, for serving as interim Chair of the Department since its creation.
Prof. Quesnel-Vallée is a medical sociologist who holds a BSc and MSc in Sociology from Université de Montréal, and a PhD in Sociology from Duke University. She completed postdoctoral training in the Department of Epidemiology, Biostatistics and Occupational Health (EBOH) at McGill.
Since 2019, Prof. Quesnel-Vallée has held joint appointments as Professor in the Department of Sociology and the Department of EBOH at McGill. In her new role as Chair, DEEP, she will hold a joint appointment as Professor in DEEP and in the Department of Sociology. She will continue to serve as an Associate Member in the Department of Family Medicine and will be an Associate Member in the Department of EBOH.
Prof. Quesnel-Vallée holds the Canada Research Chair (CRC) in Policies and Health Inequalities (2015-2025) from the Canadian Institutes of Health Research (CIHR), a rare achievement in her discipline, as she is one of only two sociologists to hold a CIHR CRC. DEEP is a resolutely multidisciplinary department, and Prof. Quesnel-Vallée will bring her experience of interdisciplinary scholarship in support of this mandate, as she has collaborated with biologists, biostatisticians, economists, political scientists, psychologists and social work scholars. Her research has appeared in journals such as The Lancet, the British Journal of Psychiatry, the Canadian Medical Association Journal, the International Journal of Epidemiology and Social Science & Medicine. She enjoys international recognition with awards from the American Public Health Association, the Population Association of America, the American Sociological Association and the Fulbright Foundation, among others. She was a visiting researcher at the Aging Research Center at Karolinska Institutet in Sweden and at Imperial College London in the UK.
Committed to educational excellence, Prof. Quesnel-Vallée received in 2021 the Faculty of Arts H. Noel Fieldhouse Distinguished Teaching Award. She drove pedagogical innovation by creating and directing a cutting-edge training program developed in partnership with decision-makers in private, non-profit, and governmental organizations. This program, the Consortium on Analytics for Data-Driven Decision Making (CAnD3), is designed to respond to the demand for data science and applied research skills in population research among these partners, thereby increasing the employment opportunities of our graduates.
Prof. Quesnel-Vallée will bring significant academic leadership experience to this new position. In 2014, she was elected to a four-year term as President of the International Sociological Association Research Committee on the Sociology of Health, and she currently serves as the President of the Canadian Population Society. She has served on Statistics Canada's National Statistics Council (2014-2017) and has been serving on the Governing Council of the CIHR since 2018, notably as a member of the Executive Committee (2021-), Chair of the Standing Committee on Finance (2021-22) and Chair of the Standing Committee on Science (2022-). She has brought this leadership to McGill as well, as founding Director of the McGill Observatory on Health and Social Services Reforms and as co-founder of the Centre on Population Dynamics.
As one of three departments in the SPGH, DEEP is developing an interdisciplinary environment to address the ethical, policy, social, technological, legal and environmental determinants of health and health equity. In her role as Chair of DEEP, Prof. Quesnel-Vallée will develop a clear and collaborative vision for the Department that builds on strong interdisciplinary foundations and complements the broader strategy of the SPGH. She will make recommendations to the Dean on recruitment, academic appointments, promotions and tenure in the Department, and will contribute to SPGH-wide functions related to education, research, partner relations, communications and resource mobilization.
Please join us in congratulating Prof. Quesnel-Vallée and in wishing her every success in this new role.
David Eidelman, MDCM

Vice-Principal (Health Affairs) Dean of the Faculty of Medicine and Health Sciences

Timothy Evans, MD

Inaugural Director & Associate Dean School of Population and Global Health

Lesley Fellows, MDCM

Vice-Dean, Academic Affairs