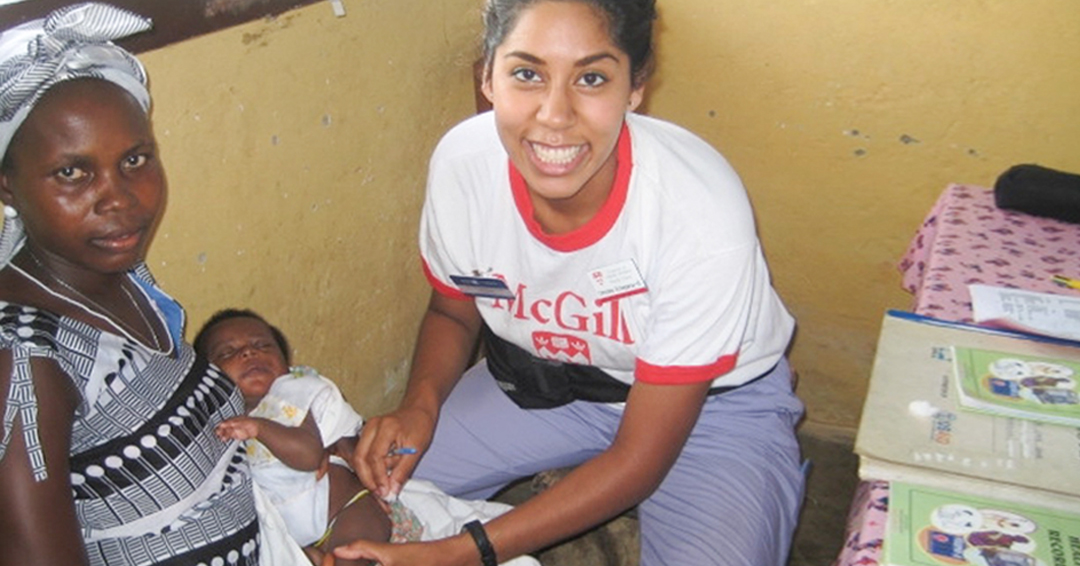 Creating conditions for global health and healing is an important part of the mission of the Ingram School of Nursing (ISoN). In conjunction with World Health Day (April 7), we focus on two popular programs that have provided our students with clinical experiences in global health. Although, unfortunately, both were put on hold in 2020 due to the pandemic, discussions are ongoing about how and when to restart these programs.
From Ghana to Honduras, Northern Quebec or even right here in Montreal and everywhere in between, students at the Ingram School of Nursing have willingly ventured outside their comfort zones.  At the undergraduate level, students who qualified were able complete their final semester clinical consolidation placement outside of the McGill system in the Ambassador Program. At the graduate level, students in the Master's Global Health Concentration completed their clinical placement in healthcare settings that serve equity-deserving populations in Canada and abroad.
Combining theory with clinical placements, the Master's Global Health concentration prepares nurses for the challenges of working with diverse populations in environments with often limited resources.  While it may be surprising to learn that there are equity-deserving populations here in Canada, Assistant Professor Jodi Tuck, Global Health Concentration Lead, explains that global health encompasses the whole world because "the globe is under all of our feet."
The careful development of long-term partnerships is one of the keys to the success of the program. Internationally, ISoN has developed collaborations with partners in countries such as Haiti, Colombia and Tanzania. In Quebec, partners include La Maison Bleue, which serves vulnerable pregnant women and their young children, Les Médecins du monde, and the Algonquin community of Rapid Lake, located in the La Vérendrye Wildlife Reserve. "We try to avoid what's known as medical tourism," says Professor Tuck. "It's the partner organizations who identify their specific needs, and students develop their clinical projects to help meet these needs."
Jessica Sherman was one such student. Although 12 years have passed since her clinical placement in Rapid Lake, she vividly recalls many details about this rewarding experience.  "I learned not to make assumptions about why people behave a certain way. It takes time  to understand each individual's cultural perspective and personal history, but that's how you build trust," she explains. Her educational experiences at ISoN set her on the path to a meaningful career as a community health nurse, where building relationships is an important component of the care she provides.
The Global Health Concentration appeals to students who have a strong interest in equity and social justice as well as the maturity and flexibility to adapt their approaches to complex situations in environments with limited resources. "Our students' initial beliefs are continuously challenged and they learn to develop cultural humility and resourcefulness," explains Professor Tuck. During and after their clinical placements, students are encouraged to debrief and to process what they have learned.
At the undergraduate level, students with a keen interest in global health relish the opportunity to participate in ISoN's Ambassador Program, established in 2006. To date, 204 students have done their final-semester clinical placements in Canada and the US, South America, Europe, Africa, Asia and Australia.
Professor Madeleine Buck, who coordinated the program from its inception until 2019, notes that students must identify their own placements through credible agencies that organize these type of programs, prepare a detailed proposal that includes a comprehensive analysis of the health issues they expect to encounter, and undergo an interview with members of the selection committee. As representatives of McGill, they also must embody ISoN's values of professionalism and resourcefulness. "The selection process is rigorous," Professor Buck admits. "Students have to show what contributions they will make in a low resource setting. They are there to learn, of course, but they can't be a drain on the system."
The program's current coordinator, Assistant Professor Irene Sarasua, notes that cultural humility and openness to other perspectives are equally important criteria. "Our students are not going abroad or into Indigenous communities with the colonial attitude of fixing everything or changing the world. They are there to learn different ways of functioning and creative approaches to managing healthcare situations in different environments." A faculty member provides support to the students and their hosting agencies to ensure a positive experience for all concerned. Students also have the opportunity to debrief upon their return.
While the Ambassador Program consistently receives high marks from students, the experience also is beneficial for the nurses in the settings where the students are placed. "We try to build reciprocity and provide an opportunity for rich cultural exchanges," concludes Professor Sarasua.