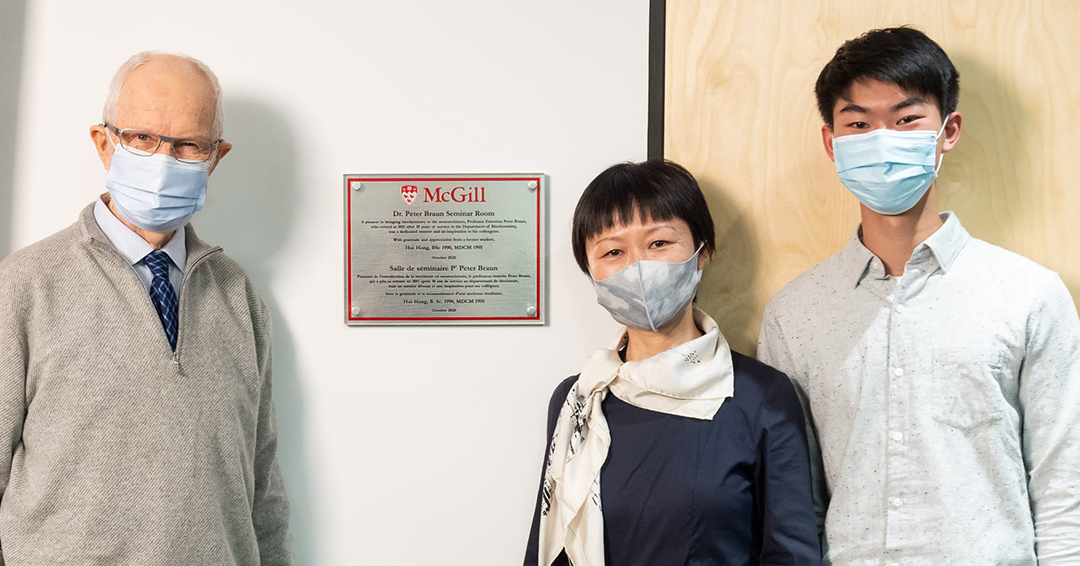 Established by Dr. Hui Hong (BSc'90, MDCM'95), the new Dr. Peter Braun Seminar Room in the McIntyre Medical Building honours a mentor.
"A pioneer in bringing biochemistry to the neurosciences, Professor Emeritus Peter Braun, who retired in 2011 after 38 years of service in the Department of Biochemistry, was a dedicated mentor and an inspiration to his colleagues. With gratitude and appreciation from former student, Hui Hong, BSc 1990, MDCM 1995."
So reads a new plaque in the McIntyre Medical Building.
On April 11, a small group met on the building's third floor for the unveiling of the Dr. Peter Braun Seminar Room.
Dr. Hong was the driving force behind the creation of the multi-use room. The retired internist and geriatrician, who is now a community volunteer for health and education, first met Braun in the early days of her McGill undergraduate degree. Hong hadapproached the professor after a lecture for clarification about the production of adenosine triphosphate, and it led to a chat. "Peter asked me, 'So, who are you? Where do you come from?'" Hong said.
"That's when he found out that I was from Harbin, andhad just arrived at McGill to study and didn't have any family here. As a 20-year-old from China who didn't even speak fluent English yet, it was very hard for me at the time. So, Peter kindly invited me to his house to have my very first Christmas. It warmed my heart."
That first conversation spurred a mentorship that would span Hong's seven years at McGill, first as a Biochemistry major, then as a medical student. Beginning as an undergraduate, she was able to work under Braun in his lab, where she learned the basics of molecular biology.
But when Hong moved to Seattle for an internal medicine residency and then to Los Angeles for a fellowship in geriatrics, they lost touch.
More than two decades would pass before Hong—who eventually settled in Seattle, where she still lives today—would return to Montreal. On a visit in 2017, she tried to locate Braun on McGill's downtown campus, but to no avail. Thankfully, she was directed by someone in the McIntyre to a course coordinator in the Department of Biochemistry, who was able to share Braun's email.
For Hong, reconnecting with her mentor was the final piece in a puzzle. She had been brainstorming ways to demonstrate her appreciation for her education, and the reunion with Braunreminded her of the close connections that had formed the basis of her time at McGill. With these relationships in mind, Hong's visionmaterialized for a seminar room dedicated to her mentor.
"I was made by McGill," said Hong, adding that her McGill degrees opened many doors for her. "I feel very grateful, and I wanted to do something to thank McGill for helping me become a confident and skillful physician in the community."
At the unveiling, Braun noted that there was a long tradition of excellence in mentorship at the Department of Biochemistry. When he first joined the department, he found many sources of inspiration in his fellow faculty members, who helped him develop his teaching style:
"When I came to McGill, almost 50 years ago as a young professor, I received guidance and found role models in the senior people in our department who helped me relate to students and appreciate the role I had to play in their lives and education. This made a big impression on me."
Prof. Albert Berghuis, Chair of the Department of Biochemistry,said: "As a supervisor myself, these stories are so heartwarming. You hear that the little things we do have so many repercussions afterwards. For professors, this is a real lesson in what kind of impact you can have."
Though Hong's donation is inspired by events in her past, it is a gift that looks equally towards the future. "While I was not fortunate enough to have [Prof. Emer.] Braun as a teacher, it's very clear to me that his legacy is one of unreserved passion for teaching and mentoring new scientists and new doctors," said Michael Bellucci (BSc'22), former president of the McGill Biochemistry Undergraduate Society and an MSc student.
Bellucci also explained how the room would benefit students:
"On behalf of all the current undergraduates, as well as future undergraduates who will come into this classroom and learn, I just want to say thank you to both of you. This is the kind of investment that's going to be long lasting for many generations."