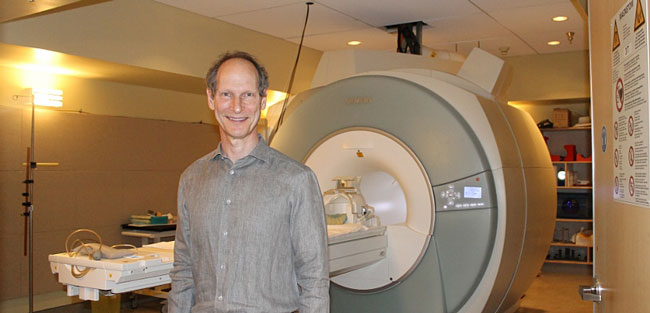 A project led by an MNI researcher has been awarded $6.1 million to study progressive multiple sclerosis.

The International Progressive MS Alliance has awarded three $6.1 million Collaborative Network Award grants for a total investment of $18.4 million toward accelerating the pace of progressive MS research. More than 2.3 million people worldwide live with MS and more than one million of those living with the disease have progressive MS.

Dr. Douglas Arnold
 is principal investigator on one of the projects, leading a team of 16 investigators from The Netherlands, Switzerland, U.K., and U.S. Their project, entitled "Identifying a biomarker of disability progression for use in clinical trials," is pioneering development of magnetic resonance imaging (MRI) markers that signal disease progression; crucial to the development of next generation disease measurement tools.
The research team is adapting these markers for use in early clinical trials of progressive MS treatments, examining the underlying idea that brain injury-associated disease progression in MS is detectable by MRI prior to its identification by physicians in a clinic visit. The study may also inform proactive treatment for people with not-yet-evident progressive MS.

"There is an urgent need for effective therapies for progressive MS," says Arnold. "This project will use sophisticated computerized MRI analysis techniques to develop MRI markers that can be used in early phase (phase 2) clinical trials for progressive MS. This will enable more efficient, less expensive clinical trials, lower the financial risk for drug companies to test potential therapies, and in so doing, facilitate the development of new drugs for progressive MS."

"Finding answers for people with progressive MS is the top Alliance priority," said Cyndi Zagieboylo, Chair of the Alliance Executive Committee and President and CEO of the National MS Society (U.S.), "answers will be found when we ensure that the best and brightest minds in the scientific community work together."

Global collaboration to tackle a major MS question
Up to 65 per cent of those living with relapsing-remitting MS are at risk of developing secondary progressive MS, and 15 per cent are diagnosed with primary progressive MS from the outset – prioritizing the need for both collaboration and accelerated research to end MS. The three funded projects will focus on key priorities in quickly finding answers in relation to treating progressive MS.

The International Progressive MS Alliance is a worldwide collaborative of MS organisations that funds developments in progressive MS research. The awards are multi-year grants that invest significant funding to fuel international networks of researchers that have worked together and demonstrated the potential to make crucial breakthroughs in understanding and treating progressive MS.

Read the MS Alliance announcement
September 23, 2016