Prominent Montreal families come together to fight the pandemic
Source: MUHC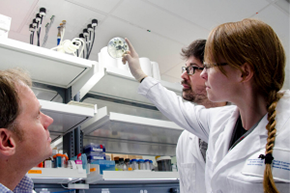 As cases of COVID-19 climb steeply and Quebec society grounds to a near halt, with all but essential services closed for weeks, the need to find treatments and ultimately a cure for the novel coronavirus is growing increasingly urgent.
"The COVID-19 Emergency Fund will allow our hospital and Research Institute to launch new research efforts and match institutional grants for greater impact," says Dr. Pierre Gfeller, President and Executive Director of the MUHC. "These last few weeks, we have been inspired by the mobilization of the global scientific community. Today, we are inspired by the generosity of our own community. Together, we will win this battle against COVID-19."
The gifts from The Hewitt Foundation, the late Elspeth McConnell, and the Trottier Family Foundation will allow the MUHC to rapidly launch critical research projects to end this virus, provide essential resources to isolated patients and support the tireless efforts of its hospital staff.
"Our MUHC teams are the hospital heroes on the front lines of the COVID-19 pandemic. They're caring for patients, leading numerous clinical trials to prevent and cure the virus, and working tirelessly to develop a vaccine," says Julie Quenneville, MUHC Foundation President. "With these significant contributions to the COVID-19 Emergency Fund, we are getting closer to stopping the pandemic."
The MUHC, together in partnership with McGill University, has been at the forefront of the fight against infectious diseases for years. In 2017, the McGill Interdisciplinary Initiative in Infection and Immunity (MI4) brought together over 250 researchers and 5,000 staff to address the threat of infection, and the next global pandemic.
"With the generosity and commitment of our community, our Foundation has been powering the researchers behind MI4 as they work to solve humanity's greatest health challenges," says Norman Steinberg, Chairman of the Board of the MUHC Foundation. "Now more than ever before, we need their leadership."
MI4 is currently working to tackle the current global health challenge and improve our preparedness for future pandemics.
"Thanks to the generosity of these leading health care philanthropists, the COVID-19 Emergency Fund will support the priorities identified by the hospital, ensure resources are available to society's most vulnerable, provide seed funding for new solutions and match funds for government grants," says Dr. Bruce Mazer, Executive Director (interim) at the Research Institute of the MUHC (RI-MUHC). "With this $4 million contribution to the COVID-19 Emergency Fund, we can take immediate action and focus on rapidly detecting, preventing and curing this disease."
April 3 2020