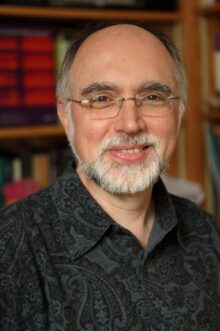 Dr. Robert J. Zatorre, at the Montreal Neurological Institute and Hospital – The Neuro, has been awarded the 2013 Hugh Knowles Prize for Distinguished Achievement for revolutionizing the field of the neuroscience of music and making key contributions to the hearing sciences.  The Hugh Knowles Prize for Distinguished Achievement is awarded periodically to individuals who have made outstanding contributions to research or clinical practice in the prevention, diagnosis, or treatment of hearing disorders.  Dr. Zatorre received the Award on April 25th at Northwestern University in Evanston, Illinois.

Dr. Zatorre  has made seminal discoveries regarding the neuroanatomy of the auditory system, the relationship between the auditory and motor systems, hemispheric lateralization, language representation in bilingual brains, the interplay among the auditory, affect and reward systems, and auditory imagery and cognition.

Dr. Zatorre is a Full Professor and holds a James McGill research chair in the Department of Neurology and Neurosurgery, is an Associate Member in the Department of Psychology and Adjunct Member of the Schulich School of Music at McGill University. He is co-director, with Dr. Isabelle Peretz, of "BRAMS" International Laboratory for Brain Music and Sound Research, a joint program of McGill University and the Université de Montréal. In 2011 Dr. Zatorre was also awarded the IPSEN foundation's international prize in neuronal plasticity.

The Neuro
The Montreal Neurological Institute and Hospital – The Neuro, is a unique academic medical centre dedicated to neuroscience. The Neuro is a research and teaching institute of McGill University and forms the basis for the Neuroscience Mission of the McGill University Health Centre. Founded in 1934 by the renowned Dr. Wilder Penfield, The Neuro is recognized internationally for integrating research, compassionate patient care and advanced training, all key to advances in science and medicine. Neuro researchers are world leaders in cellular and molecular neuroscience, brain imaging, cognitive neuroscience and the study and treatment of epilepsy, multiple sclerosis and neuromuscular disorders. For more information, please visit theneuro.com.

May 15, 2013