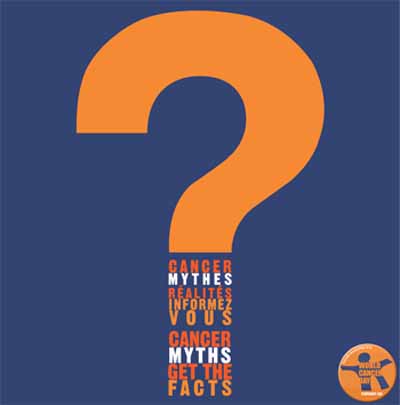 Monday, February 4, 2013 7:00 PM to 8:30 PM

Montreal Neurological Institute

Jeanne Timmins Amphitheatre

3801 University Street

Montreal, Quebec

CANADA
On World Cancer Day, Monday, February 4th, 2013, the Cedars Cancer Institute and the Goodman Cancer Research Centre are teaming up to offer a free lecture to dispel some common cancer myths and give the facts about cancer care and research progress being made right here in Montreal.
Leading cancer experts from McGill's Goodman Cancer Research Centre and the McGill University Health Centre will dispel misconceptions that:
Cancer is my fate
Cancer is a death sentence

and will give you the facts that:

Cancer research is making solid progressCancer dollars are making a difference
Emcee:
Andrew Carter, CJAD 800 morning host
Introduction by:
Peter Siegel, PhD

Associate Professor, Department of Biochemistry

Interim Director, Goodman Cancer Research Centre

and

Gwendolyn Andrews Nacos

Director and founder of Cedars CanSupport

Moderator and Speaker:
Phil Gold, CC, OQ, MD, PhD, FRS(C), FRCP(C), MACP

Executive Director, Clinical Research Centre, MUHC

Speakers:
Eduardo Franco, MD, P.H., M.P.H.

James McGill Professor

Departments of Oncology and Epidemiology & Biostatistics

McGill University

Dr. Manuel Borod

Director, Division of Supportive and Palliative Care Programs, MUHC

Assistant Professor, Department of Oncology

McGill University

"Patient Voice: Living with Cancer"
Followed by Question and Answer Period in English and French. Information booths will be available for cancer health prevention tips and facts.

Admission is free. Seating is limited. Please reserve your space now. Parking is free at the Royal Victoria Hospital. Vouchers will be distributed at the end of the lecture.

Series
: Goodman Cancer Research Lectures
RSVP/Pre-Register: January 10, 2013 to February 4, 2013
January 11, 2012