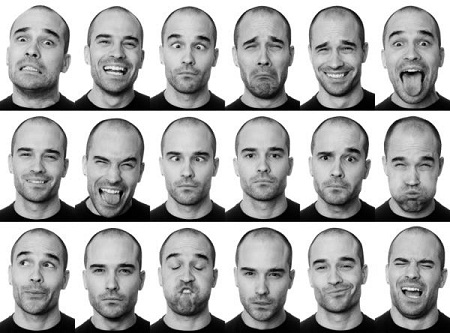 New research points to brain regions that recognize facial expressions—or do not

It's Valentine's Day, he forgot to bring flowers, and somehow that painfully sad look on her face is simply not registering in his mind.  Could be it's a problem in his prefrontal cortex?

Neuropsychology researchers at the Montreal Neurological Institute and Hospital – The Neuro, McGill University, have found that two areas of the prefrontal cortex (PFC) are critical for either detecting or distinguishing emotions from facial expressions.  People with damage to these areas cannot understand the wide variety of facial expressions that convey social signals, which are important for anyone trying to navigate their way in society.  And not only on Valentine's Day.

Dr. Lesley Fellows, lead investigator, and her student Ami Tsuchida studied a large sample of patients with damage to various regions within the PFC, testing to see where damage had the biggest impact on emotion recognition.  The result of their tests led to conclusions about two sub-regions of the PFC that until now had been little studied.

"Patients with damage to the ventromedial PFC had a hard time distinguishing a neutral facial expression from emotional ones," said Dr. Fellows.  "Patients with left ventrolateral PFC damage recognized that an emotion was present in the expression, but had difficulty telling one emotion from another.

"The ability to cross-over research and clinical work enables crucial advances in science and medicine, a prime example of the benefits of The Neuro's integrated model as a combined hospital and research institute," adds Dr. Fellows. The research, published in the journal Cerebral Cortex, adds to our understanding of how our brains detect emotional expressions and interpret the meaning of those expressions.  The findings could help to understand some of the difficulties in social behaviour seen in neuropsychiatric illnesses including certain forms of dementia, autism, or after a traumatic brain injury.

Dr. Lesley Fellows, neurologist and researcher at The Neuro, specializes in disorders of cognition.

Ami Tsuchida is a doctoral candidate in McGill University's Integrated Program in Neuroscience.

The work was supported by the Canadian Institutes of Health Research, the Fonds de Recherche en Santé du Quebec, as well as a Frederick Banting and Charles Best Canada Graduate Scholarships Doctoral Award.

About the Montreal Neurological Institute and Hospital

The Neuro is an academic medical centre dedicated to neuroscience. As a research and teaching institute of McGill University, The Neuro is at the centre of the neuroscience mission of the McGill University Health Centre. Founded in 1934 by eminent neurosurgeon Wilder Penfield, The Neuro has achieved international renown for its integration of research, outstanding patient care and advanced training. Neuro researchers and clinicians have world-class expertise in cellular and molecular neuroscience, brain imaging, cognitive neuroscience, as well as in the study and treatment of epilepsy, multiple sclerosis and neuromuscular disorders. 
Related coverage
Radio-Canada
(in French)
Le Journal de Montréal
(in French)
February 14, 2012