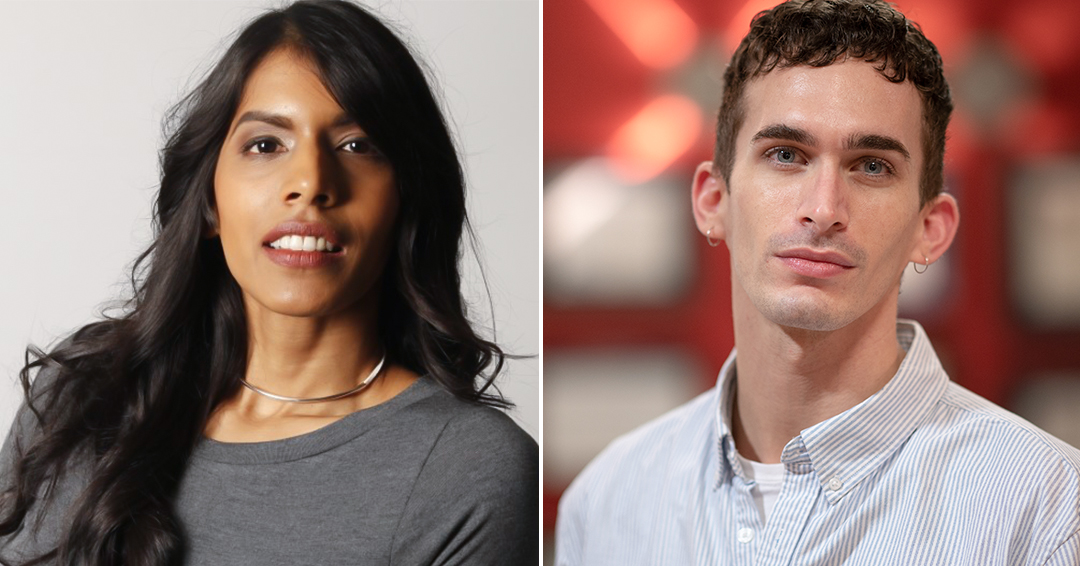 Visit the Steinberg Centre for Simulation and Interactive Learning (SCSIL) and you will see innovative technologies and a vibrant team that give learners the technical skills they need to deliver high-quality healthcare.
Alongside immersive interprofessional team simulations and high-fidelity manikins, you will also find more than 200 people who work as Standardized Patients (SPs).
SPs are individuals who have been trained to portray patients, family members or healthcare professionals in simulation-based training. They play a critical role by performing in simulated clinical encounters, which help current and future health care professionals hone their empathy, communication and conflict resolution skills. Many SPs at McGill are actors, and some have worked at the SCSIL since it opened in 2006.
We spoke to Thomas Wilkinson Fullerton and Kim Naraine, two actors and Standardized Patient Educators at the SCSIL, about their role and the people behind the patients.
How simulations with SPs are developed
Kim and Thomas worked as SPs at McGill alongside their other acting projects before becoming Standardized Patient Educators. In this role, they liaise between program directors and SPs to develop challenging yet safe simulations for learners.
The process begins when a program director submits a proposed simulation to the Standardized Patient Educators. They then connect with SPs who would be a good fit for the simulation. The team works with 25 to 50 SPs each week.
Before the simulation, the Standardized Patient Educators organize a dry run to give the SPs and teachers a chance to discuss the scenario in detail and ask questions.
Although SPs do not need acting experience, it is helpful. As SPs work on the same simulation with different learners, they must ensure their performance is consistent.
"If you're taking on an SP case, you have to repeat the simulation numerous times and be aware that other people may be playing the same role," Thomas says. "So, it's important to communicate with other SPs to ensure that you are all doing the same thing."
The qualities of a great SP
SPs are trained to share feedback with learners – either in group sessions or individual guidance from a Standardized Patient Educator – during the debriefing process after a simulation.
"We encourage SPs to share a positive comment first, give constructive feedback and end with a positive comment," Kim says. "We also train SPs to take mental notes on the learner's communication style during the scenario, which they can then share as feedback at the end."
SPs also play an integral role in addressing the need for patient-based simulations to reflect the health, cultural and social needs of the population, and for healthcare professionals to treat all patients with respect and empathy. To meet this need, McGill has expanded its pool of SPs to ensure diverse patient voices are authentically represented.
"A lot of what we do involves communication- and empathy-based experiences, and we often cover topics that learners may not be used to – whether they are related to gender identity or are the more general cases of breaking difficult news," Thomas says.
Kim agrees and stresses the need to make sure SPs do not feel tokenized.
"It's not just about hiring people from diverse backgrounds or who identify as different genders," she says. "We also want to make sure they are comfortable here and enjoy working with us."
A safe learning environment for all
Although simulations with SPs are rigorous, maintaining a safe learning environment is crucial.
"One of the things learners love most about coming here is that it is a safe space," Thomas says. "You can call a timeout if you need to. You will be challenged, but in a very controlled environment."
Thomas, Kim and their colleagues work diligently to ensure that SPs experience the same sense of safety. SPs are regularly reminded that they can turn down simulations that deal with potentially traumatic topics.
"The material can be challenging, but an SP will need to perform at a level that is repeatable for each learner," Thomas adds. "Doing a simulation that involves receiving bad news eight times in one day can be very difficult. So, we encourage people to pace themselves."
Kim notes that SPs can also contact the Standardized Patient Educators if they did not feel comfortable during an earlier simulation.
 "This feedback is really helpful as we're all trying to do a better job of representing tough cases," she says.
Commitment to the growth of health professionals
Although simulation is growing to include emerging technologies, Thomas and Kim believe there will always be a place for SPs.
"There are VR tools that can help students develop empathy, but I think it all starts with what we do with simulated patient encounters," Thomas says. "Technology is fantastic and more students who are coming in now were raised with technology. However, when a student can't look at another person in the eye, SPs play a vital role."
Mark Smilovitch, MDCM, Associate Professor at the Department of Medicine, says he and learners he teaches are "very fortunate to have this talented group of Standardized Patients at [the SCSIL], whose expertise contributes towards valuable educational experiences for teachers and learners at McGill."
"The participation of Standardized Patients in simulated clinical encounters addresses the essential element of interpersonal relationships in healthcare and provides a wonderful opportunity for learners to develop behavioural skills during their interactions with patients, patients' families, and colleagues," he adds.
For Kim, one of the most rewarding aspects of her job is seeing aspiring healthcare professionals growing in confidence thanks to their interactions with SPs.
"Often, learners are very grateful for this experience, especially if they are new medical students and this is their first experience with patients," she says. "Our standardized patients are very committed to what they do, and we want to see the learners do as well as they can. That dynamic is very gratifying."