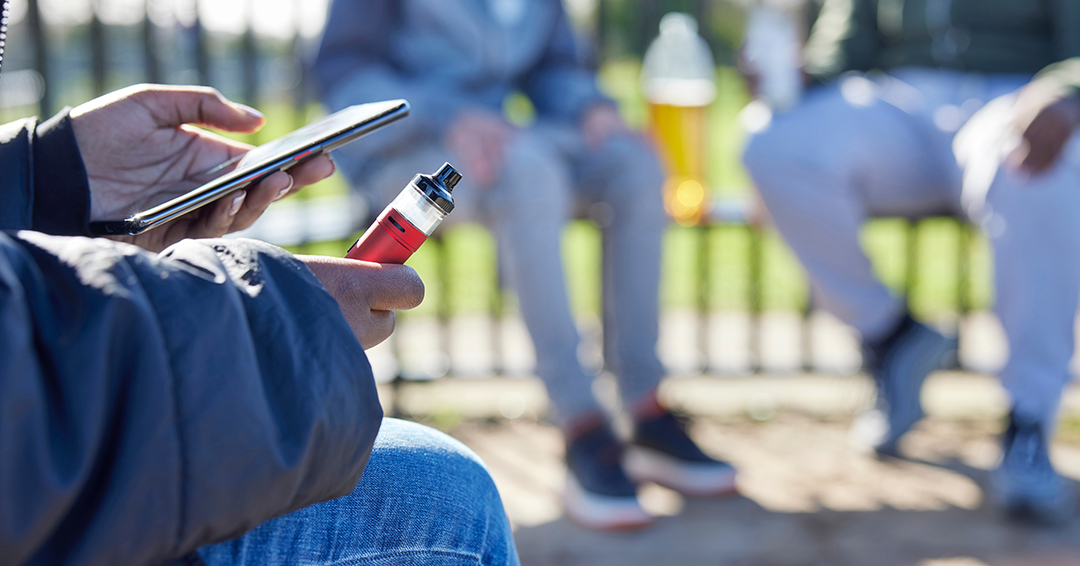 Use of e-cigarettes increases risk of respiratory disease, leads many young people to smoke cigarettes and cannabis as well
The first comprehensive review on trends in vaping/e-cigarette use among youth across the globe has been published by a team from McGill and Harvard. The scoping review, co-authored by Lynnette Nathalie Lyzwinski, PhD, and Mark Eisenstein, MD, of the Department of Medicine, McGill and the Centre for Clinical Epidemiology, Lady Davis Institute, Jewish General Hospital, covers epidemiology, public health policies and interventions at the primary care and community-based levels. The review appeared in npj Primary Care Respiratory Medicine on April 11.
E-cigarettes were originally seen as great smoking cessation tool – so what went wrong? "Research has shown that they are helpful for quitting in existing smokers," explains Lyzwinski. "But there has been a problematic global trend of e-cigarette use in teenagers and young adults who have never previously smoked." She adds that vaping increases the risks of initiating cigarette smoking and dual smoking of cigarettes and e-cigarettes, as well as downstream substance use including cannabis.
Although e-cigarettes seem to be a safer alternative to smoking cigarettes, they are not without risks, especially when used regularly. "In 2019, there were case series of e-cigarette vape product lung induced injury (EVALI) which resulted in significant morbidity and mortality from respiratory distress," notes Lyzwinski. "E-cigarettes also directly affect the developing brain and cognitive function in teenagers, which has a long-term impact on their health. They also increase respiratory tract irritation and asthma."
Nevertheless, their use has continued to grow in this population. The authors write: "According to the report from the Canadian Student Tobacco, Alcohol, and Drugs Survey, the prevalence of e-cigarette usage in teens (grades 7–12) within the past 30 days was 20% in 2018–2019, a doubling of the prevalence in the previous year's report. A total of 90% had consumed products containing nicotine." Teens favour vaping for a number of reasons, including flavouring (fruity or candy flavours are preferred over tobacco or mint flavours), discreteness, easy accessibility, perception that they are safer and marketing that directly targets them.
Despite this, the researchers found that not much is being done by public health or primary care to curb the trend. "It was surprising to find out how infrequently medical doctors screen their young patients for e-cigarette usage to assist them with quitting," says Lyzwinski. "There is a clear gap in the literature about adequate screening in medical offices to identify and treat cases, as well as insufficient public health interventions to assist with preventing e-cigarette usage, and intervening and assisting with vaping cessation."
Lyzwinski says the team was also surprised to discover the extent to which young people commonly both vape and smoke, and how frequently vaping led to cannabis use.
She hopes the findings will lead to the development of evidence-based vaping cessation interventions and effective physician screening tools. She adds that we need to work towards not only restricting accessibility via policies (e.g., marketing bans) but also via greater education in schools about their health risks and greater medical curricula education on screening.
"The take home messages here are that vaping is dangerous for teenagers and that polysubstance vaping, such as cannabis vaping, is an increasingly troubling trend," says Lyzwinski.
Reference:
Global youth vaping and respiratory health: epidemiology, interventions, and policies, npj Primary Care Respiratory Medicine. DOI https://doi.org/10.1038/s41533-022-00277-9