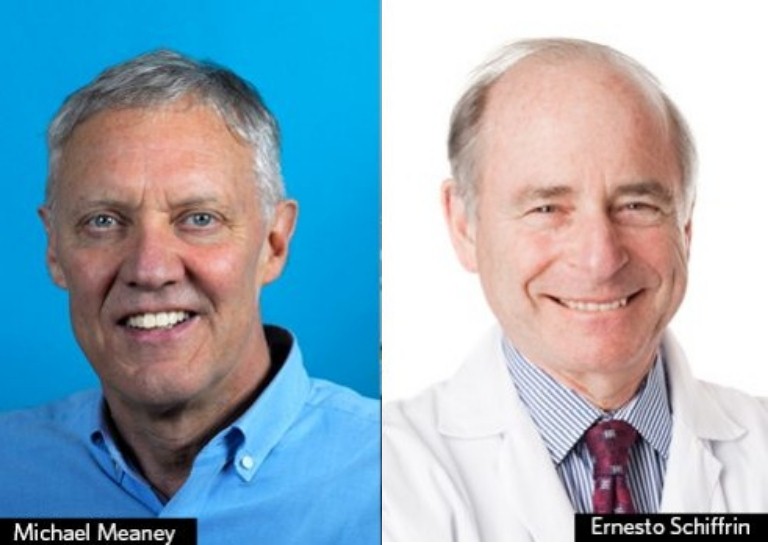 McGill's Michael Meaney and Ernesto Schiffrin, two of Canada's leading researchers in brain health and heart health have been singled out by the University of British Columbia Faculty of Medicine for their accomplishments, and for their potential to make further contributions in their fields.

The sixth annual Margolese National Brain Disorders Prize will be given to Michael Meaney, who has explored how epigenetic changes affect neurodevelopment. The Margolese National Heart Disorders Prize will be bestowed on Ernesto Schiffrin, who has advanced understanding of high blood pressure's effects on vasculature.

The prizes include a $50,000 award, making them among the most lucrative honours given by a Canadian university. The recipients were chosen by an international panel of experts and a UBC committee chaired by Robert McMaster, Executive Associate Dean, Research and Deborah Money, Executive Vice Dean.

The Margolese prizes were created by an estate gift to UBC by Leonard Herbert Margolese to recognize Canadians who have made outstanding contributions to the treatment, amelioration or cure of brain or heart disorders. Margolese, who died in 2000, was a Vancouver businessman who had a heart condition and whose brother had Alzheimer's disease.

Michael Meaney, a James McGill Professor in the Departments of Psychiatry and Neurology & Neurosurgery at McGill University, is credited with launching the fusion of epigenetics and neuroscience. His highly original and innovative research used rodent models to measure how variations in early social conditions, especially maternal care, led to changes in the transcription of specific genes that regulate adult stress responses and synaptic plasticity. Subsequent studies identified key differences in DNA methylation in the promotor region for these same genes, and also showed that reversal of the epigenetic state reversed the changes in gene transcription and stress responses. The resulting paper, published in Nature Neuroscience, has become the most highly-cited paper in that journal. "Neuroepigenetics" is now one of the fastest-growing fields in neuroscience.

Working with post-mortem human brain tissue, Dr. Meaney and his collaborators have shown that the DNA methylation status of a set of genes first identified in rodents were similarly methylated in humans as a function of adverse childhood experience – essentially revealing a molecular imprint from childhood mistreatment. His lab is now pursuing next-generation sequencing analysis that will define epigenetic states across the genome in relation to environmental conditions in early life.

"These studies provided a biological framework for our understanding of the interaction between the forces of 'nature' and 'nurture,'" wrote Eric Kandel, a Professor in the Department of Neuroscience at Columbia University, adding that Dr. Meaney's work has "profound implications for public health policy."

With funding from Brain Canada, Dr. Meaney created the Canadian Neuroepigenetic Network, linking researchers at several Canadian universities, to focus on translating studies of the epigenome into clinical practice and prevention/intervention programs. He leads the development of integrative neuroscience as Associate Director of the Singapore Institute for Clinical Sciences, where he is overseeing a birth cohort study that will track epigenomic variations in relation to neurodevelopmental outcomes. He also is the Scientific Co-Director of the Ludmer Centre for Neuroinformatics and Mental Health at McGill University, which aims to provide the computational resources to better understand the biological basis for vulnerability to mental disorders and provide an empirical basis for diagnosis and expected treatment outcomes.

Recognized by the Institute for Scientific Information as a "most highly-cited scientist" in the area of neuroscience, Dr. Meaney received the Kerman Award from Cornell University, the Klaus J. Jacobs Research Prize from the Jacobs Foundation, the Distinguished Investigator Award from the Brain & Behavior Research Foundation, and was honoured as a Presidential Scholar by the University of California, San Francisco.

Ernesto Schiffrin, a Professor and Vice-Chair, Research, in the Department of Medicine at McGill University, has advanced understanding of vascular remodeling in high blood pressure.

Dr. Schiffrin discovered the remodeling mechanisms of small resistance arteries and the effects of anti-hypertensive therapy on vascular remodeling in humans. He was the first to demonstrate the role of endothelin in high blood pressure, specifically in salt-sensitive and severe hypertension and vascular disease, which has led to recent studies of endothelin antagonists in resistant hypertension. He clarified the pathophysiological role of angiotensin II and aldosterone on damage to blood vessels, elucidated the vasoprotective actions of peroxisome proliferator-activated receptors, and revealed the role of inflammation and T-regulatory lymphocytes in vascular remodeling in high blood pressure. His identification of the differential effects of anti-hypertensive drugs on vascular structure led to clinical trials that replicated those findings in humans. Dr. Schiffrin is currently exploring connections between the immune system and cardiovascular disease, and is considered a leading expert on innate immunity in the pathophysiology of hypertension.

"We often talk about the 'Death Valley' between the development of key biomedical concepts and their application in clinical research and ultimately clinical care," wrote Ross Feldman, the Chair of Medicine at Memorial University. "Dr. Schiffrin's work is important since it has survived that crossing."

The Physician-in-Chief of the Sir Mortimer B. Davis-Jewish General Hospital and a Canada Research Chair in Hypertension and Vascular Research at the Lady Davis Institute of Medical Research, he is the author of more than 545 peer-reviewed publications and many book chapters, as well as the editor of four books on molecular and clinical aspects of vascular disease and hypertension. He was Associate Editor of Hypertension, a journal of the American Heart Association (AHA), and is now Editor-in-Chief of theAmerican Journal of Hypertension. He is Immediate Past President of the International Society of Hypertension and is the President and Chair of the Board of Hypertension Canada.

Dr. Schiffrin received the Distinguished Service Award of the Canadian Hypertension Society, as well as the Irvine Page-Alva Bradley Lifetime Achievement Award and the Excellence Award for Research in Hypertension, both from of the High Blood Pressure Research Council of the American Heart Association. He was elected Fellow of the Royal Society of Canada in 2006, and was awarded the Order of Canada in 2010.

Congartulations Drs. Meaney and Schiffrin!

September 28, 2016