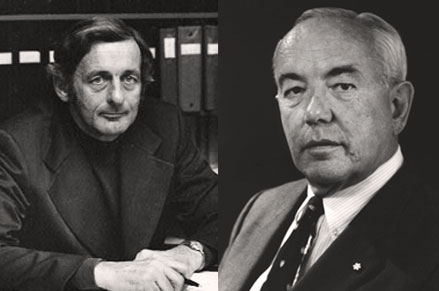 Two health care giants named to Canadian Medical Hall of Fame for 2012

Drs. F. Clarke Fraser and Peter T. Macklem are among seven laureates to be inducted this month.

Dr. F. Clarke Fraser, one of Canada's first medical geneticists, and Dr. Peter T. Macklem (1931-2011), one of Canada's greatest pulmonary clinician-scientists, will be inducted into the Canadian Medical Hall of Fame. These pioneers carried out their illustrious medical careers primarily at McGill and three hospitals of the MUHC, namely The Montreal Children's Hospital, the Royal Victoria Hospital and the Montreal Chest Institute. In March 2012, they and five other inductees will join 88 laureates in the pantheon of medical heroes who have, according to the Canadian Medical Hall of Fame, "blazed trails, inspired others to follow and extended the boundaries of medical knowledge and health care."

"McGill's international reputation is built on the shoulders of exceptional individuals, such as this year's laureates, Dr. Fraser and Dr. Macklem, from the University's Faculty of Medicine and its teaching hospital community," said Dr. Samuel Benaroya, Interim Vice-Principal of Health Affairs and Interim Dean of Medicine. "We are extremely proud and grateful for their ground-breaking work in their respective fields, for their dedication to training future generations, and for their transformative contributions to the health of our society."

"Whenever a member of the MUHC and McGill family is recognized nationally and internationally, we are reminded of how fortunate we are to attract and retain brilliant, dedicated professionals," noted the Hon. Arthur T. Porter, MUHC Director General and CEO. "We are proud of our history of excellence in respiratory medicine and genetics, and determined to sustain it. That's why we're increasingly focused on outcomes-driven innovations in clinical care, research and teaching and on assuring that we have the modern facilities and ideal platform to advance knowledge across a person's life span."

Born in Norwich, Connecticut in 1920 and raised in Nova Scotia, Dr. F. Clarke Fraser earned a Bachelor's of Science degree in biology from Acadia University in 1940 and then enrolled at McGill where he obtained his Master's degree a year later. After serving in the Canadian Air Force as a bombardier in WWII, Fraser returned to McGill where he obtained his PhD in 1945 and his MDCM in 1950.

Fraser is recognized as being a North American creator of the discipline of medical genetics, and for laying the foundation for the field of genetic counselling, which has enhanced the lives of patients worldwide. He founded the first Canadian medical genetics department at The Montreal Children's Hospital (renamed the F. Clarke Fraser Clinical Genetics Centre in 1995) and is known for his pioneering work in the genetics of cleft palate and for popularizing the concept of multifactorial disease.

Beyond his contributions as a biomedical pioneer and stellar scientist, Fraser touched the lives of patients and students alike on a more personal level. As highlighted in his Canadian Medical Hall of Fame biography, "his gentle, compassionate approach was much appreciated by his patients and he passed this warmth and understanding onto a succession of graduate students, physicians and genetic counsellors in both Canada and the United States."

Born in Kingston, Ont. in 1931, Dr. Peter T. Macklem (MDCM '56) forever changed the face of respiratory medicine by pioneering the study of small airway physiology and identifying the early pulmonary damage caused by smoking.

Beginning in the early 1960s and throughout a remarkable career spent mostly at the MUHC's Royal Victoria Hospital and Montreal Chest Institute, Macklem was a creative and prolific scientist who contributed seminal ideas to the field. He helped pioneer the concept of respiratory muscle fatigue, which influenced the management of patients in the intensive care unit and helped lead to a better understanding of the role of the respiratory muscles in pulmonary disease. He continually investigated the physiology and mechanics of the respiratory system and related his many findings to real clinical problems in a way that guided physicians and benefited patients. He also developed devices and technologies that permitted, for the first time, the accurate measurement of intra-bronchial pressure and collateral ventilation. The modern pulmonary function laboratory is a direct reflection of his relentless work.

Macklem served from 1972-79 as the founding Scientific Director of Meakins-Christie Laboratories, one of the world's leading centres for pulmonary research named in honour of two pioneers and former deans of medicine at McGill. In 1979, he was named Physician-in-Chief at the Royal Victoria Hospital, followed by Chair of the Department of Medicine at McGill in 1980 and Physician-in-Chief of the Montreal Chest Institute in 1987. There, he and other members of the "Fabulous Four" (Drs. Margaret Becklake, Darrell "Dag" Munro and Peter Paré) inspired many respiratory experts, including incoming McGill Dean of Medicine, Dr. David Eidelman (current MUHC Chief of Medicine and McGill Chair of Medicine) Dr. Macklem died in February 2011.

Fraser and Macklem will be hounoured along with: Dr. John James Rickard (J.J.R.) Macleod (1876-1935); Terry Fox (1958-1981); Dr. Armand Frappier (1904-1991); Dr. John Dirks and Dr. Lap-Chee Tsui. The Induction Ceremony will take place in Toronto, Ont. on March 21, 2012.

In addition to the 2012 inductees, 21 other laureates have ties to McGill University and/or the MUHC. They are: Dr. Maude Abbott, Dr. Albert J. Aguayo, Dr. Bernard Belleau, Dr. Norman Bethune, Dr. John Symonds Lyon Browne, Dr. James Bertram Collip, Dr. William Feindel, Dr. Henry Friesen, Dr. Phil Gold, Dr David Hubel, Dr. Herbert Jasper, Sen. Dr. Wilbert Keon, Dr. Charles P. Leblond, Dr. Jonathan C. Meakins, Dr. Ronald Melzack, Dr. Brenda Milner, Sir William Osler, Dr. Wilder Graves Penfield, Dr. Charles Scriver, Dr. Hans Selye and Dr. Louis Siminovitch.

Biographies of the laureates are available at http://www.cdnmedhall.org/induction

March 5, 2012