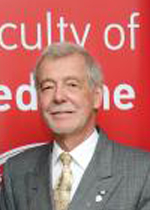 Dr. Francis Glorieux, Professor of Surgery, Pediatrics and Human Genetics at McGill University, has been named the recipient of the 2014 American Society for Bone and Mineral Research (ASBMR) William F. Neuman Award as well as the Osteogenesis Imperfecta Foundation (OIF) Humanitarian Award.

The William F. Neuman Award is the ASBMR's oldest and most prestigious award. It recognizes an ASBMR member for outstanding and major scientific contributions in the area of bone and mineral research and for contributions to associates and trainees in teaching, research and administration.

The 2014 ASBMR William F. Neuman Award was presented to Francis Glorieux, M.D., Ph.D., at the ASBMR 2014 Annual Meeting in Houston, Texas, USA on Saturday, September 13.

The Osteogenesis Imperfecta Foundation (OIF) Humanitarian Award is given to individuals who have devoted their own lives to improving the lives of people living with osteogenesis imperfect (OI). These visionaries have created scientific breakthroughs, affected public policy, improved orthopedic and rehabilitative treatments and mobilized a community to raise awareness about OI.

Dr. Francis Glorieux received his MD from the University of Louvain and his PhD from McGill University.  His initial research interest focused on hypophosphatemic rickets. His research demonstrated that calcitriol and phosphate allowed for control of the bone disease, and this drug regimen is still used worldwide in such patients. He has also studied Pseudo-Vitamin D deficiency rickets, demonstrated a Founder effect in Quebec and the value of long-term calcitriol replacement therapy. In addition, he has pioneered bisphosphonate therapy in severe forms of Osteogenesis Imperfecta. For 40 years, he has been the Founding Head of the Genetics Unit at Shriners Hospital for Children-Canada and a Professor at McGill University. He is the recipient of numerous awards, including the ASBMR Frederic C. Bartter Award and was made an Officer of the Order of Canada.

October 15, 2014