I write to note an important transition for our Faculty with the completion of Dr. Joyce Pickering's tenure as Associate Dean of Medical Education and Student Affairs. An esteemed physician and academic, well known for her dedication, integrity and compassion, Dr. Pickering and her colleagues have prepared us for a new era in medical education at McGill, one that will ready our students for the transformations taking place in the life sciences and health care.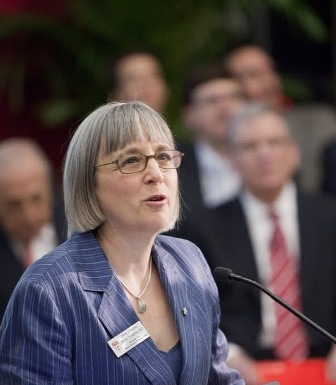 Dr. Pickering brought a unique perspective to the Office of Medical Education and Student Affairs, which she led for close to seven years. An MDCM alumna, herself, with a master's in Epidemiology and Biostatistics, she is well ensconced in the McGill community, including at the Montreal General and Royal Victoria Hospitals of the MUHC. Her strong interests in global health, however, have taken her far and wide over the years, often to underserviced regions and countries. She has taught, conducted research, supervised and consulted on public health and medical education issues in countries such as Uganda, Ethiopia, Russia and Bangladesh, as well as in Canada's own Cree communities.

In addition to the pivotal role Dr. Pickering has played in the Faculty's Think Dangerously strategic planning initiative, which will see a modernized curriculum introduced in the fall of 2012, she has given her unequivocal support to growing health care capacity in Quebec's regions, in particular, in the Outaouais. There she has, with characteristic purpose and competency, helped the team introduce a new level of training and service. These same talents were brought to bear in securing our reputation for excellence in the 2010 CACMS/LCME review of medical education at McGill, yet another demonstration of her perseverance.

A "teacher of medicine," in the Osler tradition, Dr, Pickering is true to both the science of the physician and the art of the healer. A strong proponent of the Faculty's Physicianship and Osler Fellows programs, she fully recognizes society's need for both streams of care: the first, based in the most rigorous of research, and the second, attuned to humankind's need for communication and empathy. A model academic in the eyes of her colleagues, Dr. Pickering's accomplishments recall Osler's Aequinimitas, which speaks of the bodily virtue of imperturbability, together with the mental virtue of calmly accepting whatever comes in life, without hardness toward the patient.

Dr. Pickering has set the bar high in our Faculty, and we fully expect she will do the same in her new role as Executive Associate Physician-in-Chief and Director of Operations of the MUHC Department of Medicine, beginning July 1. With the same great confidence, we welcome Dr. Robert Primavesi as the new Associate Dean responsible for medical education and student affairs, including the implementation of the new MDCM curriculum, at McGill.

On behalf of the Faculty and University, we congratulate and thank Dr. Pickering for her exceptional years of service and for the more than one thousand new MDCM students who graduated under her watch.

Vice-Principal (Health Affairs)

Dean of the Faculty of Medicine

Richard I. Levin, MD

Mara Ludwig, MD
Associate Dean, Faculty Affairs