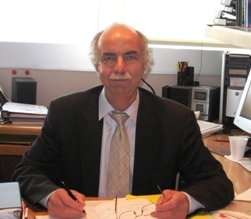 Tribute to Dr. Hans Zingg


Chair of the Department of Pharmacology and Therapeutics from 2003
With the appointment of Dr. Gerhard Multhaup to the position of Chair, Pharmacology and Therapeutics, McGill Faculty of Medicine, we write to pay warm tribute to our esteemed colleague, Dr. Hans Heinrich Zingg, who has served as Chair with characteristic acumen for close to a decade. Dr. Zingg leaves this position with an enviable record of accomplishments that have raised the Department's reputation locally, nationally and internationally.

An MD graduate from Basel, Switzerland, and a McGill alumnus with a PhD in Experimental Medicine, Dr. Zingg completed his postdoctoral training at Harvard Medical School. He returned to the McGill Faculty of Medicine in the early 1980s, was named Director of the Laboratory of Molecular Endocrinology at the Royal Victoria Hospital of the McGill University Health Centre (MUHC) in the 1990s, and was nominated Associate Director (Fundamental Research) of the newly established MUHC Research Institute in 2000. Dr. Zingg was appointed to the position of Chair of the Department of Pharmacology and Therapeutics at McGill shortly thereafter, a role he has held concurrently while President of the Canadian Association of Academic Pharmacology since 2006.

Over the last nine years, Dr. Zingg has grown the Department both in size and reputation through targeted recruitments and the introduction of several innovative programs. Under his leadership, five new full-time professors have been attracted to the Faculty, in addition to 17 associate members and three adjunct members, bringing critical expertise to the Department and to McGill. All new members have successfully competed for peer-reviewed national grants and awards. Indeed, under Dr. Zingg's guidance, the funds attracted by the Department have doubled.

These achievements precipitated a steady growth and expansion of the Pharmacology and Therapeutics Graduate Program, today highly respected in the community and internationally. Dr. Zingg led and fostered a spirit of creativity in his Department and, supported by the cooperative efforts of its members, spearheaded the creation of an undergraduate Major/Honour's program, now in its third year, as well as the new Mini-Pharma lecture series to bring valuable information to the public. It was also under Dr. Zingg's guidance that the Department celebrated its success in the 2009 Canada Foundation for Innovation competition, receiving $8 million in funding for state-of-the-art equipment and renovated research spaces.

Valued by his colleagues and students as an exceptional leader, mentor and friend, Dr. Zingg's forthright approach to decision-making and his passion and enthusiasm for his field have served him and Pharmacology and Therapeutics at McGill exceedingly well. He broadened the Department's reach and professionalism, while inspiring countless students through his ardent belief in them, his approach as a warm and caring teacher, and his contagious and motivational love of science.

Although he will step down from his position of Chair of the Department of Pharmacology and Therapeutics, Dr. Zingg will continue to treat patients at the Metabolic Day Centre of the Royal Victoria Hospital of the MUHC and to teach future medical students at the Faculty of Medicine.

On behalf of the Faculty and University, we thank Dr. Zingg for his years of exceptional service as Chair, and we look forward to continue working with him for years to come.

Samuel Benaroya, MD
Interim Vice-Principal (Health Affairs)

Interim Dean of the Faculty of Medicine
Mara Ludwig, MD

Associate Dean, Faculty Affairs