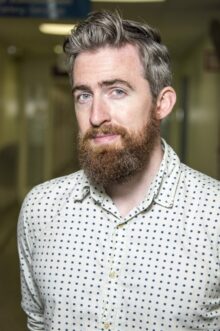 Source: The Neuro

Stuart Trenholm, who joined The Neuro in 2017 as an assistant professor, has received a Career Development Award from The International Human Frontier Science Program Organization (HFSPO), the only Canadian researcher to receive one this year.

The  Human  Frontier  Science  Program  is  an  international  program  of  research  support  implemented  by  the HFSPO based in Strasbourg, France. Its aims are to promote intercontinental collaboration and training in cutting-edge, interdisciplinary research focused on the life sciences.

Trenholm studies the neuronal circuits that make vision possible. His lab uses the latest circuit-tracing and brain imaging techniques to better understand how we perceive objects in our environment. He helped develop new techniques during his postdoctoral work to understand how the wiring of neuronal circuits drives unique response properties in the cortex. He has also made seminal contributions to research demonstrating the roles of horizontal cells in modulating feedback to photoreceptors. Ultimately, he aims to contribute to new therapies that can improve the quality of life of visually impaired people.

For a complete list of awardees visit: http://www.hfsp.org/awardees/newly-awarded

April 6, 2018