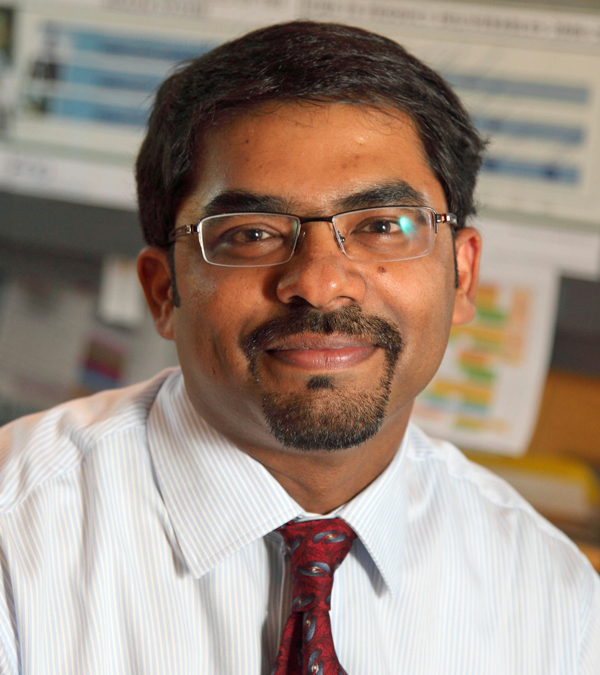 As technological and other advances have increasingly made the world a more connected, and smaller place, global health has taken on even greater importance as diseases and viruses now make their way more rapidly around the planet. Although globalization brings challenges, it also offers tremendous opportunities for academic universities to make a meaningful contribution.
Having assumed the position of Director of McGill Global Health Programs since 2014, Dr. Madhukar Pai, who is also a Professor in the Department of Epidemiology, Biostatistics and Occupational Health at the Faculty of Medicine, as well as Associate Director of the McGill International TB Centre, knows full well the importance of making a difference in your community and beyond.
On the heels of the release of a new strategic plan for McGill's Global Health Programs, Dr. Pai spoke to the McGill Reporter about the importance of global health, the vision for global health at McGill and how people that are interested can get involved.
Why does global health matter to people locally?

In its broadest sense, global health is about making the world a healthier place. This goal is threatened by serious inequities in resources and access to healthcare. For example, people born in Canada or the US can expect to live into their eighties. But for people living in Swaziland, Zambia or Mozambique, life expectancy is half that long. The Ebola outbreak in West Africa clearly showed that even basic healthcare and public health measures are lacking in many developing countries. As global citizens, all of us have an obligation to make a contribution towards addressing these challenges.

Inequities exist here, as much as they exist in low-income countries. Immigrants, refugees, and Aboriginal populations here in Canada also face unique healthcare challenges. Expertise in global health, and findings from global health research, can and are being used here in Canada to improve our own healthcare system. There is no denying that we live in a flat, highly interconnected world. Diseases do not respect boundaries (think SARS, avian flu, and Ebola), and we need to think beyond our local concerns and proactively get engaged in solving some of the world's biggest health issues.

Who at McGill is currently involved in global health initiatives?
There are about 20 organized teams and close to 100 McGill faculty members currently involved in projects on six continents. These projects span the gamut of Schools, Departments, Institutes and Centres within and outside of the Faculty of Medicine. The development of trauma registries in low-resource settings, improvement of child feeding practices in Africa, creation of public-private partnerships for tuberculosis in India, capacity building to strengthen primary care in Haiti, drug and diagnostics development for neglected tropical diseases exemplify the diverse range of research McGill faculty are conducting in global health. Our goal over the next five years is to take advantage of the diversity and strength of individual global health researchers and global health related groups at McGill and enhance the opportunities for collaboration and potential impact. We also hope to fund-raise for our global health teams, and promote their innovative work.

Why does McGill need a global health program and how does our program compare with other schools?
As one of Canada's premier universities, McGill deserves a strong global health program that will showcase our expertise, meaningfully contribute to addressing global health challenges, generate new resources, establish strong partnerships, and offer our students a world-class exposure to global health. Today, students everywhere are genuinely interested in global health. They feel connected in many ways, and perceive themselves to be global citizens. This is a wonderful trend that must be nurtured. Nearly all major universities in North America have strong, vibrant global health programs to meet the growing demand from students, and to ensure that their faculty benefit from all the newly available sources of funding, and are able to access innovations that can address global health challenges. Universities are actively fostering the dissemination and implementation of evidence-based interventions, and facilitating effective partnerships with governments, foundations, and partner institutions in resource-limited settings. While McGill has strong research teams working in global health, our investments in this area have lagged behind other schools. Thankfully, this is changing and our budget is steadily increasing. We are grateful to our donors, and to the University Advancement team for their support. We hope to actively raise funds, and build on the base provided by the Faculty of Medicine.

Tell us more about your strategic plan for global health, and what can we expect from it?
As McGill Global Health Programs (GHP) enters its second decade of existence, there is a dire need for an overarching organization to coordinate, unify, and strategically plan the work of diverse global health groups and researchers at McGill. There is huge potential for synergy amongst current McGill groups working in specific global health areas or with specific vulnerable populations.

We developed the plan with the support of our Executive Council, and were pleased that it was approved by the Faculty of Medicine in April 2015. Our plans align with both McGill University and the Faculty of Medicine's Strategic Research Plans (2013 – 2017).

Our vision is to address health inequities and improve global health through education, research, and partnerships.

Our Mission includes 3 major goals structured around offering high quality training and education in global health, interdisciplinary and collaborative research and building strategic partnerships with local and international stakeholders. The strategic plan also includes a description of all the major global health teams at McGill, objectives for each of our 3 goals, metrics for success, and our priority areas for the next 5 years.

What can people do if they want to become involved in global health at McGill?
The success of GHP depends on the success of the many McGill teams/centres doing global health work. Therefore, showcasing them, and fundraising for them is a key activity for GHP. For researchers and faculty members working in the field of global health, we are encouraging them to organize themselves around their area of expertise, and create named groups and centres. Once they are well organized, they can reach out to GHP for support. We do expect departments and centres to also contribute funds to what we provide to their global health teams. This way, we ensure greater ownership, and leverage existing resources.

As far as students are concerned, we are working hard to create training opportunities for them. We have created several travel awards and fellowships for students, and are also providing funding to student organizations working on global health. We are supporting the Interprofessional Course in Global Health, and a new 500-level course called Fundamentals in Global Health (offered this fall). We are also working to create an Option/Concentration in global health for graduate students. In July 2015, we will launch our first Summer Institute in Infectious Diseases and Global Health – over 200 participants from over 40 countries will be in attendance. All of these opportunities can be seen at our website.

 Read the strategic plan.