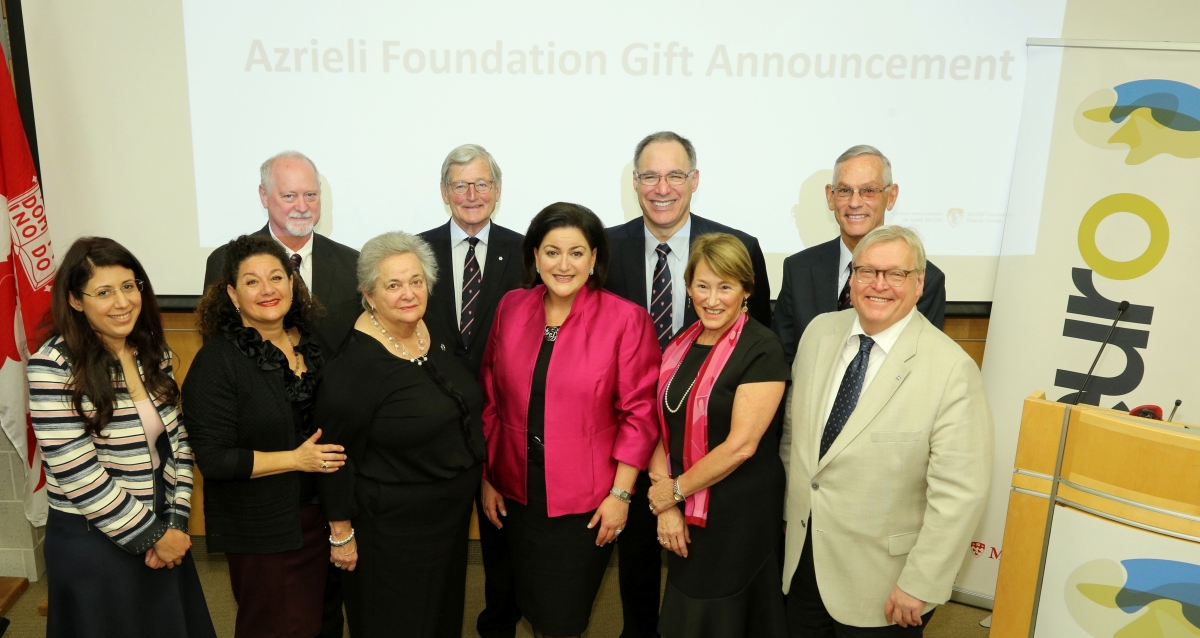 The Azrieli Centre for Autism Research will foster innovations in therapy and a better understanding of Autism Spectrum Disorder
A new research centre in Montreal will help lift the shroud of mystery surrounding autism spectrum disorder (ASD), and lead to the development of better diagnostic tools and more effective therapies for people with autism.

Thanks to an extraordinary $16-million donation from the Azrieli Foundation, the Montreal Neurological Institute and Hospital (MNI) – The Neuro – of McGill University is creating the Azrieli Centre for Autism Research (ACAR). This will make The Neuro the first institute in Canada to develop a comprehensive program for autism that tightly integrates the full spectrum of research with drug discovery and the training of autism specialists, creating a framework for scientific advances with enormous potential for a meaningful impact on people living with ASD, and their families.

The donation was announced at a special event today attended by members of the Azrieli family, directors of the Azrieli Foundation board, Dr. Gaétan Barrette, Quebec Minister of Health and Social Services, as well as senior leaders from McGill and the MNI.

"Thank you to the Azrieli family and the Azrieli Foundation for this visionary and generous support," said McGill's Principal and Vice Chancellor, Suzanne Fortier. "This investment will make it possible for our McGill scientists to advance knowledge and make the breakthrough discoveries that are needed to understand autism and eventually provide hope for the many families in Quebec, in Canada and around the world who are living with this disorder."

The Azrieli Centre for Autism Research will be the hub for multiple approaches to autism research, including genetics and brain imaging. The identification of genes and other risk factors that play a role in autism development will allow researchers to identify ASD at an early age, increasing the chances of effective intervention.

Researchers will also use advanced brain imaging techniques to better map the differences in children and adults living with ASD in order to understand how they result in cognitive challenges. People with ASD and their families will have access to a complete lifespan platform where families enrolled in research can take advantage of the latest discoveries including novel therapies.

"Complex neurological conditions require a multifaceted approach, one that integrates research and clinical care. This is what we have done at The Neuro for more than 80 years," said Dr. Guy Rouleau, Director of the Montreal Neurological Institute and Hospital. "ACAR will lift us up to the next level, building on basic research expertise from genetics to brain imaging, together with our biobank and drug discovery platform, all for the benefit of people living with ASD and their families. With this visionary gift from the Azrieli Foundation, we can launch this trailblazing initiative and transform ASD research and treatment."

Naomi Azrieli, Chair and CEO of the Azrieli Foundation said, "We know that one in three Canadians are directly impacted by brain disorders. If we look beyond the statistics, we see the people: the patients, their families and caregivers and society. Our partnership with the Neuro to create ACAR will catalyze innovative research leading to better treatments and outcomes, changing the lives of the millions of people who are affected by autism and related neurodevelopmental disorders."

"This exceptional donation will have enormous benefits for people on the autism spectrum and their families," said Dr. Gaétan Barrette, the Minister of Health and Social Services. "Thanks to advancements in research and clinical care, progress has been made in the field over the past few years and this new Research Centre will allow us to go a lot further. I would like to recognize the work of the dedicated professionals at The Neuro, and thank The Azrieli Foundation for their tremendous generosity."

About the Azrieli Foundation For more information, please visit: www.azrielifoundation.org

About The Montreal Neurological Institute and Hospital For more information, please visit www.theneuro.ca

About McGill University: For more information, please visit: www.mcgill.ca

October 24, 2017