At McGill's new Campus Outaouais, a generous gift from the Leacross Foundation encourages women leadership—with an eye to improving overall health care in the region.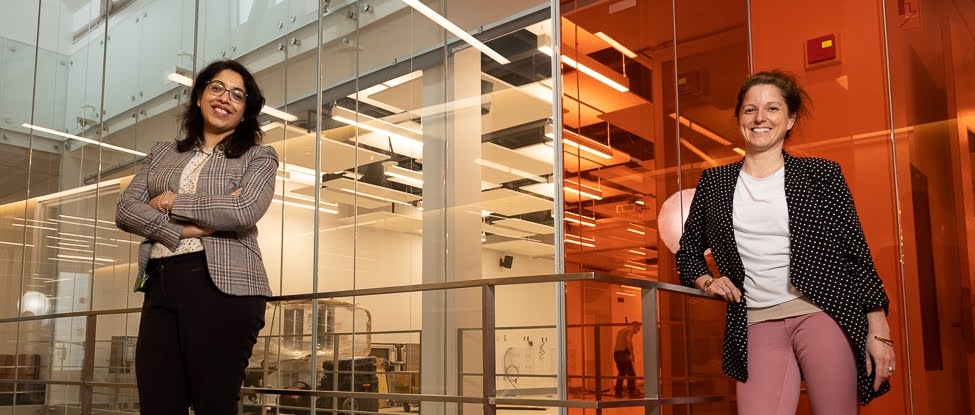 By Jean-Benoît Nadeau for FMHS Focus 
A cheque at the end of your first year of medical school is a good thing. Fifteen thousand dollars is the amount that will be shared each year by the recipients of the Leacross Leadership and Resilience Award, a scholarship for female medical students at Campus Outaouais created thanks to a $45,000 gift from the Leacross Foundation.
"We have gender parity in the practice of medicine, but not in leadership positions. We need women on boards and committees. We need them running things," says Roslyn Bern, BSc'78, president of the Leacross Foundation. The family foundation, based in Chelsea, in Quebec's Outaouais region, has supported over 500 women in projects related to women's leadership. "Our idea was to support women in underrepresented areas."
"It was the Wellness Enhanced Lifelong Learning (WELL) Office that developed the project, secured the funding and will administer the award," explains Dr. Gilles Brousseau, Vice-Dean and Director of the Campus Outaouais. This award will encourage outstanding women student leaders at Campus Outaouais, which welcomed its first students in August 2020. "This scholarship is specifically designed to increase the involvement of female students."
"The issue of women and leadership is no longer about lack of education, but of mentoring and support, which can be achieved through education," says Shelly Sud, BSc'98, MDCM'03, PGME'05, Director of Student Life, who was one of the architects of the scholarship and will serve on the selection committee.
Applicants—who have until April 12 to apply—must produce a 750- to 1000-word letter of intent. "We are looking for someone who has vision. Who has already set up a project. Who has engaged their peers for sustained change. Who understands the barriers to change and identifies strategies for overcoming them," says Emmanuelle Britton, MDCM'08, Assistant Dean for Student and Resident Affairs, who will chair the selection committee.
It's important to distinguish between "medicine" and "medical management," says Sud, a medical oncologist at the Centre Intégré de Santé et de Services sociaux de l'Outaouais since 2015. "Yes, we have gender parity in terms of the number of doctors, but it was only in 1999 that the first woman became dean of a medical school in Canada. We're not in the 1960s anymore, but on academic and administrative committees, it is still mostly men who are in positions of power."
Though Britton agrees there is still a lot of room for improvement, she believes her generation is paving the way. A physician at the Wakefield Family Medicine Centre, Britton has committed to taking on more leadership roles herself. "I include my daughter in this role. She's seven and I bring her with me to meetings," she says. She admits, however, that too many women still question their own abilities when they find themselves on an all-male committee.
Although the donation from the Leacross Foundation is primarily aimed at women, Bern is also motivated by the goal of improving overall health care in the region. She was born in Montreal—and the foundation is named after Leacross Avenue in the Town of Mount-Royal where her family lived—but she has now spent almost 30 years in the Outaouais and fully embraces the causes of her adopted home.
"We have health care insecurities in the Outaouais region. The population is growing at a tremendous pace, but health care is not keeping up. Chelsea, where I live, has 7000 inhabitants, but this number is expected to triple by 2023. So this is why a new campus in Gatineau is such great news."
Britton and Sud have both been practising in the region for several years now and didn't need much convincing to get involved at the Campus Outaouais. "Having more physicians take on leadership roles, whether male or female, will improve how health care is administered in the region, and our ability to retain physicians," says Britton.
Sud points out that one of the aims of the Campus Outaouais is to encourage young physicians to stay in the region: "Some of these medical learners may go into politics or start a business. We want to support and encourage them so they can achieve their goals and possibly improve health care locally."
Samuel Bern, Roslyn's father, set up the Leacross Foundation in the early 1990s after making his fortune in plumbing. "Our original vocation was classic philanthropy, supporting hospitals and the like," says Bern. "Then, 20 years ago, I decided that we had to be more socially oriented to change things, and that our social action would be about women and leadership."
Gilles Brousseau, who has just been handed the keys to the new Campus Outaouais, is eager to one day welcome Roslyn Bern and show her around the campus—with the aim of deepening the relationship between the Campus Outaouais and the Leacross Foundation. "Other ideas might develop. There are a lot of women in general practice, but many fewer in surgery and neurosurgery,"  says Rosyln Bern.
Like the Campus Outaouais itself, this is just the beginning.