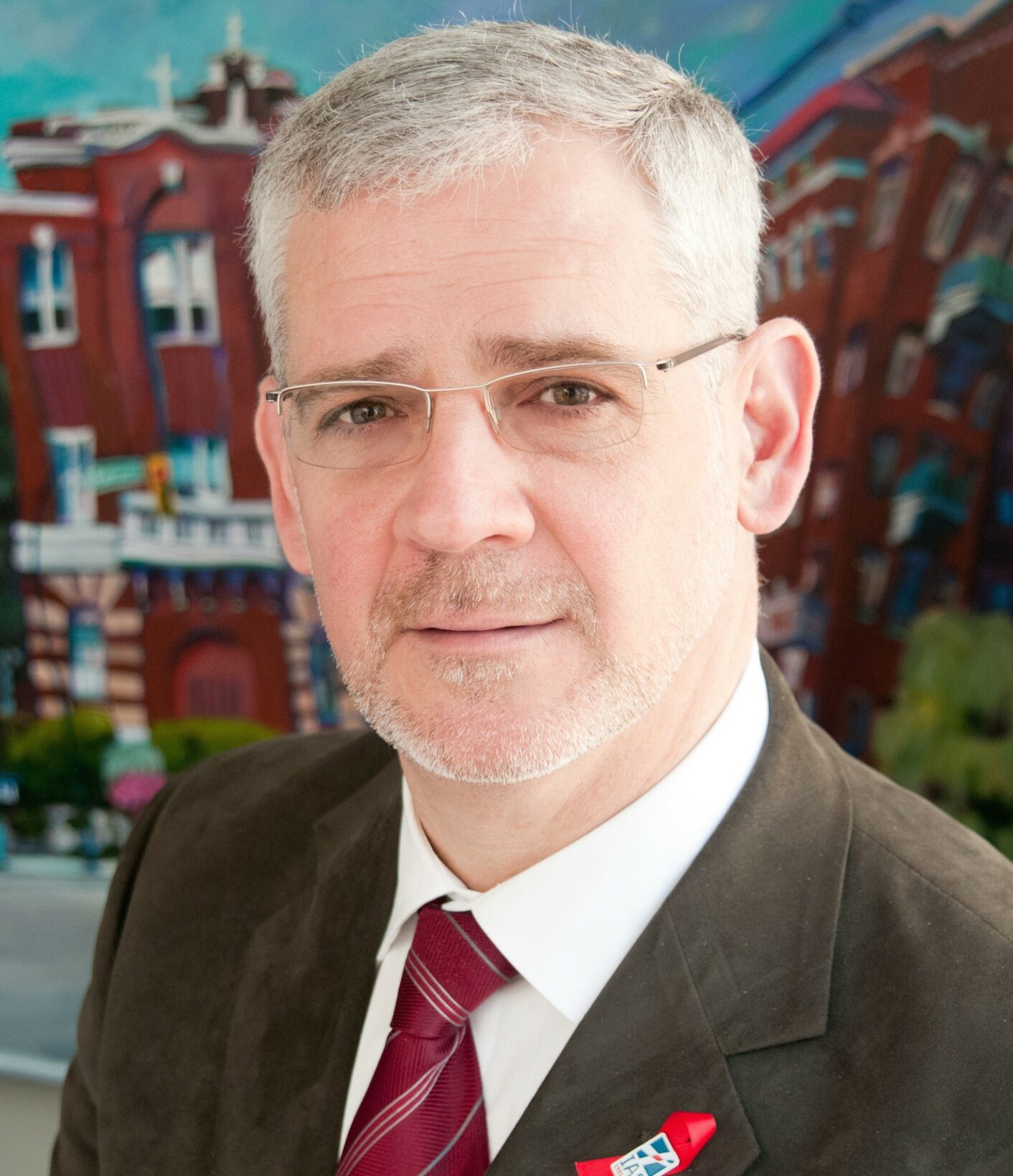 A Professor of Medicine and Head of the Division of AIDS at the University of British Columbia (UBC), Dr. Julio Montaner is a globally renowned researcher best known for his pioneering work on combination antiretroviral therapy (cART). After determining cART's efficacy for patients already living with HIV/AIDS, Dr. Montaner went on to show how cART could be used to prevent HIV transmission, a finding that has revolutionary implications for today's global AIDS Pandemic.
Dr. Montaner holds the endowed Chair in AIDS Research at UBC, serves as Director of the BC Centre for Excellence in HIV/AIDS and Physician Program Director for HIV/AIDS at St. Paul's Hospital, is the UNAIDS Global Advisor on HIV Therapeutics and is the Past-President of the International AIDS Society.
On October 26, he will be in Montreal to deliver the 39th annual Osler Lectureship at McGill University, a talk titled "From Treatment to Prevention: Rethinking our Approach to Contagious Diseases." We caught up with Dr. Montaner ahead of his talk.
You graduated from medical school in Buenos Aires a few years before "AIDS" was recognized as a disease. How did a young doctor from Argentina interested in pulmonary medicine end up becoming one of Canada's leading HIV/AIDS experts?


My father was a prominent respiratory medicine specialist in my home town of Buenos Aires, Argentina. Growing up, I remember always wanting to follow in his steps. I tagged along with him whenever I could and eventually made my way through medical school.

Not long after I completed my MD in Argentina, I realized I needed to get some training abroad. It was around that time I attended a conference in Uruguay where I first met Dr. Jim Hogg, a respiratory pathologist at the University of British Columbia. To my surprise and delight, he invited me to do some postdoctoral research with him at his Respiratory Laboratory at St Paul's Hospital and the University of British Columbia.

In 1981, I moved to Vancouver to take a one-year position and the rest is history. At the urging of Dr. Hogg, I stayed in the Lab for a second year, and then, following his advice, I joined the Medical Residency program, under UBC Professor of Medicine, (now Emeritus) Dr. John Ruedy. Eventually, I became his chief resident and completed my respiratory medicine training.

At the time, AIDS was emerging as an epidemic, and Pneumocystis pneumonia became the leading cause of AIDS-related hospitalization and death. In my role as the respiratory fellow, I was asked to look after cases of AIDS-related Pneumocystis pneumonia on a daily basis. The more I did so, the more I became interested, and eventually I led a number of very successful research studies regarding the epidemiology, treatment and prevention of AIDS-related Pneumocystis pneumonia.

In 1985/86, I was doing an additional year of clinical research under Dr. Ruedy, who was a clinical pharmacologist, and he offered me the chance to work on the first Canadian trial of the first candidate drug to treat HIV infection: azidothymidine (AZT). While the efficacy of AZT monotherapy was limited, I felt compelled to further my involvement in the development of antiretroviral drugs, and eventually therapeutic strategies.

Late one Friday afternoon, in late 1986, Dr. Ruedy came into my office and told me three of the lead AIDS specialists had announced they were moving on. He was very concerned about this and asked if I would be willing to step in and help out. After a brief conversation, I offered to do so on a time limited basis, as long as I could focus on developing an "AIDS Research Program", with the anticipation that I would eventually go back to work in respiratory medicine within a year – famous last words.

Three days later, in what I like to call "the fastest job interview I have ever had," I was formally offered to become the Head of the AIDS Research Program at St. Paul's Hospital. Little did I know that these sequence of events would lead me to abandon my dream of working in my chosen field of medicine and eventually dedicating my efforts to the development of antiretroviral therapy.

I could have never predicted that within a decade, thanks to the concerted effort of a large group of collaborators in B.C., Canada and abroad, including Dr. Mark Wainberg from McGill University, we would contribute to the discovery and global establishment of the new standard of care for HIV/AIDS: highly active antiretroviral therapy (HAART).

The new therapeutic strategy emerged at the 1996 International AIDS Conference in Vancouver and changed the history of AIDS. As a result, HIV/AIDS became a chronic manageable condition. Within a year, death rates from AIDS and AIDS incidence decreased by two thirds. And in 2000, HAART became the new standard of therapy in resource limited settings.

By late 2000, we came across new B.C.-population-based data that suggested the expansion of HAART coverage between 1996 and 2000 had led to a substantial decrease in HIV transmission. Soon, this became the focus of our research and within a few years we generated a body of evidence that convincingly argued that the widespread expansion of HAART to all HIV infected persons in a jurisdiction would curb progression to AIDS, and premature death, and secondarily stop HIV transmission. We coined the term "Treatment as Prevention®" (TasP®) to describe this strategy, and in 2006 we published the rationale supporting it in The Lancet, and formally unveiled it at the 2006 International AIDS Conference in Toronto. We specifically argued that TasP® could lead to the virtual elimination of the AIDS pandemic.

The Made-in-B.C. TasP® strategy calls for the widespread implementation of HIV testing and the immediate offer of HAART to those who test HIV positive regardless of their clinical stage or CD4 count. We now have definitive evidence that immediate access to HAART markedly improves quality of life, prevents AIDS, and extends longevity by decades, while at the same time stops HIV transmission.

With the unwavering support of the B.C. government, starting in the early 2000s we led the expansion of HAART in B.C. and this evolved into the formal implementation of TasP® in the province over the last decade with great success. We have now shown the strategy saves lives, prevents infections and is cost averting. Furthermore, we have been able to garner the formal endorsement of the United Nations, as they embraced our proposed TasP® inspired 90-90-90 Target, which proposes that by 2020 we should have at least 90% of infected people aware of their status, at least 90% of known positives start HAART, and at least 90% of them to have sustained undetectable plasma viral load levels.

Meeting the UN 90-90-90 Target by 2020 would drive the burden of HIV/AIDS (i.e.: morbidity, mortality and new infections) down by approximately 90% each by the year 2030. Today, our proposed strategy has been formally adopted by the United Nations (UN) as the UN 90-90-90 Target, which was ratified by all UN member states at a special meeting in New York in June 2016.

Many Canadians, especially Millennials, view HIV/AIDS as a treatable chronic illness rather than the terrifying death sentence it once was. How do you explain this change? Have we become complacent?

HAART has transformed HIV/AIDS from a sure short-term life sentence into a chronic and manageable disease. Today, HIV disease is not unlike other chronic diseases, such as diabetes. As long as HIV-infected individuals stay on their treatment they can expect to live a long and healthy life, and have a normal reproductive life. This has changed perceptions around HIV and AIDS around the world. However, we must continue to be vigilant and to promote safer sex and risk reduction strategies. The current continued increase in sexually transmitted diseases globally is not acceptable. More should be done to increase awareness regarding this issue and to promote primary prevention efforts.

You've been a vocal proponent of routine HIV testing. Why?
Normalized or routine HIV testing is absolutely critical. Early HIV diagnosis with immediate engagement in HAART ensures optimal individual level health outcomes and stops HIV transmission. HIV testing is the entry point to the successful achievement of the UN 90-90-90 Target.

Prime Minister Justin Trudeau recently endorsed the goal of an AIDS-free world by 2030. Are you optimistic that an AIDS-free world is possible?

Yes, absolutely. We applaud Prime Minister Trudeau's willingness to make the UN 90-90-90 Target a national priority. We are extremely encouraged by Federal Minister of Health Dr. Jane Philpott's commitment to make this a reality. While working in Niger years ago, Dr. Philpott witnessed the devastation that HIV/AIDS brought to the African continent. This has redoubled her commitment to meet this goal domestically and, in doing so, develop informed best practices to promote the strategy globally.

What can ordinary Canadians do to fight the global pandemic?

Together, we can stop HIV and AIDS. To do so we urgently need every Canadian to know his or her HIV status. Most will test HIV negative. For those who test HIV positive, we need to create a positive environment so they can have access to appropriate counseling, support and immediate HAART. Importantly, we need to redouble our efforts to fight stigma and discrimination, as well as persecution and prosecution of those most affected, which remain a major barrier to services in our midst.

The 39th Olser Lecture will take place on Oct. 26, at 6 p.m.; McIntyre Medical Building, 6th Floor, Room 504. Get more information.
October 20, 2016