McGill medical students Jad Alkass, David Nassim and Pier-Luc Parent are fascinated by the opportunities and potential of ultrasound technology in medicine. Their enthusiasm bloomed during their first year of undergraduate medical training at McGill's Faculty of Medicine and Health Sciences. Early on, as part of McGill's medical curriculum, they were exposed to sonography, allowing them to practice multiple scans on simulated patients.
Point of Care Ultrasound (PoCUS), also known as sonography, is an imaging modality that uses sound waves, at different frequencies, to obtain dynamic images of internal organs and tissues. Among other things, it can be used to assess the lungs, the heart, the kidneys, pelvic organs, muscles, blood vessels and nerves. It is also used to guide certain procedures, including a needle biopsy, a pericardiocentesis, a peripheral nerve block and many more.
While it does not replace formal radiologic investigations, sonography can be performed at bedside. It can be used as an additional tool to enhance the accuracy and efficacy of daily medical practice. Its advantages lie in its portability, its substantially lower cost when compared to other imaging modalities and its lack of harmful ionizing radiation.
"We feel very privileged, at McGill, to have gotten early exposure to ultrasound," notes Jad. "We are very much aware that all medical students do not necessarily have similar opportunities. Given its many advantages, we strongly feel that every medical student, in our day and age, should be exposed to this technology and develop the skills needed to add sonography to their routine physical exams."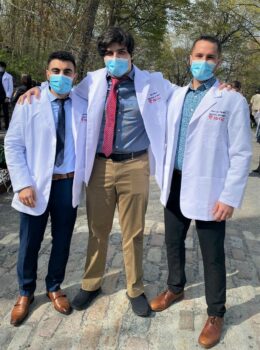 The beginning of a journey

In early 2020, wanting to perfect their aptitude in bedside ultrasound scanning, the trio enrolled in an acute care certification boot camp, accredited by the Canadian Point of Care Ultrasound Society (CPoCUS), where they perfected their skills in obtaining bedside sonographic images of organs and tissues commonly assessed in an Emergency Department setting. The skills they acquired in the boot camp enabled them to differentiate normal from pathological anatomy, establish accurate sonographic diagnoses and further integrate their findings in the management of critical health conditions in correlation with the surrounding clinical context. Following this intensive three-day bootcamp, in which they performed more than 300 scans each, the three medical students became CPoCUS-certified Independent Practitioners (IP), meaning that they not only are proficient in the use of bedside ultrasound for the uses covered in their certification, but also possess sufficient background to get involved in ultrasound education.
During their first year of medical school, David, Jad and Pier-Luc also joined the McGill Ultrasound Interest Group (MUSIG), a student-led platform that promotes the use of bedside ultrasound among medical students. The three of them are involved in many projects, mostly centered on knowledge sharing. 
"We really enjoy getting involved, especially in a field that will change the face of modern medicine, similar to the stethoscope when it was invented in 1816," explains David. "We discovered a true passion in the use of this bedside tool, and we want to positively influence as many medical candidates or graduated professionals as possible. We jump on every opportunity we have to give back to the medical community and share the knowledge we were able to acquire."
Along with other colleagues from MUSIG, they actively participated in creating bi-monthly quizzes that aim to provide McGill medical students with an opportunity to ludically consolidate their knowledge and skills in bedside ultrasound. They also routinely hold online events for their fellow students to learn the basics of point of care sonography and complement the already existing curriculum.
They contributed to MTL-SONO, MUSIG's very own student-led CPoCUS-accredited conference, the first of its kind in Canada. This conference's second and most recent edition took place in November 2020, online due to the COVID-19 pandemic, and gathered speakers, students, residents, and physicians from more than 15 countries around the world.
Using COVID-19 as an opportunity
The current pandemic has had many major impacts, including in education. While many theoretical concepts can be adequately taught remotely, it is technically difficult to make learners proficient in bedside ultrasound since it requires a significant amount of practice and exposure. These limitations did not preclude Pier-Luc, David and Jad from adapting and finding novel ways to share their passion.
Being attentive to potential opportunities, and inspired by the recent success of the online edition of MTL-SONO, they established new partnerships with the United Arab Emirates (UAE) University's College of Medicine and Health Sciences. The goals of this alliance are to foster interuniversity collaboration and provide UAE undergraduate medical students with ultrasound exposure and teaching, which are usually reserved for post-graduate studies. While travelling is very restricted, international collaboration has never been more accessible, thanks to online teaching platforms such as Zoom and Microsoft Teams. 
"Before COVID, we never would have thought of online, international, student-led collaboration since it's traditionally done in-person," says Pier-Luc. "We saw an opportunity to promote visibility for McGill's Faculty of Medicine and Health Sciences and the field of PoCUS, in a costless, fun and effective way, without even leaving the comfort of our home. And we are firmly motivated in making this collaboration last!"
Eager to delve into this new opportunity, the three McGill Medicine representatives rapidly built professional-level content adapted to their UAE counterparts. With the help of Dr. Taleb Al Mansoor, an interventional neuro-radiologist in the UAE, and UAEU's Radiology Interest Group's student-leaders, Hajar and Maryam, they have put up a series of interactive monthly lectures that will provide the attending students a proper understanding of the modality, even before they touch an ultrasound probe. 
"We are fully conscious that the content we provide does not replace in-person teaching in terms of technical ability, but we strongly believe that exposure, as little as it may be, is one big step in making changes happen," note the trio. "We have heard many times that the most common limitation for physicians to embrace the use of bedside ultrasound is the lack of knowledge and confidence regarding the modality, and our lectures directly target that aspect."
The first lecture of the series was a strong success, featuring more than 45 attendees from junior undergraduate years to senior clerks. With the strong desire to make this partnership bilateral, UAEU students want to give back to McGill by providing adapted online radiology lectures using the same interactive approach.
David, Pier-Luc and Jad have set themselves the objective of making ultrasound as accessible as possible for both medical students and physicians. Other potential collaborations are being explored, including both local and international endpoints. Its low cost and huge portability make bedside ultrasonography a potential life-saving tool for rural communities and underdeveloped countries, and helps foster better resource allocation, especially when in scarcity. The students hope that their ambitions will lead to changes in daily clinical practices and that others will join their initiatives in the coming years.
Testimonials
"It gives me an immense pleasure to say that your presentation to the United Arab Emirates University students was a great success. The McGill Ultrasound Interest Group (MUSIG) demonstrated great passion, professionalism and knowledge about ultrasound and its medical use. The members of MUSIG were intelligently able to dispel fear among their audience and made the presentation interactive and enjoyable. Our students' feedback was extremely positive. This is just the beginning of a collaborative work between two groups interested in an integral medical specialty – Radiology – with many more to come in the future."
– Dr Taleb Al Mansoor
Neuro-radio-interventionist, Assistant Professor and Assistant Dean for Clinical Affairs, College of Medicine & Health Sciences of the United Arab Emirates University
"On behalf of the College of Medicine and Health Sciences (CMHS) at the United Arab Emirates University, I would like to express my sincere gratitude to the McGill Ultrasound Interest Group for their informative and didactic session. The members of the CMHS Radiology Interest Group, other medical students and physicians who attended the session were actively engaged and showed unexpected outstanding participation by asking questions and having elaborative discussion. Our students loved the session and never thought ultrasound can be this enjoyable! We, for sure, are looking for more collaborative sessions between our CMHS RIG and MUSIG!"
– Hajar Ahmed Abed Alktifan
Head of the Radiology Interest Group, 5th year medical student, College of Medicine & Health Sciences of the United Arab Emirates University