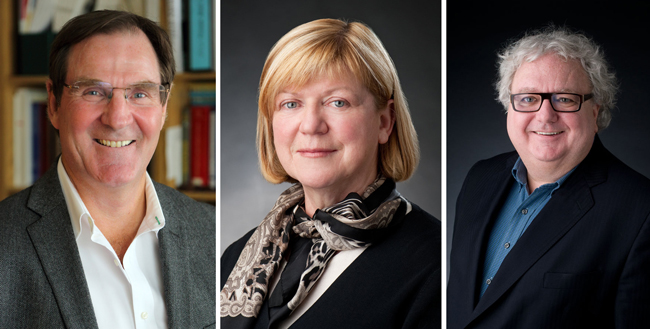 By Amanda Testani, McGill Reporter

McGill professors Alan Evans of The Neuro, Andrea C. LeBlanc of the Lady Davis Institute, and Bernard J. Lapointe, Director of Palliative Care McGill, were awarded Senate of Canada 150 medals for their commitment to advancements in Alzheimer's disease and palliative care research. Senator Judith Seidman, a former research fellow at The Neuro and Associate Professor of the McGill School of Social Work, nominated them.

The medals are being awarded to Canadians or permanent residents actively involved in their communities who, through generosity, dedication, volunteerism and hard work, make their hometowns, communities, regions, provinces or territories a better place to live.

In her letter to Drs. Evans and LeBlanc, Seidman stated that, "I have chosen to nominate you because I believe that your tireless commitment to advancements in Alzheimer's disease research is a great service to our province and an inspiration to others." They are among 12 outstanding community leaders awarded medals in the province of Quebec by Senator Seidman.

Five other community leaders with connections to McGill were awarded medals by Senator Seidman: Olivia Monton, founder of the philanthropic organization, Live for the Cause and student of medicine at McGill; Houda Moussallier, a three-time ovarian cancer survivor who raises awareness of this disease at the McGill University Research Centre (MUHC); Wendy Wray, Nurse Director of the Women's Healthy Heart Initiative at the MUHC; and Paige Isaac, former Coordinator of McGill University's First Peoples House.

The Senate of Canada 150 medal was created to celebrate the 150th anniversary of the first sitting of the Canadian Senate on November 6, 1867, the year of confederation. Created to commemorate this occasion and to give Honourable Senators the opportunity to recognize Canada's unsung heroes, awardees are deeply involved in the betterment of their communities through generosity, dedication, volunteerism, and hard work. The bronze medal, struck at the Canadian Mint, features the Senate's emblem on one side and the Senate Chamber, along with the recipient's name, on the other.

"McGill is extremely proud of professors Evans, LeBlanc and Lapointe" said Martha Crago, Vice-Principal, Research and Innovation. "All are champions of research and discovery and this medal recognizes their significant contributions to Canada."

Dr. Evans is a James McGill Professor of Neurology and Neurosurgery, Psychiatry and Biomedical Engineering, and the Scientific Director of the Ludmer Centre for Neuroinformatics & Mental Health. He is also the Scientific Director of Healthy Brains for Healthy Lives (HBHL), a high profile, high priority multidisciplinary and cross-sectoral initiative in neuroscience at McGill, made possible with support from the Canada First Research Excellence Fund (CFREF).

In addition to pioneering neuroimaging techniques and advancing research into neurodegenerative diseases, Dr. Evans' lab, the McGill Centre for Integrative Neuroscience, has developed neuroinformatics technologies — the tools that make big-data analytics in neurosciences possible — that now underpin large-scale data-sharing initiatives globally. The cutting-edge infrastructure also underpins major research initiatives at the Montreal Neurological Institute and Hospital, including the Ludmer Centre, HBHL, and the new Tanenbaum Open Science Institute (TOSI).

In Alzheimer's and dementia research alone, Dr. Evans' neuroinformatics team supports or is the data-coordination centre for three Quebec initiatives (CIMA-Q, PREVENT-AD, Memory Clinic), Canada's largest national initiatives (CCNA, CDAN), and the international Alzheimer's Disease Neuroimaging Initiative (ADNI). Through Dr. Evans' lab, the Montreal Neurological Institute and Hospital is strategically positioned to connect Canada's neuroscience community in Alzheimer's and dementia-related research both nationally and internationally.

"I'm absolutely flattered to have won the Senate of Canada 150 medal," said Dr. Evans. "I am delighted that the field I'm working in has been recognized in that way. Alzheimer's disease is such a terrible scourge and it is important that Canada puts research resources into this field so our older population are better protected against the disease."

Dr. Andrea C. LeBlanc is a James McGill Professor in the Department of Neurology and Neurosurgery and a researcher of the Bloomfield Center for Research in Aging in the Lady Davis Institute for Medical Research in Montreal. Dr. LeBlanc focuses her research on the pathophysiology of neurodegenerative diseases in aging individuals. She is renowned for her discovery of Caspase-6 in age-dependent cognitive (memory) impairment and in the pathogenesis of Alzheimer disease. Her research results provide novel therapeutic targets to develop efficient medication or treatments against the disease before it causes irreversible damage to the brain.

"As a basic research scientist, it is an honour to be recognized with a Senate of Canada 150 medal," said Dr. LeBlanc. "Many scientists, young and old, dedicate tireless efforts to finding mechanisms of disease that will allow the development of efficient treatments and medications. This medal recognizes their efforts to improve the health of many Canadians."

Dr. Bernard J. Lapointe was appointed Chief of the Division of Supportive Care and Palliative Care at the Jewish General Hospital in 2001, a role he holds to this day. In addition, he is an associate professor of palliative medicine in McGill's Departments of Family Medicine and Oncology. He has held the Eric M. Flanders Chair in Palliative Medicine at McGill since 2009.

Throughout his career, Dr Lapointe has been deeply committed to addressing the needs of the dying, particularly as president of the Quebec palliative care association, president of the Canadian Hospice and Palliative Care Association and as an active member of both the Quebec and Canadian Societies of Palliative Care Physicians.

Dr Lapointe has been recognized for this work with numerous awards, including the Canadian Society of Palliative Care Physicians (CSPCP) Lifetime Achievement Award in 2017.  Dr Lapointe continues to focus his research on reducing and controlling pain in people living with terminal illnesses. He has led or collaborated on a wide range of studies on pain management, including those that explore new and experimental medications in the treatment of cancer pain. Dr Lapointe is currently the Chair of the International Congress on Palliative Care organized biennially by McGill since 1976, of which the 22nd edition will be held in October 2018.

"I am deeply honoured by the attribution of the Senate of Canada Sesquicentennial Medal in recognition of my role in the development of palliative care in this country," said Dr Lapointe. "I wish to thank and recognize the contribution of hundreds of collaborators and colleagues who have shared this quest to ensure access to quality end-of-life care for all Canadians."

To learn more about how McGill researchers are using big data to advance research, listen to the recent lecture on Alzheimer's and Dementia Research Powered by Big Data.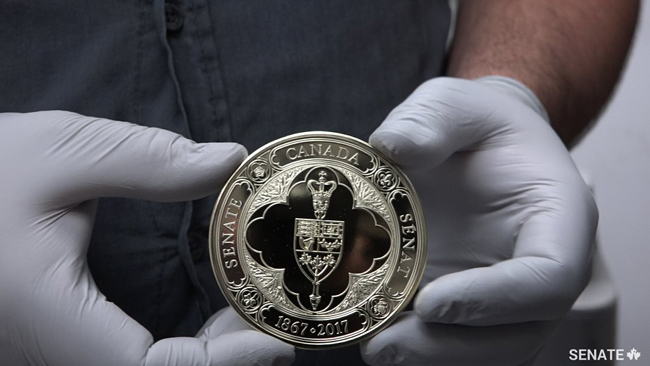 November 24, 2017