On Saturday, March 19, medical students Carl White Ulysse from the Class of 2016, Neil Verma from the Class of 2017 and Doulia Hamad from the Class of 2018 each were presented with a Scarlet Key Award for Leadership during a ceremony held by the Scarlet Key Society.

Congratulations to all three!

Doulia Hamad, B.Sc'14, M.D., C.M.'18
As an undergraduate student, Doulia worked as a crisis counsellor, a supporter of global health initiatives, and a course assistant, leading several wellness and academic projects. Her early work translated into powerful advocacy, empowerment of her peers and effective student representation on diverse media platforms as well as within the Faculty of Medicine. As the Executive President of the Medical Students' Society (MSS), Doulia led the student response to academic probation of the UGME program by the Committee on the Accreditation of Canadian Medical Schools in 2015. In addition, she fought the stigma associated with mental health issues in medicine and became involved in important political debates on healthcare accessibility. Finally, she developed sustainable practices and a lasting institutional memory for the MSS, and catalyzed the creation of several new initiatives in Equity, Gender and Sexuality, Academic Affairs, Mental Health and Professionalism. These initiatives drove curricular changes and are helping shape the physicians of tomorrow.

"This award is very meaningful to me," says Hamad. "I have been at McGill for five years, and by now, it feels like home. It is at McGill that I fell in love not only with science and medicine, of course, but also with leadership and community engagement. My time here has challenged me and pushed me to grow more than I thought possible, and it is for that reason that I wanted to be so involved. I wanted to give back by being an integral part of the community that makes McGill so great and I wanted to ensure that students who come after me, no matter what walk of life they are from, would have an equally enriching experience."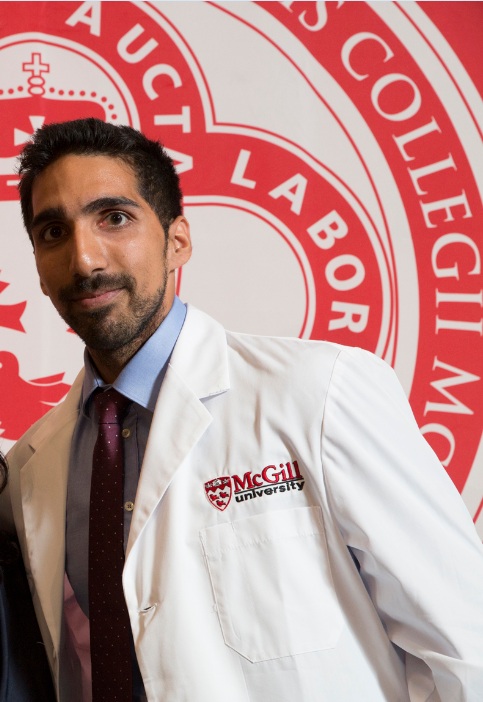 Neil Verma, B.Sc'12, M.Sc'15, M.D., C.M.'17
As a McGill student leader for over five years, Neil has served as Vice-President Academic of the Science Undergraduate Society (SUS) and Medical Students' Society (MSS), where he spearheaded the expansion of the SUS Graduate and Professional Schools' Fair and established the Osler Notes, a student-generated academic resource in collaboration with Faculty of Medicine. As an SUS executive, he focused on organization of workshops that provided students with resources to maximize their professional development and exposure. He participated in the Committee on Accreditation of Canadian Medical Schools review of the M.D., C.M. program through the co-authoring an Independent Student Analysis, which highlighted strengths of the curriculum along with strategies for improvement. His advocacy for students led to reforming the Medical Elective Curriculum Policy, diversifying student learning opportunities. A proud McGillian, Neil has strived to work with Faculty and students to improve the academic experience for all members of the McGill community.

"I am honored to join a tremendous group of individuals as part of the Scarlet Key Society," says Verma. "As a member of the McGill community for the last seven years, I have been struck by the contributions of student leadership to both academic and non-academic life at the university. Being immersed in this culture of activism brought me to take an active role in student leadership as both an undergraduate and medical student. This award represents the achievement of many exceptional students who strived to improve McGill student life. Going forward, I hope our work will illustrate the importance of student leadership and will inspire future student leaders to remain engaged within the McGill community."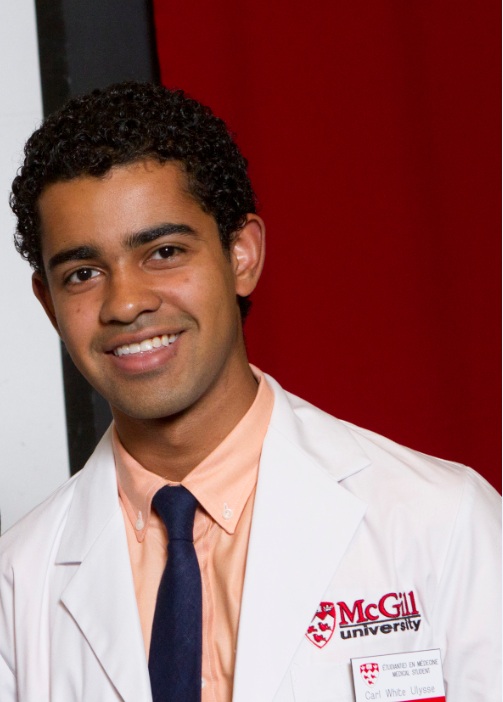 Carl White Ulysse, M.D., C.M.'16
Carl started out in student governance as President of the Medical Class of 2016 in his first year before being elected Executive President of his Medical Students' Society the subsequent year. During his mandate, he worked tirelessly to increase his faculty's political presence on the national stage, which led him at the end of his tenure to run successfully for a seat on the Executive Board of the Canadian Federation of Medical Students. Currently serving as the Executive Vice-President and Vice-President Communications of the Federation, Carl has coordinated major national media campaigns for the first ever Pan-Canadian Medical Student Wellness Survey and for a national Lobby Day around Pharmacare. Throughout the years, he has also advocated for all Canadian medical students at several national meetings on issues as varied as transition to residency and competency-based medical education. Upon graduation, he will be pursuing anesthesiology training at the University of Toronto.

"Becoming a part of a group as ancient and prestigious as the Scarlet Key Society truly is the culmination of my hard work for the well-being of all Canadian medical students during my time at McGill," says White Ulysse. "It is such an honour to share this distinction with all of the exceptional people who have received it over the years and I will cherish this memory as I move on to the next phase of my training."

March 24, 2016