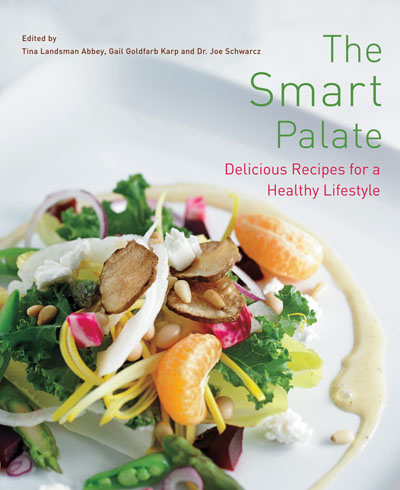 The Smart Palate cookbook, developed by, and in support of, the Rosalind and Morris Goodman Cancer Research Centre, recently took home two prizes in the 2015 Gourmand World Cookbook Awards.

A beautifully illustrated cookbook that features more than 180 tasty and nutritious recipes, along with chef's tips and smart food facts, the Smart Palate was awarded first place in the categories of Fund Raising – North America, and Health and Nutrition – institutions.

The awards will be celebrated at The World Cookbook Fair, held in Frankfurt from October 14 – 18, 2015. The Frankfurt Book Fair is the international publishing industry's biggest trade fair – with 7,100 exhibitors from more than 100 countries, around 270,000 visitors, over 4,000 events and around 9,000 accredited journalists in attendance.  For the last 20 years, this organization has been dedicated to bringing the very best publishers and authors of the culinary sector to Frankfurt for the largest book trade fair in the world.

By presenting nourishing alternatives to your favorite traditional recipes, the Smart Palate serves as an indispensable tool for choosing and cooking foods that sustain a healthy life.

All proceeds from sales of the book go to support groundbreaking cancer research being conducted at McGill University's Rosalind and Morris Goodman Cancer Research Centre.

Congratulations to all those involved in making this endeavor a success.

The Smart Palate is an award winner!  Buy your copy now at major retailers.