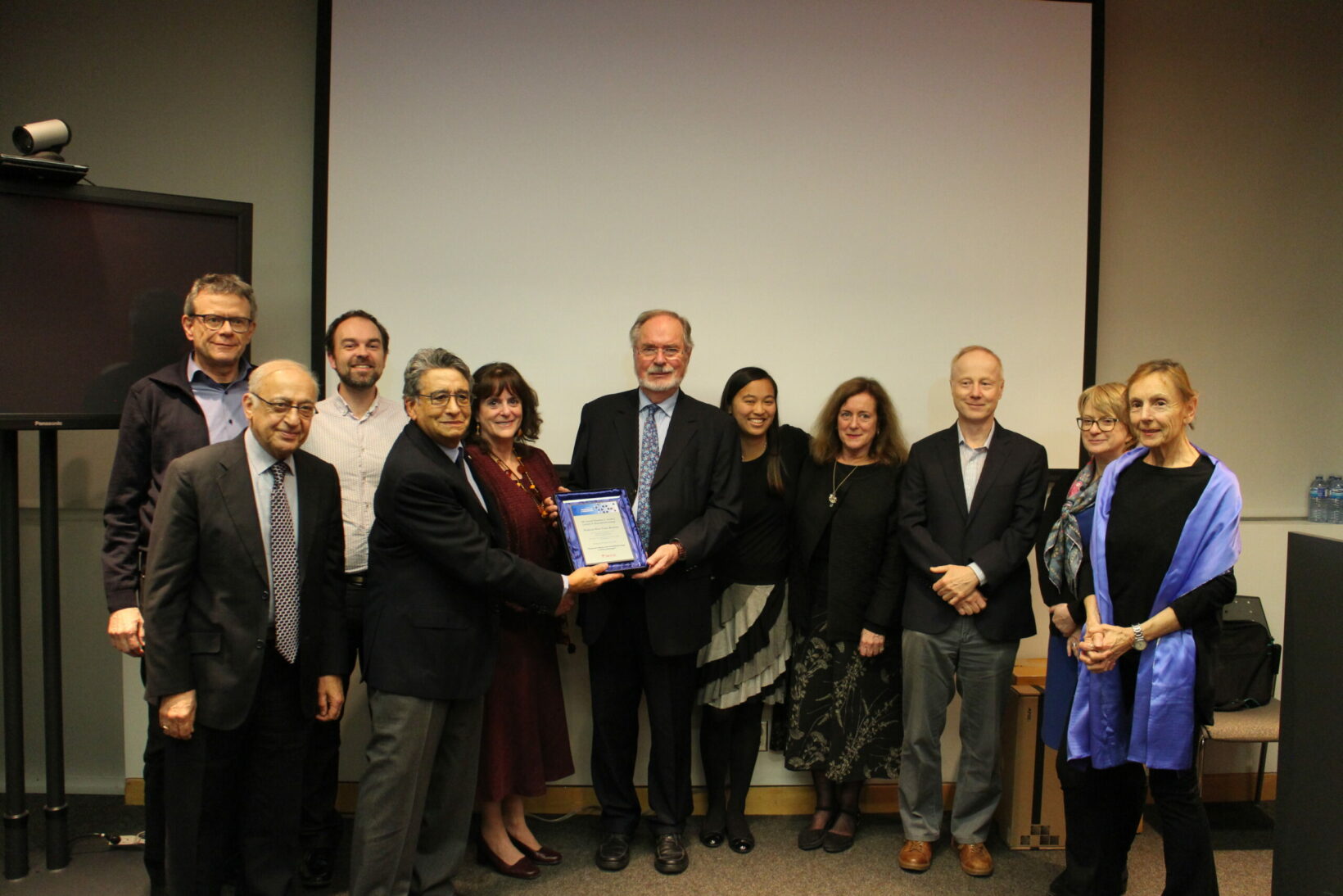 By Lisa Baum

This year marks 100 years since the birth of Dr. Theodore L Sourkes. As a pioneer in the treatment of Parkinson's disease and hypertension, his legacy is his role in the discovery of L-DOPA and the development of α-methyldopa. But for his friends, colleagues and family members his legacy will always be as a humble man, a teacher and a mentor. Many of the people who remember the real Ted Sourkes gathered this week for the annual Theodore Sourkes Memorial Lecture in Neuropharmacology, hosted by the McGill University Department of Pharmacology and Therapeutics, and delivered this year by Dr. Peter Riederer.

"We really are extremely privileged to have Peter come to speak to us at McGill," commented Dr. Claudio Cuello, Chair of the Sourkes Lecture Committee. Dr. Riederer, an internationally renowned German neuroscientist, delivered his lecture entitled "Parkinson's disease: from neuropharmacology to protein pathologies" on Thursday at the Rosalind and Morris Goodman Cancer Research Centre. The lecture was followed by a reception for guests.

Following in the footsteps of Ted Sourkes, Dr. Riederer also specializes in the analysis of neurotransmitters and receptors, as well as in the gene profiling of neurodegenerative diseases such as Parkinson's. "He really is one of the world's leading authorities in this specific area of neuropharmacology, and it's a great testament to the memory of Ted Sourkes that we are able to attract this kind of speaker to the event," noted Dr. Cuello.

With the inaugural event having taken place in 2013, the Theodore Sourkes Memorial Lecture exists thanks to philanthropic contributions from a community of committed donors – those who knew Ted and those who worked with him. Not least of whom, his close colleague Dr. Moussa Youdim, who generously gave a large donation to kick-start the program. This year, in order to bolster the annual lecture and to ensure that it exists in perpetuity, Dr. Youdim has once again given a considerable gift and offered to match any donations which come in to support the program. "It is through the generosity of those who knew and respected Ted that we're able to bring such high level speakers to Montreal in his memory," said Dr. Cuello.

To make a contribution to the Theodore L Sourkes Memorial Lecture click here.

November 22, 2019