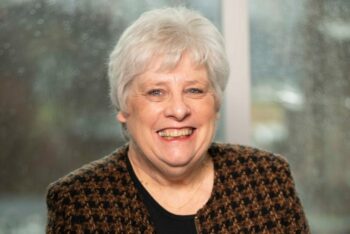 I first met Dr. Nicole Beauchemin in a corridor, swiftly moving from one office to the next, looking very busy and in a hurry. It was World Cancer Day, and she was finalizing preparations for the day's upcoming activities. As a newcomer to the Goodman Cancer Research Centre (GCRC), I was eager to meet this woman who many described as the heart and soul of the place. With over 30 years of experience as a cancer researcher and a pioneer in the field of Carcinoembryonic antigen, she is a force to be reckoned with.

During our first encounter, it occurred to me that this woman, full of life and energy, did not fit the scientist stereotype of an isolated workaholic slaving away in a lonely laboratory. It soon became apparent that nothing about Dr. Beauchemin is ordinary, especially not her scientific success which has gone above and beyond what many achieve in a lifetime.

In the 1980's, Dr. Beauchemin followed in the footsteps of Dr. Phil Gold, best known for his work in characterizing Carcinoembryonic Antigen (CEA), today one of the best biomarkers for colorectal cancer. Her work focused on colon cancer, making discoveries about the pathways involving CEACAM1 – a glycoprotein strongly overexpressed in stages 3 and 4 of human colon cancer.

Dr. Beauchemin's research has shown that CEACAM1 deletion has more impact on tumor progression leading to increased tumor size and more advanced staging. Dr. Beauchemin's research team has now mapped a whole signalling network involving CEACAM1-L and is developing new CEACAM1-based inhibitory compounds that would prevent such dramatic cancer progression. Today her models have been used as a framework to develop new therapies for cancer patients likely to benefit from these treatments.
"My interest in health research was stimulated by my mother's devotion to her profession as a nurse: she was always looking for answers to why diseases occur", she notes.
Findings answers may indeed be one of Dr. Beauchemin's best strengths too. Dr. Beauchemin's extraordinary journey however does not stop there. In 2015 she received the Lifetime Achievement Award from McGill University's Faculty of Medicine, Department of Oncology. The following year, she also received the Limelight Award from the GCRC for her longstanding commitment to cancer research and public education.

Her dedication to cancer became all too personal when, in 2001, she herself was diagnosed with Breast Cancer following a mammogram.
"Even as a scientist and professor, it is not something you prepare for. Cancer treatments are physically and psychologically demanding. Not only are you continuously faced with your own mortality, an extreme fatigue takes over your life as the treatments evolve."
Having experienced cancer first-hand, Dr. Beauchemin became convinced that personalized treatments are a necessity in today's health care system. She also became increasingly aware that the quality of life is just as important as life itself.

Today, Dr. Beauchemin shows very little signs of slowing down. She is the Program Director at the Goodman Cancer Research Centre and is leading the expansion of new training programs to better equip the next generation of scientists.

When asked about her proudest achievement, her devotion to making an impact shines through.
"We started a research project many years ago with not much known about CEACAM1, and we've come out at the other end, uncovering the mechanisms guiding the activity of CEACAM1 proteins in cancer initiation and metastatic progression. Today, I am thrilled to collaborate with colleagues on the translational aspects of this project."
On this Breast Cancer Awareness Month, Dr. Beauchemin is our #cancerhero breaking down stereotypes and fighting cancer for all, one step at a time.
November 2 2020