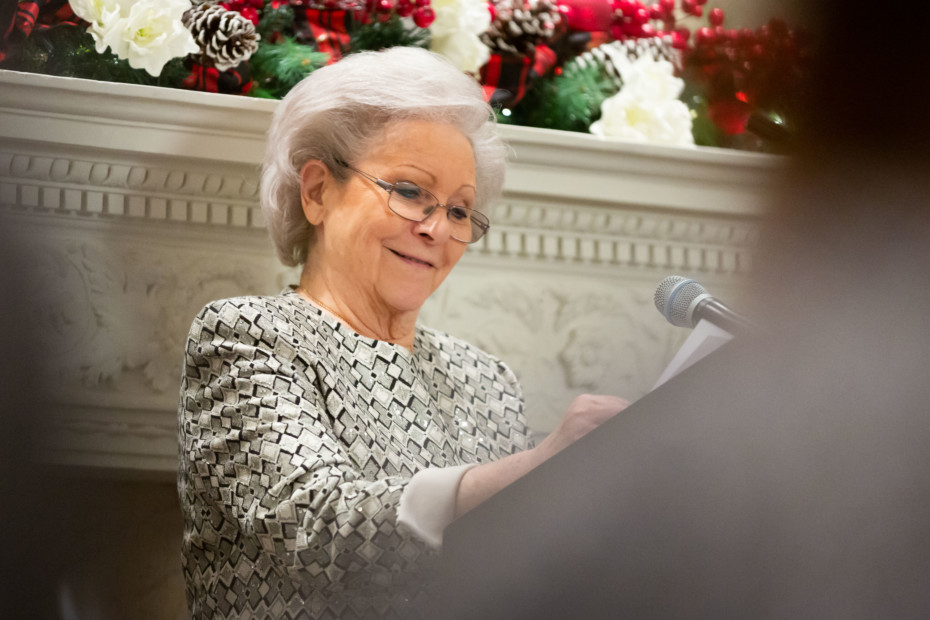 Flanders dedicated decades of her life to raise awareness about and improve palliative care in Canada
Source: McGill Reporter

It is with great sadness that McGill has learned of the passing of friend, philanthropist, educator and social activist Kappy Flanders. Flanders died on June 27 at the age of 81.

In 1991, Kappy Flanders' life changed dramatically when her husband, Eric, died of lung cancer –   a year and a half fight endured without the support of palliative care. The hardships that come with losing a loved one to cancer galvanized her to dedicate the remainder of her life to improving the state of, and raising awareness about, palliative care, a service she had never heard of when her husband was ill.

Her tremendous efforts led to the creation of the Eric M. Flanders Chair in Palliative Medicine at McGill University and the McGill Council on Palliative Care non-profit organization, both established in 1994. Flanders' work earned her the Governor General's Meritorious Service Medal in 2003.

Flanders was also a driving force in the development of the Canadian Palliative Care Initiative, a roadmap to enhance research, scholarship, and promotion of a standardized system for palliative care in Canada.
"When she had an idea, she ran with it"
She did amazing things for palliative care, created wonderful opportunities and institutions,' says Judith Flanders, one of her four children. 'More importantly, though, her life shows how you can change paths. You don't need to stay on the same road your whole life. When my father died, she reinvented herself. I don't think it was a conscious decision, but she took a terrible life event and found the good in it. It was that ability that made her such a force of nature.'

Through her tireless dedication to palliative care, Kappy Flanders also became a champion of education and community outreach, notably through the creation of the successful Mini-Med, Mini-Music, Mini-Law, Mini-Science, and Mini-Biz lecture series.

Honora Shaughnessy, a retired executive director of McGill's Alumni Association, closely collaborated with Flanders to create the Mini lectures.

"When she had an idea, she ran with it and you kind of jumped on her bandwagon without really realizing you were doing it because she's just so dedicated and determined, it was contagious," Shaughnessy told the Reporter. "Through our collaboration, we became close friends because we shared a lot of the same values; we both understood how important public education and outreach is. Most of her work was aimed at getting information out to the general public, for example with initiatives like the Council on Palliative Care."
Visionary, champion, dear friend
Kappy Flanders was, born in Britain in 1938, and like many young women of her generation, married young and started a family. During an acceptance speech for a Council for Advancement and Support of Education (CASE) Award she received in 2011, Flanders said that as a teenager she floated the idea of going to university to her father, "but only once, and probably, to be fair, not very convincingly." Her father responded with one word: "Why?"

"My answer, only 54 years after my father asked me: Why do I want to go to university? I want to go, to be part of that community that thinks that learning is for life."

Judith Flanders believes that finding a community dedicated to knowledge is key in explaining the driving force behind her mother's dedication.

"I think learning and continuous education galvanized her as much as palliative care," says Judith Flanders. "She found a community that shared her vision at McGill."

Principal Suzanne Fortier says McGill has lost a strong ally.

"All of us in the McGill community are deeply saddened to have lost such a dear friend," she says. "We were very fortunate to have had a champion like her. Kappy's energy and dedication to our University will be greatly missed."

"She was a stellar volunteer, a champion for McGill, and an agent for change," adds Marc Weinstein, Vice-Principal, University Advancement.

Three decades of McGill engagement
Over the course of thirty years, Kappy Flanders was passionately dedicated to McGill. She sat on McGill's Board of Governors from 1998 to 2007, served as  member of the Montreal Neurological Institute's Advisory Board and the McGill Middle East Program in Civil Society and Peace Building, chaired the McGill Friends Fund, was a loyal supporter of The McGill Fund, and was a regular attendee at the Donning of the Healer's Habit, a White Coat ceremony for medical students embarking on their clinical training. Flanders also played an instrumental role in the establishment of what is now the Steinberg Centre for Simulation and Interactive Learning. In January 2006, the Flanders Family Academic Travel Fund was established to bring a visiting professors to McGill who would share their knowledge and expertise with colleagues at the university.

"She really was one of life's very special people, so generous," Shaughnessy says. "Everybody was in admiration of all that one woman could do and I really want her accomplishments to be recognized and appreciated by McGillians. We all owe her a debt of gratitude for her dedication to McGill University."

Dr. David Eidelman, Vice-Principal (Health Affairs) and Dean, Faculty of Medicine, remembers Kappy as a passionate visionary.

"Kappy was a passionate advocate and visionary for the causes she believed in," he says. "How fortunate we are that she believed in McGill and in the Faculty of Medicine, giving so much of her time and energy in support of our mission. We were further touched to learn that Kappy donated her body to the Faculty's Division of Anatomical Sciences for teaching purposes."

Just eight months ago, says Dr. Eidelman, Flanders was the "prime mover in establishing Montreal's first, and very successful, Projection Week," a new initiative to promote multidisciplinary community conversations around death and dying.

"My last meeting with Kappy was about the second edition of Projection Week," says Principal Fortier. "This project and work represents so well who Kappy was: a person of great energy, leadership, committed to her community and courageous, never afraid to talk about difficult subjects. She was not a person who would cross the street to avoid the difficult situation of encountering a person in grief.  She would face the situation with compassion and lend a generous ear."

In 2009, McGill University recognized Kappy Flanders' tremendous contributions by awarding her with an honorary doctorate of Laws, the institution's highest honor. In 2015, Flanders was named a member of the Order of Canada in recognition of her commitment to the "causes of palliative care and public education."

June 27, 2020