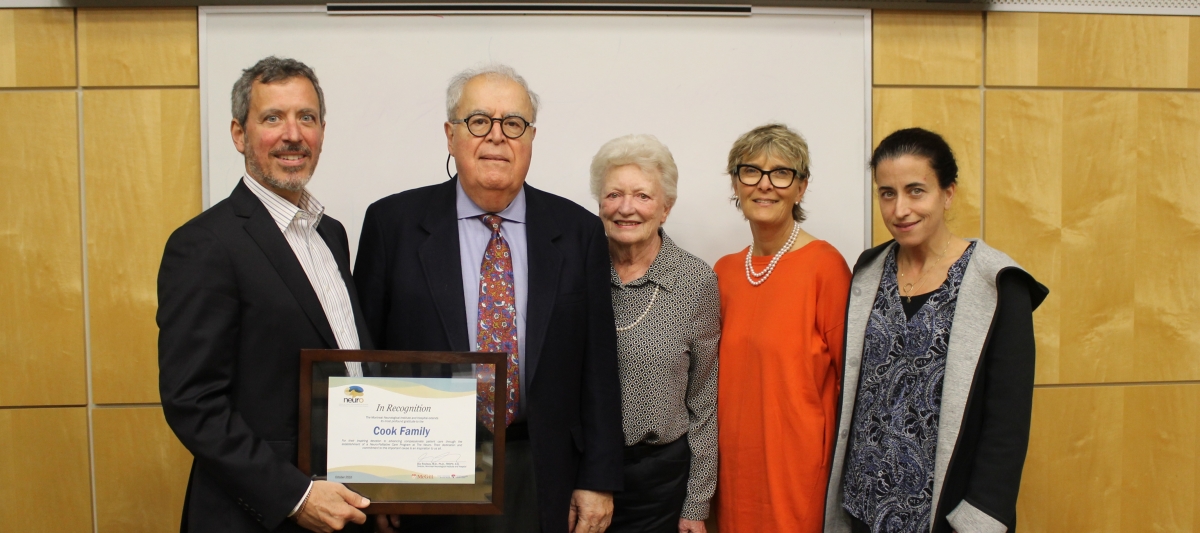 The Montreal Neurological Institute and Hospital (The Neuro) is pleased to announce the launch of a new clinical program designed to ease the suffering of seriously ill patients through specialized consultation and comprehensive care.

The Susan Cameron Cook Neuro-Palliative Care Program, named in honour of Susan Cameron Cook, whose family provided vital seed funding for the program, has been designed with the goal of reducing the mental and physical suffering of neurological patients and their families in the journey from diagnosis of a terminal illness to end of life.

Patients with terminal neurological diseases typically live longer than those with other terminal illnesses, up to five years or more. They are also younger than the average terminally ill patient. The Susan Cameron Cook Neuro-Palliative Care Program will meet the unique needs of those suffering from terminal neurological disease, including brain tumor, Alzheimer's disease, amyotrophic lateral sclerosis (ALS), and progressive multiple sclerosis.

By providing one point of contact for patients and their families to navigate the healthcare system, the Susan Cameron Cook Neuro-Palliative Care Program will reduce their stress and frustration. Patients will be assigned a neurologist or neurosurgeon with palliative care training, who will lead a multidisciplinary team including psychologists, physical therapists, social workers and nutritionists to ensure all patient needs are met.

As a teaching hospital, The Neuro will become a Canadian centre for training in neuro-palliative care. The Susan Cameron Cook Neuro-Palliative Care Program is the first of its kind in Canada, and will produce the first fellowship-trained neuro-palliative care professional in this country.

The care of patients with neurological disease will be increasingly important in the coming years. One in three Canadians will suffer from neurological disease or injury in their lifetimes, and in Quebec alone 2.6 million people are affected.

"This program will lift great burden off the shoulders of those suffering from serious neurological diseases," says Dr. Guy Rouleau, Director of the Montreal Neurological Institute. "It is also another example of MNI at the forefront of innovative approaches to providing patient and family care. I would like to thank Anne-Louise Lafontaine, Lucia Fabijan and Jeff Hall for providing their leadership and talents to this initiative, and the Cook family for their foundational support in making it all possible."

October 18, 2016