Relieving spine pain and reducing surgical wait times for patients across Quebec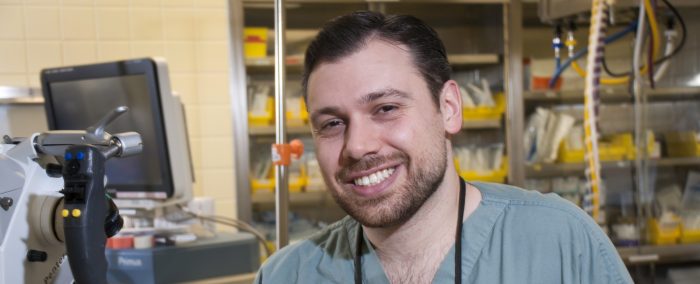 By Patrick McDonagh, The Neuro

Spine surgeons have long wait lists, but the majority of these people don't need to see us," says Dr. Carlo Santaguida, a neurosurgeon who directs The Neuro's Spine Program. "When a family doctor refers a patient to a spine surgeon because they believe that patient requires surgery, they're right only 15% of the time."

As a consequence, patients who do need spinal surgery are caught in a long waiting line, while those who don't undergo needless tests and could have their condition treated more quickly and efficiently. "We need to completely refocus how we care for these patients," says Dr. Santaguida. "That's why we created the CareAxis network."

CareAxis, a non-profit organization formed to address the problem of long wait-times for surgical assessments, has recruited and trained a team of physiotherapists who can identify appropriate candidates for surgery with a high degree of accuracy – and without imaging examinations.
"Rather than go through diagnostic tests and wait for an appointment they don't need with a spine surgeon, patients can be treated more quickly and effectively by a physiotherapist," says Santaguida. "And those patients who do require surgery can be identified by the physiotherapists and then flow through the system more quickly."
Dr. Santaguida, CareAxis's Chief Medical Director, co-founded the network with his brother Paul, its CEO, whose background in program management includes implementing a similar program in Ontario. Since incorporating in 2015, CareAxis has linked with six clinics around Montreal; in spring 2019 it expanded its network to thirteen clinics, including sites in Val d'Or and Gatineau. "Eventually we want to be able to serve all Quebec," says Carlo.

"The idea of using physiotherapists is not innovative, but how we are implementing the care model is," explains Paul. "One major challenge involves applying this model across a region as vast as the McGill health network in a cost-effective way. So instead of building brick and mortar clinics, we recruit top physiotherapists from independent clinics across the province to form an affiliate network."

These physiotherapists then receive advanced training and accreditation by The Neuro's surgeons and are given access to a shared technology platform managed by CareAxis, enabling them to provide surgical assessments consistently across the network. They are also able to refer patients for further treatment at The Neuro when clinically indicated. CareAxis and The Neuro have developed performance measurements to track the initiative's impact on health outcomes, patient satisfaction, wait times, and treatment costs.

Further, as part of its partnership with The Neuro, CareAxis introduced The Neuro-CareAxis Spine Program for Seniors, which aims to improve surgical assessment wait-times for patients 65 years or older. As part of this program, eligible patients receive access to CareAxis services at no cost, including an assessment by a local physiotherapist and expedited referral to a surgeon at The Neuro for surgical candidates.

Since its launch, CareAxis has been able to grow its scope thanks to the generosity of donors, specifically the Mirella and Lino Saputo Foundation. A recent commitment from the foundation allowed the network to expand the number of clinics served throughout the province, and therefore the number of patients reached. With this funding, the feasibility of the CareAxis model will be further tested and function as a proof of concept for additional growth that, if successful, has the potential to radically change a patient's journey from initial symptoms to treatment.

"The support from the Mirella and Lino Saputo Foundation means we'll be able to divert over 1000 patients over the next 14 months from needlessly waiting for appointments with surgeons, so those who require consultation will be seen faster, and those who don't will be given the resources to manage spine pain without having to set foot in a hospital," say the Santaguida brothers. "The support of donors means the world to us. It is helping us transform how spine patients are cared for within our health care system."

May 29, 2019