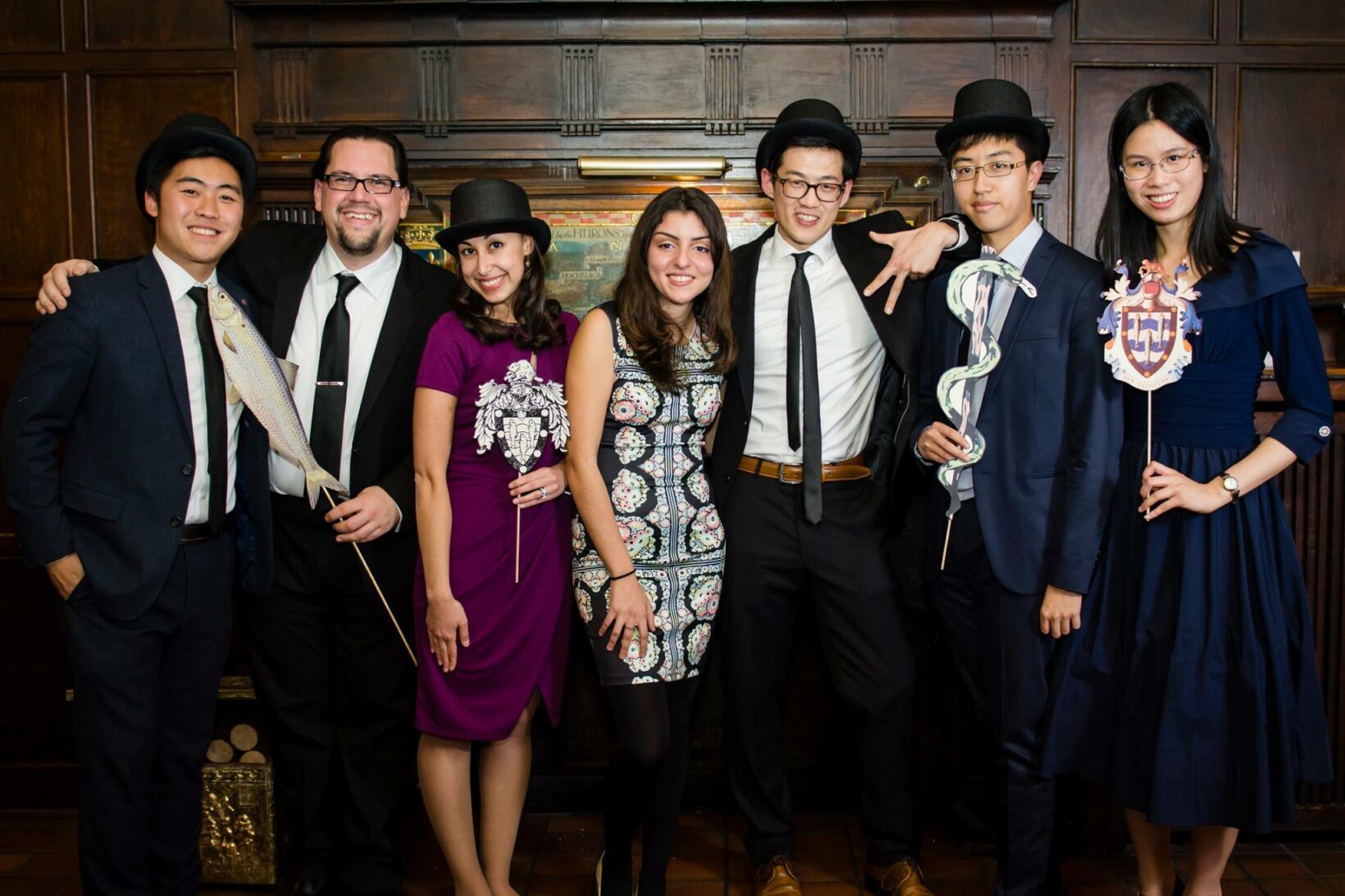 In the spirit of Sir William Osler, McGill's Osler Society aims to enrich the education of McGill students in medicine and other disciplines through lectures by distinguished guest speakers and through the presentation and discussion of papers concerning Humanities and the Social Sciences in Medicine. The Society also puts a focus on developing philanthropy among medical students and on exploring enriching experiences that allow students to develop into more well-rounded physicians.

This past summer, the Osler Society published their annual report in the Osler Library Newsletter (p. 6-7), marking a return to the publication for the first time in twenty-nine years.

The upcoming 40th annual Osler Lectureship at McGill, to be delivered by Professor Susan M. Reverby on November 1, provides an opportune time to reflect on the achievements of the medical student-led society during the 2016/2017 academic year. In that light, we asked members of the Society's Executive Committee last year to reflect on their experiences and to share their highlights and thoughts with us. 

Steph A. Pang (Co-President 2016-17)
"Coming from an academic background that emphasized the arts as much as the sciences, I have always shared Osler's conviction that we can grow as humanistic physicians by learning from other fields, such as history, literature and architecture," says Steph. "In addition to working with highly dynamic medical students, one of my highlights was working with and learning from engaged McGill faculty and staff with interdisciplinary interests, including the Osler Library, its Board of Curators, and the Department of Social Studies of Medicine. I was excited to be involved in establishing a new lecture series, "Discovering the Treasures of the Osler Library". We brought in physicians and professors from the Faculty of Medicine to give talks on the medical humanities using the amazing materials in the Osler Library. It was a joy to share the enthusiasm and knowledge of these individuals with medical students and the greater McGill community. This collaborative initiative also allowed us to raise awareness and appreciation for the stunning historical treasures right in our own library."

Hidy Girgis (Co-President 2016-17)
"The highlight of the year for me was the Osler Banquet," shares Hidy. "The event unites new medical students among themselves and with fellow McGill students and faculty members in order to celebrate and continue the traditions set by Osler, as well as to appreciate the humanities, history, and art of medicine. I wanted to contribute to promoting team spirit and strengthening community bonds."

Casey Wang (VP Events 2016-17)
"As a group last year, we felt we were able to take the Osler Society farther than it has been in years," explains Casey. "Being one of McGill's oldest student societies, the Osler Society underwent a fresh revival of sorts with our newly formed team. Among the events that we organized last year, one that stands out to me is the Neuro Simulation Centre event. In collaboration with McGill neurosurgeon Dr. Rolando Del Maestro, we were excited to offer students a chance to try their hand at different neurosurgery simulation exercises. Through the generosity of the attendees, we were able to raise $400 for the Canadian Brain Tumour Foundation. The event was incredibly fun to organize, and we hope to carry forward this philanthropic aspect of the Society moving forward."

Alexandre Bélanger (VP Communications 2016-2018)

"My first initiative within the Society was the Osler Banquet and the Osler Lectureship," says Alexandre. "This double event is meant to commemorate Sir William Osler, of course, but also to welcome the new cohort into the McGill Medicine family and to offer them a first contact with Osler's views on how to practice medicine, by bringing a humanitarian approach to the sciences of medicine. We tried to cultivate this philosophy through a series of lectures throughout the year. As such, I'm glad to be part of Dr. Osler's heritage and to ensure its sustainability. It is a privilege to be part of this legacy."

Soumiya Bouhout (VP Finance 2016-2018)

"I joined the Osler Society mainly because I loved the spirit of promoting education by bringing together senior mentors and young students," explains Soumiya. "Beyond that, the Society's Executive Committee was formed by a great set of team members!"

Ke Xuan Li (Med-1 Executive 2016-17, Co-President 2017-18)

"Being an executive member of the Osler Society was a truly amazing experience," says Ke Xuan. "Working as a team, we were able to bring students talks on diverse topics including the history of neuro-oncology as well as our very own Maude Abbott Medical Museum at McGill. Remaining true to our roots, we ensured the successful return of the annual Osler Banquet and Osler Lecture. Through specific events we also raised funds for both the Herbie Fund, which supports lifesaving surgeries for underprivileged children, as well as the Brain Tumour Foundation of Canada. I believe in the importance of the humanities, social studies and philanthropy in medical education. Our efforts as executive members of the Osler Society allow us to promote just that."

To learn more about McGill's Student Osler Society: https://www.facebook.com/mcgilloslersociety/

October 20, 2017