By Sophia Blankenhorn for Medicine Focus

In 2012, Ottawa-based nurse practitioner Patricia McCarthy, BScN'85, MSc'91, served on a planning committee for a national cancer nursing conference, an experience that would inspire her to do something she had never thought of, write a children's book.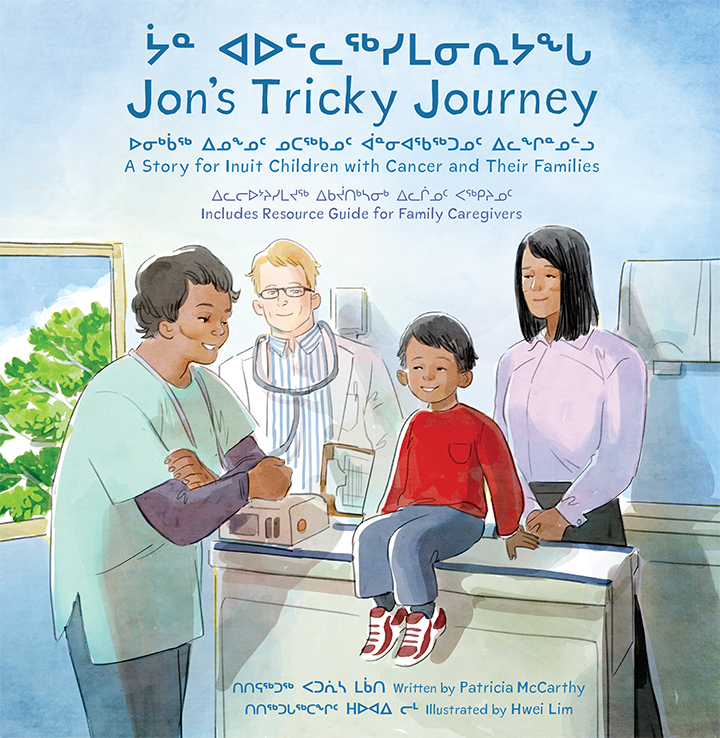 McCarthy remembers at one point during the conference walking with two Inuit nurses and commenting on the beautiful fall weather when one of the nurses shared, "Even though I am an adult now and I shouldn't really feel this way, I am still a little bit afraid of trees."

The idea that something as commonplace as trees could appear foreign caught McCarthy's attention. She thought of it in relation to Inuit children who have to travel south for cancer treatment.

"On top of facing cancer, these children must leave their homeland and deal with a new, strange, and sometimes frightening environment," says McCarthy.

Soon after came McCarthy's "Eureka moment."

Using her knowledge from a 23-year career as a pediatric nurse practitioner in oncology, she resolved to write a children's book for young Inuit cancer patients and their parents. It would be both a resource for families and a source of comfort to help them through a difficult process.

This past summer saw the publication of Jon's Tricky Journey: A Story for Inuit Children with Cancer and Their Families.

Jon's Tricky Journey is not a typical bedtime time story.

Written in Inuktitut and English, the first section of the book tells the story of an Inuit boy Jon's experience of cancer, starting from first diagnosis. The latter half of the book features information for both parents and caregivers alike. It includes tools such as the Northern Pain Scale, which "helps doctors and nurses understand the severity of a child's pain using Inuit facial expressions."

There is a body of information on the Inuit experience of the health care system, says McCarthy, but it is not always easily available to patients. Jon's Tricky Journey is an attempt to "translate that information into a format that is more accessible."

The path to publication was not without obstacles.

After the initial inspiration in 2012, McCarthy received a grant from the Childhood Cancer Canada Foundation and C17, a Canadian pediatric cancer and blood disorder group, for the project. However, due to a busy work life it was not until 2014 when, after 35 years as a nurse and then nurse practitioner, she took an early retirement that she had enough time to write, "It was then that everything fell into place," she recalls.

The book is based on a real child, whose treatment process McCarthy followed for a year.

Although the family remains anonymous, McCarthy was able to include some personal touches. "I could not identify the child to protect their privacy but there are some little things we could include, for example the child's favorite color is red and so in my book Jon is always wearing something red. On the last page of the story section, there is a small painting of hand prints like one I made with him and his family members. I wanted him to know that it was his story."

As for future goals, McCarthy would like to get the book onto reading lists for students in nursing programs. The power of story was a lesson learned at McGill. "Our professor had us read a story and then write a paper about the patient's perspective. That is what nursing is all about—understanding the patient's perspective," she says.

With her publisher, Inuit-owned, Iqaluit-based Inhabit Media, McCarthy has sent copies of Jon's Tricky Journey to hospitals across Canada.

Her vision for this book realized, McCarthy is the first to admit there is still work to do. Until then, Jon's Tricky Journey acknowledges some of the many difficulties faced by young Inuit cancer patients and their families, with a message of strength and hope. "That," says McCarthy, "is my approach to nursing."
November 2, 2017