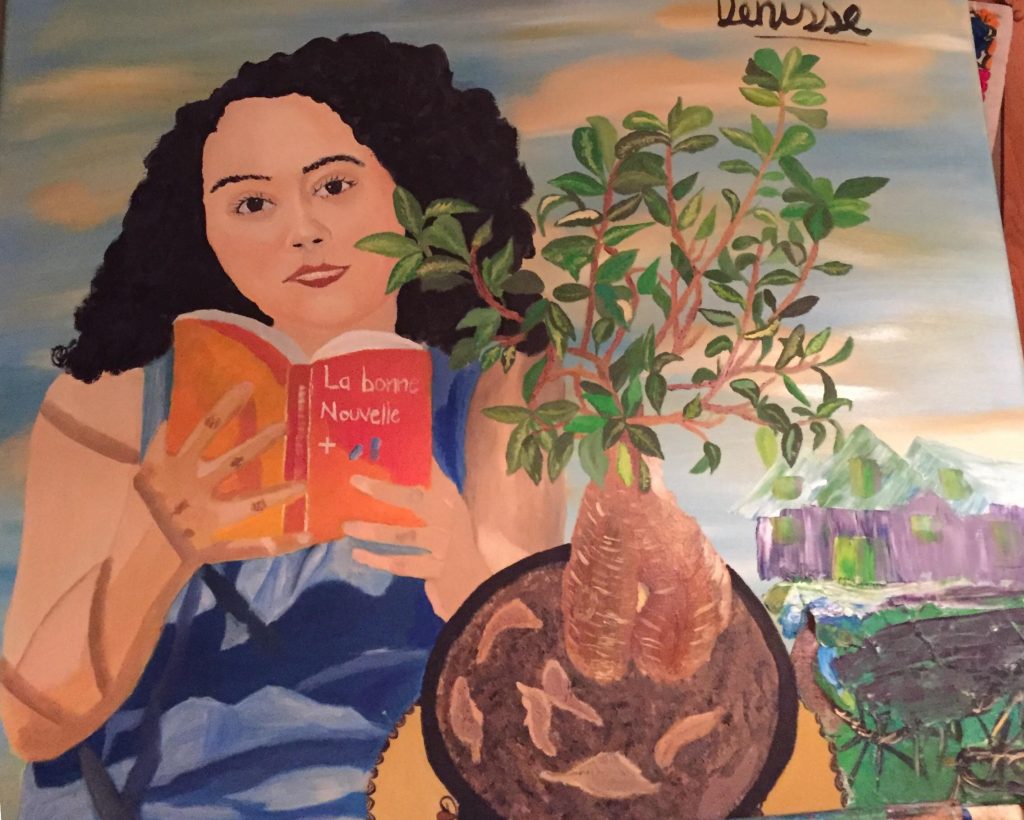 By Philip Fine

An art exhibit, inspired by illness and healing and organized by an interprofessional group of McGill Faculty of Medicine students and medical residents, is now livening up what used to be a simple hospital corridor and, once again, eliciting a cross-section of reactions.

The inaugural Journeys Through Health exhibition, held at the Glen site of the McGill University Health Centre (MUHC) in 2016, heard from one nurse who would regularly wheel a patient into the art-filled area because it helped relieve the patient's insomnia. Others appreciated how the colourful images rejuvenated the normally antiseptic setting.

This year, Jiameng Xu, one of the organizers of the exhibit and an MD-PhD student who is completing her PhD in Rehabilitation Science, heard from an exhibiting artist who told her the waiting room walls offered an important touchstone. "When she goes into hospital for procedures, she feels like her body isn't her own. To sit in the waiting area and see personal experiences on the walls gives her hope."

This year's installation has moved to the 6th floor of the Montreal General Hospital and brings together 29 artists. Among them are health professionals, patients and caregivers. This year, they were given the theme of "new beginnings."

One artist, Alejandra Bertorini, used her cataract surgery as a jumping off point for the colours in her work. In the text accompanying her painting, called Cataract, she writes: "As the surgeon prodded and tugged, cut and stitched, my eye responded with an amazing display of colours: brilliant reds and pinks, flashes of yellow and green on a field of intense blue. Like Earth viewed from space, surrounded by nebulas, suns, comets and stars." Another artist, who had endured an 11-hour operation, told the organizers that she would be sending out an invitation to her surgeon.

Fellow organizer Susan Ge, MDCM'16, a Surgery resident, sees a connection between artistic creation and medicine, saying that illness and healing, like art, are abstract concepts. Another organizer, Kacper Niburski, an MDCM student, brings in an interesting parallel to that concept: "A piece of art is like a body. It is visual and requires interpretation. So when a person becomes sick, they are, like Susan says, abstract. It's very difficult to determine what's going on at first. But then, through interpretation, through careful looking, we try to understand what a piece or body is dictating."

Xu sees the art taking on an equalizing role among medicine's different actors. "If you look at the art, you can't really tell if it's made by a doctor or a patient or a family member until you read the label. It shows a common ground that cuts across the backgrounds that often keep our groups separate from each other."

Alexandra Kirsh, the curator at the RBC Art and Heritage Centre of the MUHC, has been the organizers' main collaborator, and made it possible for the artworks to have a physical exhibition space. Nonetheless, the show was put together on a shoestring budget with a few hundred dollars from both the Dean of Students office and the Forces AVENIR student fund, to buy items such as frames and to print up posters. "We're really looking for donor funding," says Xu, who hopes to find some alumni whose passions align with the project's ideals.

In the meantime, the exhibition, says Ge, will "help warm up the hallway and give people the feeling that they're not alone, that there are other people who have gone through these things."

New Beginnings, the 2nd Journeys Through Health exhibition, opens October 25, 2018, and runs until April 2019 at the Montreal General Hospital, 1650 Avenue Cedar, 6th Floor,  Main Entrance. The project's website can be found at https://journeysarthealth.wordpress.com
October 24, 2018