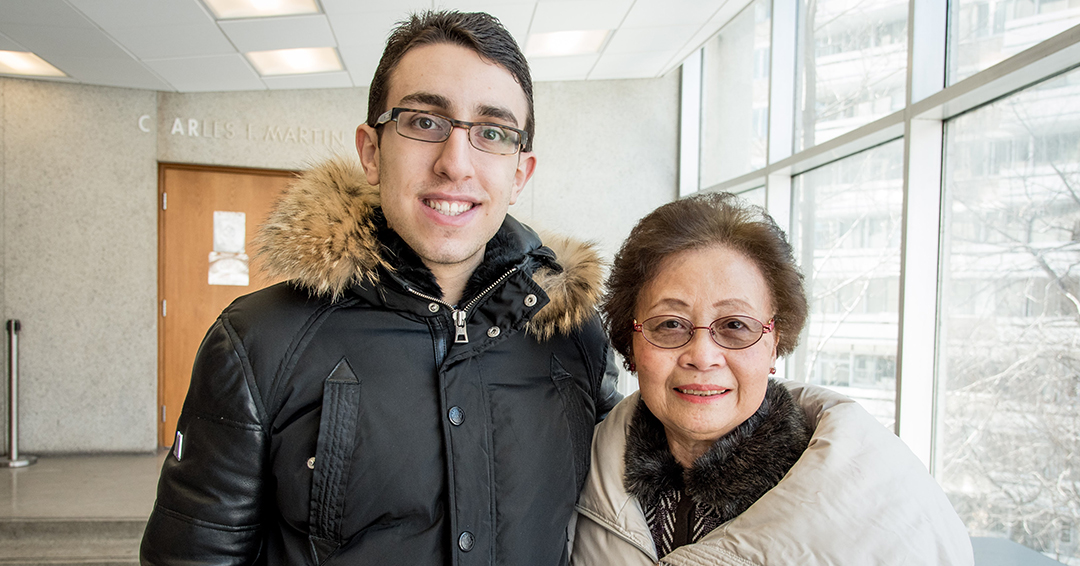 The Dr. Alice M. Chan-Yip Humanitarian Global Health Initiatives Award is the latest in a long line of gifts and other generous gestures from one of the first women of Chinese origin to practice pediatrics in Montreal.
Pediatrician, innovator and advocate for culturally and psycho-socially sensitive care, Dr. Alice Mannor Chan-Yip, CM (MDCM'62, DSc), has made many gifts over the years to benefit learners at McGill and the communities they will one day serve.
Now she is at it again.
In honour of the Medicine Class of 1962's Diamond Jubilee anniversary reunion, she has endowed yet another award, this time at the School of Population and Global Health (SPGH).
The Dr. Alice M. Chan-Yip Humanitarian Global Health Initiatives Award will help defray travel or research costs for undergraduate or graduate students participating in health-focused emergency or humanitarian relief projects.
This is not the first time that the Chinese-born philanthropist, now based in Halifax, has championed global health through McGill. In 2007, she endowed a travel award in memory of her parents—the Dr. Yuk Chan Ma & Dr. Yuen Kock Chan Prize in Multicultural & International Medicine. This helped inspire the launch in 2009 of what is today a signature event at the SPGH, the annual Global Health Night hosted by McGill Global Health Programs.
Chan-Yip (pictured above with a member of the McGill Medicine Class of 2018) had been a supporter of The McGill Fund for decades. In 2000, a year after the death of her husband, she created the Gar Lam Yip Memorial Fellowship in Guided Wave Photonics. It was to be the first of several gifts she would make in memory of Prof. Yip, a leader in telecommunications research, who served in the Department of Electrical and Computer Engineering from 1973 to 1999.
She would go on to make many more gifts to her alma mater, including to the School of Continuing Studies and the Faculty of Medicine and Health Sciences (at both the School of Physical & Occupational Therapy and the School of Medicine).
What drives her to keep finding new ways to give back?
According to Chan-Yip, who is also a retired member of the Department of Pediatrics, it has to do with her early education at Baptist-founded Pui Ching primary and middle schools in Guangzhou, Hong Kong and Macau: "We were immersed in Christian mottoes, such as, to give is better than to receive and helping others is the foundation of happiness."
Dr. Alice Chan-Yip was born in China to physician parents.
During WWII, her family fled Guangzhou for Hong Kong then Macau, where her father died of tuberculosis when Chan-Yip was six years old.
After the war, when her family returned to Guangzhou, Chan-Yip was exposed to classmates at boarding school whose parents were Canadian or American citizens—opening her eyes to the possibility of pursuing higher education abroad.
When the Communist regime took control of mainland China, her family escaped to Hong Kong, where she completed high school in 1955.
She was attracted to medicine as a helping profession and inspired by the "patient-family centered" style of her mother, a family physician.
At the time, the only medical school in Hong Kong had fluency in English as a prerequisite for admission.
With her mother's support, Chan-Yip was accepted to three universities in North America, including the University of Ottawa, where she would major in biochemistry. (FMHS Focus)
In addition to her schooling, Chan-Yip cites her mother as a main influence: Dr. Yuk Chan Ma (1908–1994) was a psycho-socially oriented family physician.
"Growing up, listening to my mother talking with friends, I learned about interpersonal relationship and how the body and mind works and how your emotions affect your life."
When she became a physician herself, Chan-Yip practiced a psychosocial approach to care, familiarizing herself with the family structure and dynamics of her patients.
She remembers that back in high school, the fathers of some of her fellow students had immigrated to North America where they worked menial jobs. "That sensitized me towards community engagement and how I understood each family's life journey," she says.
Later, when studying biochemistry at the University of Ottawa, she would gain firsthand experience of language barriers and acculturation stresses, which further sensitized her to the plight of newcomers and influenced her awareness of health care inequity. She emphasizes the importance of treating patients with empathy, regardless of cultural factors, such as race, economic status or psycho-social orientation. (According to Chan-Yip, the bilingual environment at the University of Ottawa, where there was a requirement to pass a French proficiency course, has served her in good stead, both as a medical student at McGill and in her subsequent pediatric training and career.)
Along with her philanthropic efforts, her desire to help others shines through in her clinical work, research, teaching and community service.
A trailblazing career
As a community-based pediatrician from 1973 to 2005, Chan-Yip highlighted the importance of language- and culture-specific values in developing patient-focused programs. She launched a half-day pediatric clinic, which identified differences in health status between patients who came from immigrant versus mainstream families. She identified a link between a lack of culture-specific community health services and post-partum depression, failure to thrive, iron-deficiency anemia, nursing cavities and late diagnosis of developmental delays.
Chan-Yip, one of the first Chinese women to practice pediatrics in Montreal, went on to create a culture-specific prenatal class for Chinese-speaking families. She also collaborated on a Chinese-language childbirth and infant care manual.
Additionally, Chan-Yip worked with multidisciplinary staff to develop a multicultural program including interpretation services at the Montreal Children's Hospital (MCH) of the McGill University Health Centre, and she worked with other community activists to establish the Chinese Family Services of Greater Montreal.
Although she is proud of her advocacy for multicultural health, she gives credit to the teachers, community leaders and health professionals who inspired her, notably the late Dr. David T.W. Lin, OC (BSc'37, MDCM'40), a surgeon who led a successful bid to rebuild the Montreal Chinese Hospital. "It is not me who had all the wisdom for community health, but it is the community group who joined forces in making our Canadian society better," she says.
#InHerOwnWords Dr. Alice Chan-Yip has "always been inspired by clinician-teachers, research scientists and community leaders for their innovative and advocacy spirits towards the common good of society."
In 1996, she co-authored a research paper on acculturation style and psychological functioning in children of immigrants. Three years later, she contributed to the book La santé mentale et ses visages: Un Québec pleuriethnique au quotidien. In semi-retirement, after observing a high number of pediatric patients presenting with somatic symptom disorder (SSD) at the MCH emergency department, she carried out a pilot research project to study patients with SSD and developed a model for diagnostic and therapeutic strategy.
In 2004, she received the Certificate of Merit and the inaugural Noni MacDonald Award from the Canadian Paediatric Society for her article Health promotion and research in the Chinese community in Montreal: A model of culturally appropriate health care, published in the Journal of Paediatric Child Health. (Seven years later, she wrote a personal essay, Reflection of a career in paediatrics: A calling becomes a fulfilling profession for the same journal.)
In 2010, she was appointed Member of the Order of Canada. Other honours include the Intercultural Prize of the Montreal Children's Hospital and the Honour Award from the Chinese Family Service Centre of Greater Montreal. She also received an honorary doctorate (Doctor of Science, honoris causa) from the McGill School of Continuing Studies in 2018.
#InHerOwnWords Dr. Alice Chan-Yip acknowledges that her "life-long trajectory of professional development has been the accumulation of experience from excellent education, interdisciplinary collaboration and community engagement that led to […] meaningful advocacy activities for our society at large."
An active retirement
Chan-Yip, who was one of only 10 women medical students in a class of 110, retired as a physician in 2015 and moved to Halifax. She has two daughters, who are also McGillians, and five grandchildren, all enrolled in university.
This fall finds her busy volunteering as a Class Representative, with Dr. Robert Alec Ramsay (BSc'58, MDCM'62) and Dr. Al Persson (MDCM'62), for the Medicine Class of 1962, as they prepare to celebrate a very special milestone, their sixtieth anniversary reunion, at Homecoming Weekend 2022.
Dr. Chan-Yip has made the following gifts to McGill and the MCH:
The Gar Lam Yip Photonic Seminar Series and Travel Grant Funds, Faculty of Engineering, Faculty of Engineering (2008)
The Dr. Yuk Chan Ma & Dr. Yuen Kock Chan Prize in Multicultural & International Medicine, School of Medicine (2007)
The Gar Lam Yip Memorial Fellowship in Guided Wave Photonics, Faculty of Engineering (2000)
With thanks to Dr. Alice Mannor Chan-Yip, CM (MDCM'62, FRCPC, FAAP, DSc) and her family for their help with this profile, and with best wishes to the Medicine Class of 1962 on their Diamond Jubilee.