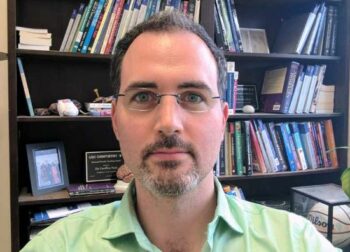 In only seven years at the McGill Faculty of Medicine and Health Sciences, Geoffroy Noel created a thriving new division within the Department of Anatomy and Cell Biology and made an impact at the Institute of Health Sciences Education and beyond.
By Ashley Rabinovitch
Geoffroy Noel has moved on from the Department of Anatomy and Cell Biology, but a powerful legacy remains. Over the course of seven years, Noel invested his heart and soul into building the Division of Anatomical Sciences and pioneering new discoveries in health sciences education. The momentum he created in advancing leading-edge anatomical research and education will continue long into the future.
The birth of a new division

Noel was studying biology and biochemistry at École Normale Supérieure in his native Paris when an elective course in neuroanatomy captured his interest. "I liked how anatomy lay at the crossroads of multiple disciplines," he reflects. "We can't treat a patient without understanding the body in a holistic way."

After earning a doctorate in neuroanatomy at the University of British Columbia, Noel learned that many anatomy professors at McGill were retiring. "I identified a rare opportunity to build something out of nothing," he remembers.

Noel views those years at the Faculty of Medicine and Health Sciences as the most formative of his career. In 2014, the department chair gave Noel carte blanche to build a team, create new courses, establish scholarly activities, and explore new teaching methodologies. The Division of Anatomical Sciences has since gained more international visibility, with four faculty members producing a collective 12 research papers in 2020.

Where anatomy meets education
Historically, many students have viewed anatomy as a static field that involves large amounts of memorization. According to Noel, this stereotype couldn't be further from the truth. "The field of anatomy is constantly evolving as new technologies gain a foothold," he affirms. 3D printing and augmented reality (AR), in particular, are rapidly gaining approval for use in a clinical setting. Over the years, Noel has conducted extensive research on the process of wearing augmented reality headsets that project a virtual dimension onto human cadavers during dissections.

Part of Noel's mandate in leading the Division of Anatomy was to lean into health sciences education research. At the Institute of Health Education, he discovered an ideal space to explore pressing issues in anatomical education. Dr. Donald Boudreau, the Interim Director of the Institute of Health Sciences Education, will remember Noel as, "an engaged and highly valued member of the Institute who was always ready to serve."

The appreciation was mutual. "I really found a home at the Institute," says Noel. "It was incredibly energizing to be part of a research program that brings the richness of social sciences and humanities to medicine. I have become a better teacher and a better researcher as a result."

Under the umbrella of the Institute, Noel launched a comprehensive study on the impact of AR technology on learners, measuring engagement, task load and knowledge retention. While operating in several planes of reality increases learner fatigue, he discovered, the 3D images produced by AR aid in knowledge retention.

Noel has also collaborated with fellow researchers at the Institute to develop strategies that cultivate interprofessionalism and empathy in the medical students they instruct. "One of our greatest challenges is to help students navigate the fine line between clinical detachment and empathy," he explains. When students are encouraged to view the human cadavers they dissect as objects, for instance, they risk developing a clinical detachment that hinders their approach to provide compassionate care down the road. "Encouraging students to see cadavers as human beings is just one example of revolutionizing the way we teach anatomy," says Noel. "We are discovering more and more links between anatomical education and the patient experience as time goes on."

Moving on
In a relatively short time at McGill, Noel received the Osler Outstanding Teaching Award and was named to the Faculty of Medicine and Health Sciences' Honour List for Educational Excellence in recognition of his outstanding contributions in the spheres of teaching, educational leadership and innovation, faculty development and research and scholarly activity.

Noel recently accepted a lecturership at the University of California, San Diego, where he has identified the same need for a robust, productive division of anatomy that he previously encountered at McGill. While Southern California offers a welcome change of scenery, he feels the loss of his colleagues and students in the Department of Anatomy and Cell Biology and the Institute of Health Sciences Education.

"I think what I will miss most is the collegial spirit," he reflects. "I've built lifelong relationships within the McGill family. I'll always look back and appreciate the support I received at every step of the journey. I might not experience all the fruits of my labour now that I'm gone, but I'm confident that my work will live on through the efforts of my colleagues."

April 13, 2021