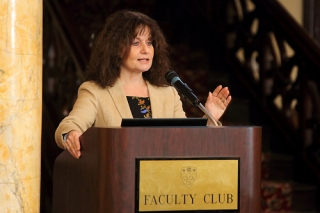 After 14 years in senior university administration, Dr. Rima Rozen will return full-time to her work in research and teaching as the James McGill Professor of Human Genetics and Pediatrics, when her current term as Associate Vice-Principal (Research and International Relations) ends on January 31, 2013.

I am writing today to publicly thank Prof. Rozen for her exceptional service to the McGill research community over the years. I particularly thank her for her leadership over the past six years as Associate Vice-Principal (Research and International Relations), including during her tenure as Interim Vice-Principal (Research and International Relations) in 2010.

While it would be impossible to mention all of her accomplishments as an administrator, I would nevertheless like to highlight a few: In 1985, Prof. Rozen established the Molecular Genetics Diagnosis Service at the Montreal Children's Hospital, which was the first accredited molecular genetics service laboratory in Quebec. She went on to direct this service for 17 years. From 1999 to 2007, she served as Scientific Director of the Montreal Children's Hospital as well as Deputy Scientific Director of the Research Institute of the McGill University Health Centre. At the same time, from 1999 to 2009, she was Director of the Canadian Institutes for Health Research Medical Genetics Group at McGill, the longest-running group in the history of that funding organization. In 2007, she was appointed Associate Vice-Principal (Research and International Relations).

Prof. Rozen's research focuses on the genetics of metabolic disorders and complex traits as well as on genetic-nutritional interactions in disease. She has had a significant impact on the field, publishing over 200 papers, holding numerous patents, and supervising scores of graduate and undergraduate trainees.

Prof. Rozen's talent and dedication have earned her several prestigious awards, including the Prix Léo-Pariseau from ACFAS, the CIHR Senior Scientist Award, and the Woman of Distinction Award in Health and Science from the Women's Y Foundation. She is also a Fellow of the Canadian College of Medical Geneticists, the Canadian Academy of Health Sciences, and the Royal Society of Canada.

Please join me in thanking Rima for her leadership and tireless advocacy for our researchers and students. We wish her the best in her research and all her future endeavours.

Dr. Rose Goldstein

Vice-Principal (Research and International Relations)

January 31, 2013