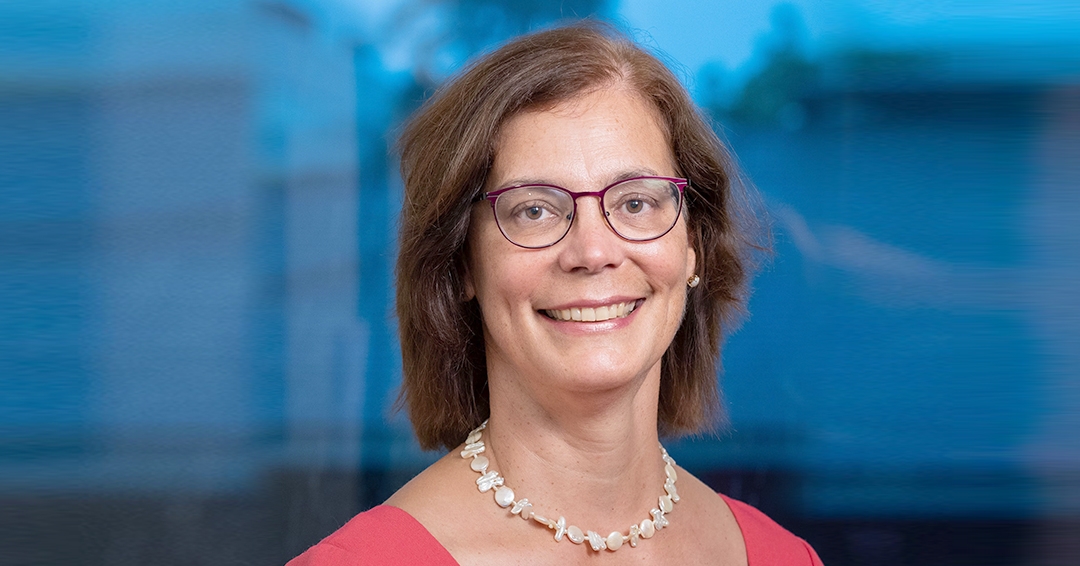 We would like to say big congratulations and thank you to Dr. Marion Dove, Chair at the Department of Family Medicine for her 25 years of service at McGill University. As Chair of the Department since 2019, Dr. Dove oversees the running of the largest department in the Faculty of Medicine and Health Sciences which currently includes approximately 1,202 family physicians and a rapidly growing research and graduate education presence. In this role, she continues to build on the department's research strengths in areas such as participatory research, health services delivery and policy, and clinical research, while at the same time nurturing its large training programs for medical students, residents, nurse practitioners and clinician-educators with its partners at urban and rural clinical training sites.
To mark her 25 year anniversary at McGill, we asked Dr. Dove's colleagues to share some words about her:
I have worked with Dr. Dove for over 25 years. We met as family medicine residents, then worked together as chief residents at our respective McGill family medicine teaching sites. We both joined the McGill family medicine department after finishing our residency training.
Marion's commitment to family medicine is inspiring. She cares about the discipline of family medicine deeply. I see this in the way she encourages and supports new physicians as they learn how to harness the power of family medicine in their communities. I see this in the way she cares for her patients. I see this in the way she teaches students and residents with enthusiasm and skill. I see this is the way she supports both the clinical and research members of our department. She knows the importance of family medicine as the bedrock of the medical system, so she continues to work both inside the academic community and with governmental organizations to promote and reinforce family medicine in the health care system.
As the Chair of our department, I have appreciated her vision and the supportive environment she has created that has allowed for both personal and departmental growth. I value her vision, keen judgement, warmth, and sense of humor. Happy 25th Marion! Lead on!!!!
Catherine Jarvis
Director of Faculty Development, Department of Family Medicine
*****
Congratulations Dr. Dove for having achieved this outstanding milestone in your career! 25 years at McGill is certainly a testament to your passion, dedication and leadership within the Department of Family Medicine. From resident to supervisor, to Fac Dev, to Postgrad and now, Department Chair— you have played many pivotal roles across our Department and we truly appreciate your loyalty, continuous support, and sense of humor you continue to bring when advocating for our teams.
Thank you for your unwavering support and dedication. We are proud to have you as our leader and congratulations on this marvelous milestone!
Cheers to 25 more years!
Julie Lane
Postgraduate Administrative Officer, Department of Family Medicine
*****
You and I both started here in the department around the same time. OK, we were on different paths, but it was then that I had the opportunity to work closely with you in your role as Director for Faculty Development! Time has flown, so much has changed!
Over the years as Chair, your dedication has shown from the biggest to the smallest in gestures, for which we are grateful. Birthdays and Christmases are never forgotten, with your 'personal touch' of leaving that special something for us on our desk in celebration.
As your list of achievements continues to grow with all your hard work and dedication, I wish you the warmest congratulations on these first 25 years, with many more to come! Cheers! This calls for a celebration! When? Where? I'm in!!
Andrea Zdyb
Administrative Coordinator, Department of Family Medicine
*****
Cheers to Dr. Dove on 25 amazing years at McGill! Thank you for that birthday gift; it's the centerpiece of my office, now! Props for joining wellness activities (even though she's got a busy schedule). Even in meetings she cracks jokes and brings smiles. Congrats on this milestone, and here's to many more shared laughs and good times ahead!
Maxime Pirenne
Distributed Medical Education Manager, Department of Family Medicine

*****
Congratulations on 25 years at McGill, how inspirational! Thank you for having welcomed me so warmly to the Department of Family Medicine. Wishing you many more years of continued success!
Ania Johnstone
Research Program Administrator, Department of Family Medicine
*****
The CLSC Côte-des-neiges was lucky to have her as a resident (well so I was told, since looooong before my time) and she has been a fantastic staff, colleague, leader during all those year at the CLSC and at McGill. She is a mentor for many of us, and to a large number of students and residents.
Alexandre Motard
Medical Director, GMF-U Côte-des-Neiges

*****
I have great admiration for Dr. Marion Dove, also known as The Boss, also known as my friend Marion. She welcomed me, essentially unknown to her, as a faculty member during the early days of the pandemic. She has been stalwart and solid in the support of an expanded and more visible Indigenous presence in Family Medicine, and very supportive of efforts to support Inuit knowledge sharing. She has made Family Medicine a leader in Indigenous programming at McGill.
She is also an all-round good human being who loves to laugh.
Congratulations, Marion, on 25 years – here's hoping for 25 more!
Richard Budgell
Assistant Professor, Department of Family Medicine
*****
Marion has great listening and advisory skills. She is always there if you need guidance & support. She is very professional and has excellent leadership skills.
Nina Schmauch
Secretary to the Chair & Administrative assistant, Department of Family Medicine
*****
Alles Gute zur Silberhochzeit M(arion) & M(cGill)!
Fünfundzwanzig Jahre Gemeinsamkeit, das ist eine Ewigkeit.
Ihr seid ein wirklich tolles Paar, wir seh'n uns auf der Feier zum fünfzigsten Jubiläumsjahr!"
Tibor Schuster
Graduate Program Director, Department of Family Medicine
*****
Congratulations Marion on your 25 Anniversary with McGill University and the Dept of Family Medicine. Thank you for your contributions especially your support for the Indigenous Program at the Dept. which continues to grow with your participation. It's a pleasure and honor to work with you.
Alex McComber
Assistant Professor, Department of Family Medicine
*****
Congratulations on 25 years! You are always so welcoming and thoughtful. We are lucky to have you!
Karen French
Palliative Care Education Coordinator, Department of Family Medicine
*****
Congratulations on reaching this impressive milestone of 25 years of dedicated service. Your commitment and hard work are truly inspiring.
Wishing you a happy 25th work anniversary! Your unwavering dedication has made a significant impact on the success of our Family Medicine team.
Alexandra Karabatsos
UGME Program Manager, Department of Family Medicine
*****
Celebrating your 25 years with McGill, it's evident how much you've touched our Department. Your journey shines with dedication and passion, both as a physician and an educator. Working alongside you every day, as PGME Director and now Chair, it's clear you're more than a title; you're a leader and a true inspiration to us all. Your genuine care for people (the support staff, the educators, learners and your patients) and your commitment to excellence have always stood out. I've learned so much from you, and I'm grateful for your trust and every guidance navigating opportunities. Cheers to your 25 years, and here's to many more adventures and successes ahead – one I'm sure will be brimming with even greater achievements!
Kennedy Kanyang'onda
Associate Director of Administration, Department of Family Medicine
*****
Congratulations Marion on your 25-year anniversary at McGill! You are a great leader, both wise and warm – two qualities which are hard to find together!
Marie Moucarry
Communications Officer, Department of Family Medicine
*****
I have so many memories with Marion – here's one of a pandemic lockdown dinner!
Namta Gupta
Associate Professor, Department of Family Medicine