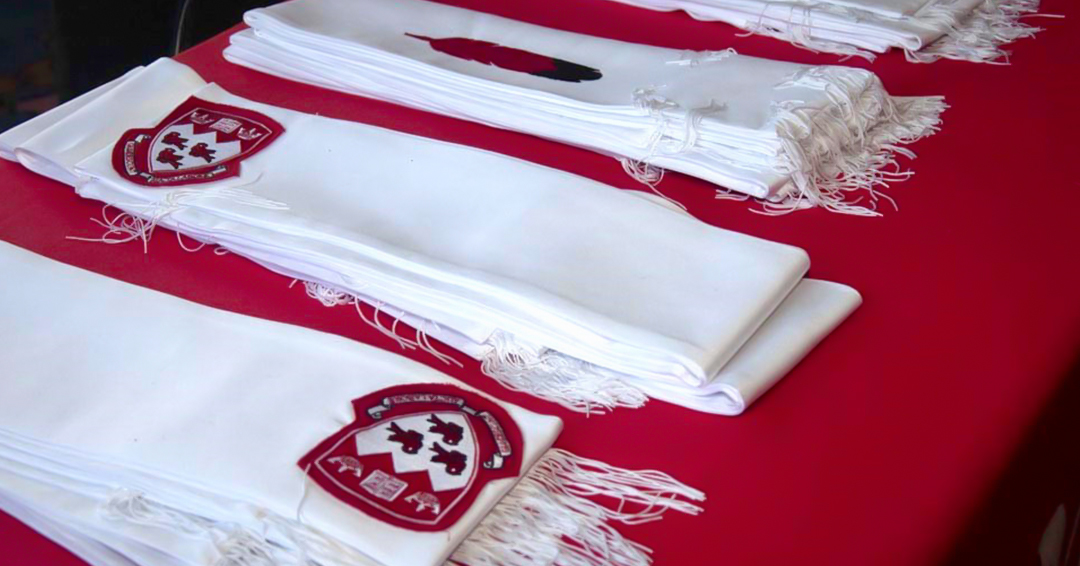 Seventy-one Indigenous graduates recognized for their accomplishments.
On May 25, First Nations, Inuit, and Métis students graduating from McGill this spring were celebrated at a virtual Scarf Ceremony, attended by family, friends and senior members of the McGill community.
Hosted by McGill's First Peoples' House, the School of Continuing Studies, and the Office of First Nations and Inuit Education, the event was an opportunity to recognize the achievements of the 71 graduating students, each of whom received a beautifully designed scarf to mark the milestone.
Mohawk faithkeeper Otsi'tsaken:ra Charlie Patton opened the ceremony with the traditional Ohenten Kariwatekwen (words before all else). Acknowledging the hard work and struggle that the students had put in to get where they were, Elder Patton's words set the tone for the depth of feeling that would be expressed and the tears that would flow during the emotional gathering.
"We ask the Creator to give us the most beautiful, sweetest spring water from Sky World," he said. "And we offer you the sacred medicine drink to wash away the lump in your throat. After all these years of heaviness and holding and struggling, now that lump can be washed away, and now you can be whole."
Resilience, hard work and boundless possibilities
Principal and Vice-Chancellor Deep Saini and Provost and Vice-Principal (Academic) Christopher Manfredi both addressed the gathering, expressing their profound admiration for the graduating students.
"Graduates, your hard work and perseverance have brought you to this moment," Provost Manfredi said. "I commend you on your success and dedication to your studies. Take this opportunity to reflect on your journey and take pride in how far you've come.
"Your paths leading to this moment may not have been easy. Many of you confronted and overcame systemic barriers just to get here.
"Today's ceremony is an opportunity to celebrate your achievements, the strength and resilience you demonstrated, and the boundless possibilities of your next chapter."
"The scarf that is being bestowed on you today," Principal Saini added, "highlights your academic journey as an Indigenous student at our university, including your hard work and especially your perseverance in the face of different challenges that you have no doubt faced.
"Each of you is a role model. As role models, you are paving the way for more First Nations, Inuit, and Métis people to join us at McGill and to become the leaders of tomorrow.
"Continuing to increase the presence and success of Indigenous students on our campuses is a priority for McGill. It is a goal that we put forward in our 52 Calls to Action, and it is a commitment that we are determined to meet."
Debwewin: Speaking from the heart
Adding a personal touch to her words of congratulations, McGill's Associate Provost (Indigenous Initiatives) Celeste Pedri-Spade shared a story about the significance of education in her own life. The first member of the Lac-des-Mille-Lacs First Nation to obtain a PhD, Pedri-Spade paid tribute to her mother's achievement in becoming one of the first members of her community to receive a university education, a feat she accomplished when Pedri-Spade herself was a young child.
"[My mother] always shared how much effort it took for her back in the day, having to bring this infant to her math lectures, sitting at the back of the hall, feeding me and just hoping that I would be quiet," Pedri-Spade said.
"She had to really hustle for the marks, but at the end of the day, her degree became a powerful tool to achieve her own goals and to further the goals for her family. And, you know, now my mum is the health director of our community.
"What I love about our people is that we do believe in education being lifelong – and that is both in our Anishinaabe ways of education and in the Western ways."
Education: a source of power and resilience
Keynote speaker Tiohenta Lahache-McComber, graduating with a Certificate in Public Administration and Governance, also paid to tribute to her parents, acknowledging the leap of faith they had taken when they enrolled her in a newly established Mohawk-immersion school program at the Kahnawà:ke Education Center.
"They had a strong belief that by giving us the opportunity to regain our language and culture through education – an opportunity that our ancestors were robbed of – we would strengthen our Indigenous identity, and it would give us the power and resilience to make it, not only in our communities, but in the world," McComber said. "My educational journey is proof that we can be proud of who we are and where we come from. And if we trust in our Indigenous identities, we hold more power than we think."
Describing herself as a "proud McGill graduate", Lahache-McComber expressed her thanks to the university that had given her the opportunity to share her story with the world.
"Being a part of the student body at McGill University, we have had the opportunity to connect with students from all corners of the globe, and all walks of life. As Indigenous students, that was also a world stage to share our stories and our cultural uniqueness, and to bring light to the fact that the original peoples of Turtle Island are still here and prospering. For that opportunity, I say thank you to McGill University and the faculty for giving us that space."
Moving moments shared during open mic
When MCs Matthew Coutu-Moya, Thomasina Phillips and Aneeka Anderson opened the floor for guests to share their stories, the theme of persevering in the face of challenges and realizing long-held goals continued to resonate.
One memorable moment among many came when graduating student Madeline Yaaka received special acknowledgement from McGill's Indigenous Health Professions Program Manager, Alex Allard-Gray. Describing Yaaka, who is from Kangiqsujuaq in Nunavik, as "a champion for Inuit people" and "a beacon of hope for youth," Allard-Gray explained that the science graduate will make history when she returns to McGill as a medical student next fall.
"She will be the second Inuit person to be a part of that program in the history of McGill, and, from my understanding, the first Inuit doctor from Nunavik," he said, barely containing tears of pride in the student whose journey he had followed and supported since they first met through the Eagle Spirit Science Futures Camp, a McGill initiative aimed at encouraging Indigenous youth's interest in science and post-secondary education.
Yaaka, too, had to fight back tears when she took the mic to express her thanks and congratulate her fellow students.
"I really appreciate all the support and love I've been given over the years," she said. "It's definitely been a long journey from where I came from. I want to congratulate everybody else who is graduating. Thank you, everybody."