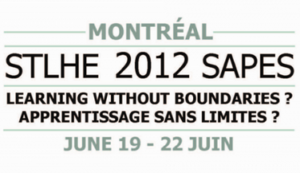 On June 19-22, the annual meeting of the Society for Teaching and Learning in Higher Education (STLHE) was held at McGill University. STLHE is a unique, national organization whose primary focus is to promote the quality of learning at all levels of post-secondary educational institutions.

The annual conference provides a forum for the exchange of ideas and information on post-secondary teaching and learning, and celebrates teaching excellence and educational leadership. In 2012, a consortium of Montreal institutions of higher education (McGill University, Concordia University, Université de Montréal and Champlain College Saint-Lambert) co-hosted the 32nd Annual Conference, "Learning without boundaries? Apprentissage sans limites?".

An important topic covered during the conference was what policies and practices universities should put in place to enhance teaching. A teaching development project entitled University Teaching: Meeting Challenges and Demands, funded by the Max Bell Foundation of Canada and implemented from 2006 to 2010 at McGill, Dalhousie and Queen's universities was used as the background to this discussion. The key initiative of the project, offered over a span of two years at each institution, was a five-day, 35-hour workshop on course design and teaching. These voluntary workshops were delivered through each institution's teaching development unit to early-career faculty, and a total of 42 professors took part.

Read  the full article on the conference at University Affairs

July 30, 2012