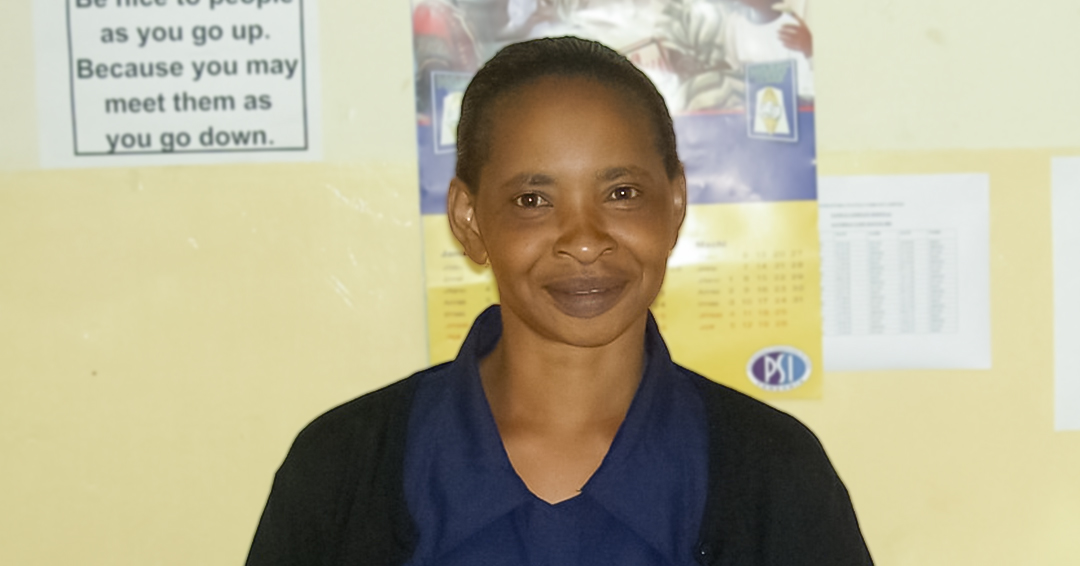 Madeleine Buck recalls her first trip to Tanzania in 2006. "I was part of a team from the Faculty of Medicine that was fortunate to visit TANWAT Hospital in Njombe, and meet the formidable Betty Liduke," says Prof. Buck, Associate Professor and BSc(N) Program Director in the Ingram School of Nursing (ISoN).  "With that trip, I began one of the most rewarding partnerships I've had in my career."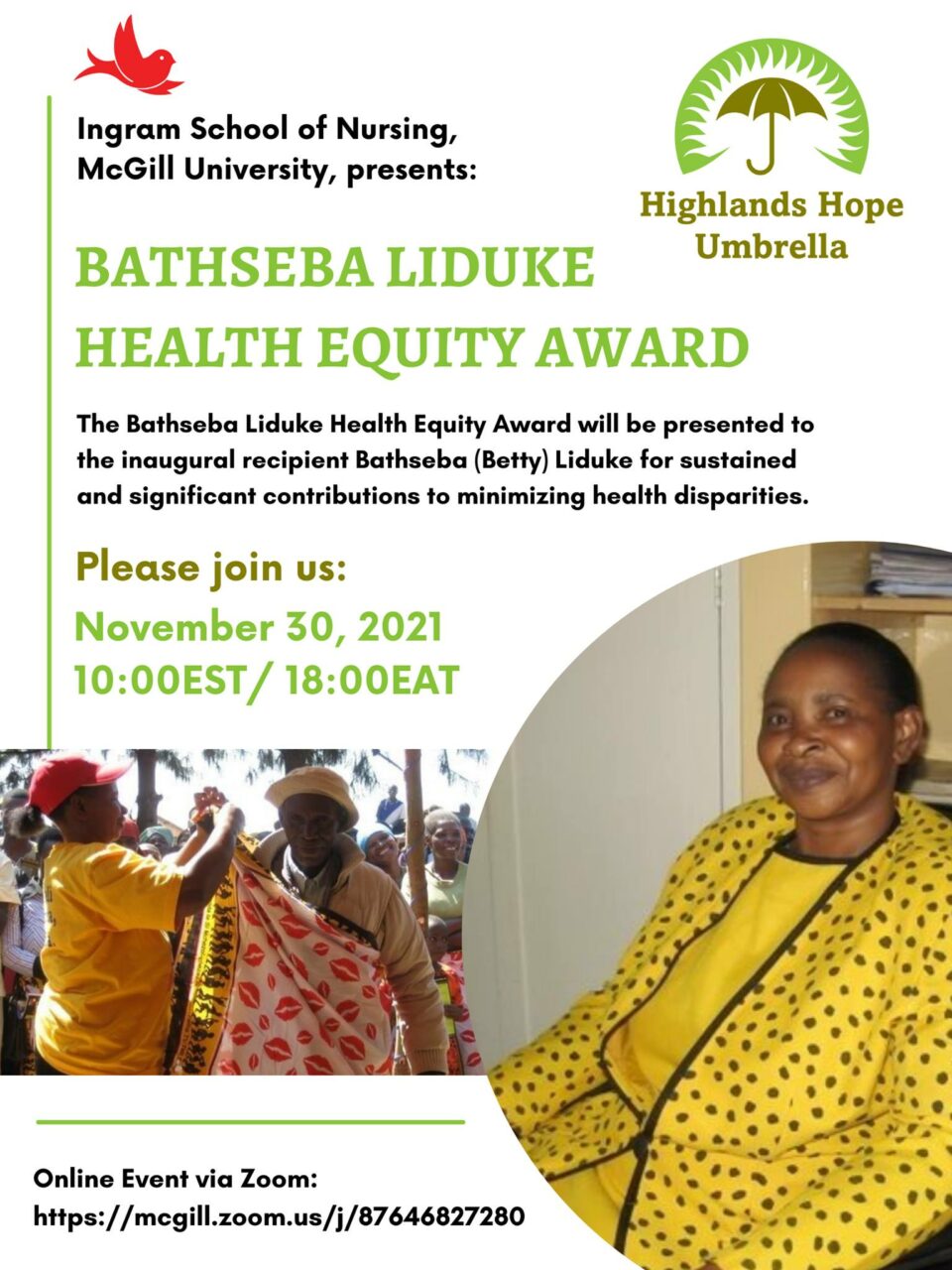 Bathseba (Betty) Liduke is an RN, INI, N/Counsellor, and HIV Program Coordinator, Tanganyika Wattle (TANWAT) Company Hospital, and Director of the Highlands Hope Umbrella, Tanzania. In honour of  Liduke's career and work, the ISoN recently created the Bathseba Liduke Health Equity Award and named Liduke the inaugural recipient in recognition of her sustained and significant contributions to minimizing health disparities among youth, older adults, and people/families living with HIV in Tanzania.
On November 30, 2021, ISoN held a virtual awards ceremony attended by Liduke and her colleague Edmund Munubi, Director of TANWAT Hospital. Former broadcaster Royal Orr, who first met Liduke while filming a documentary on HIV/AIDS in Njombe region, was the master of ceremonies for the event, which highlighted Liduke's tremendous achievements and her contributions to ISoN.
David Eidelman, MDCM, Vice-Principal (Health Affairs) and Dean of the Faculty of Medicine & Health Sciences (FMHS),welcomed everyone to the virtual ceremony and thanked Liduke and Munubi for their collaboration in building the partnership with ISoN. Jodi Tuck, Assistant Professor and Program Director, MScA – Advanced Nursing, spoke about the significance of the new Health Equity Award, acknowledging that the time and effort—sometimes decades in the making—to address systems-level issues around health equity and the hard work involved in making changes globally must be celebrated and recognized.
Anita Gagnon, PhD, Associate Dean and Director of the ISoN, presented the award to Liduke, after which Prof. Buck gave an engaging presentation about Liduke's pioneering work in HIV-AIDS care and education.
Moving mountains
Liduke graduated as a nurse and midwife from the Ilembula School of Nursing in Njombe in 1977 and went on to obtain her RN in 1984, after which she held numerous leadership roles at TANWAT Hospital including Director of the HIV Care and Treatment Centre, the only one of its kind in Njombe region. She is a founding member of the Highlands Hope Umbrella organization, an NGO made up of community, professional and volunteer networks that was formed to address the challenge of HIV/AIDS in Njombe region. She was part of a group that started the first HIV/AIDS care program in the region, and the services eventually extended to nearly two dozen villages. Considering the cultural and societal taboos around HIV/AIDS at the time, this was a monumental achievement.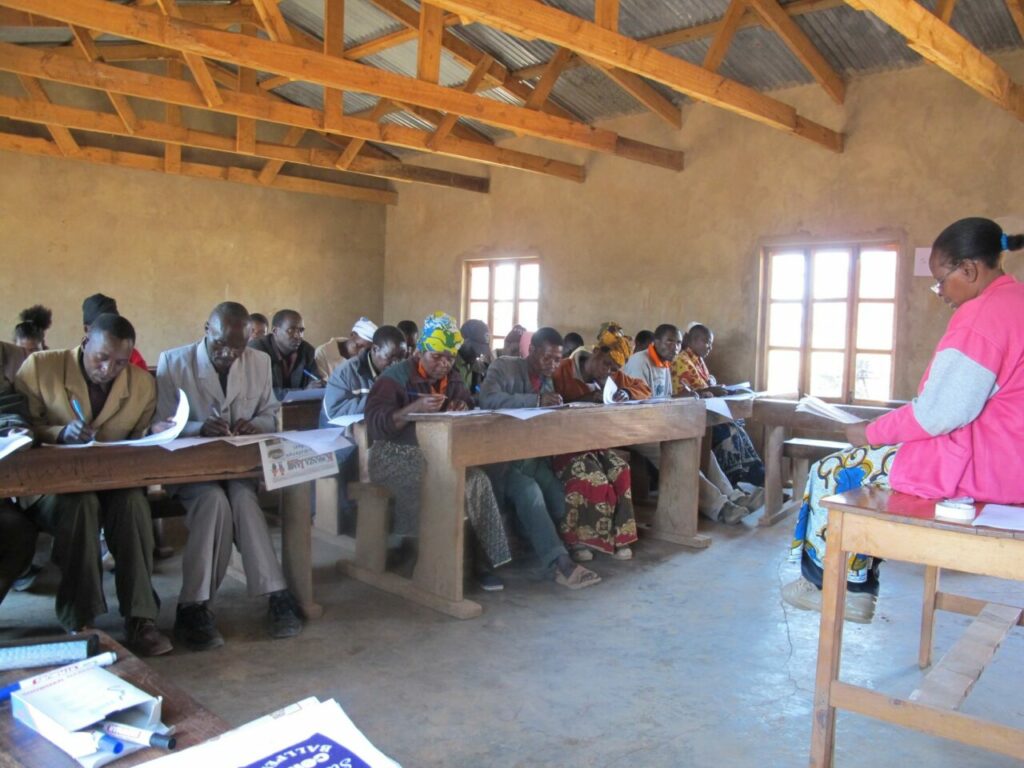 More recently, Liduke has been involved in the establishment of a seniors' support network and centre, a widows and widowers' support group, and a youth-with-HIV support group.
The partnership that began between Liduke and the School of Nursing in 2006, which was also the beginning of the McGill Nurses for Highlands Hope program, coincided with the launch of the Global Health Masters program, and was created as a way to support initiatives in the fight against HIV/AIDS in Njombe region and provide educational and research opportunities for McGill nursing students.
If you want to go far, go together
According to Prof. Buck, Liduke's contributions to ISoN have been significant. Since 2008, a number of students have visited Njombe to do research and support clinical activities. "Tanzania only began receiving antiretroviral therapy in 2006, which was very late in the game," said Prof. Buck. "At the time, many people in Tanzania were dying at home, so the first McGill Nursing students to visit Njombe focused on home-based care. Betty played a pivotal role in facilitating that clinical experience and the project work of many other students in the years that followed."
Other ISoN student research projects in Njombe have included point-of-care testing, and researching sexual health-related decisions of children in Njombe region. Of the latter, Prof. Buck says it's a testament to Liduke's ground-breaking work that researchers from ISoN have been able to access and develop knowledge in these areas.
Prof. Buck also spoke of the work Liduke accomplished in developing a youth peer health education program in 20 primary schools in Njombe region, a project supported by funding from Grand Challenges Canada Stars in Global Health program. Liduke has visited McGill twice, and during her second trip in 2015, she was joined by one of the program's youth educators.
Sylvie Lambert, PhD, Associate Professor at the ISoN and one of the first people to work with Liduke in 2008, said for the many ISoN students who have gone to Njombe, Liduke has "transformed and changed their way of approaching nursing and health equity."
Liduke was honoured to receive the award and spoke about the collaboration with McGill noting how the faculty and students she has worked with have helped her achieve important progress in her work. She concluded her remarks with a heartfelt asante sana, Swahili for "thank you very much."
Munubi also expressed his thanks to ISoN for honouring his colleague and said, "As the saying goes, if you want to go fast, you go alone, but if you want to reach far, you need to work hard together."