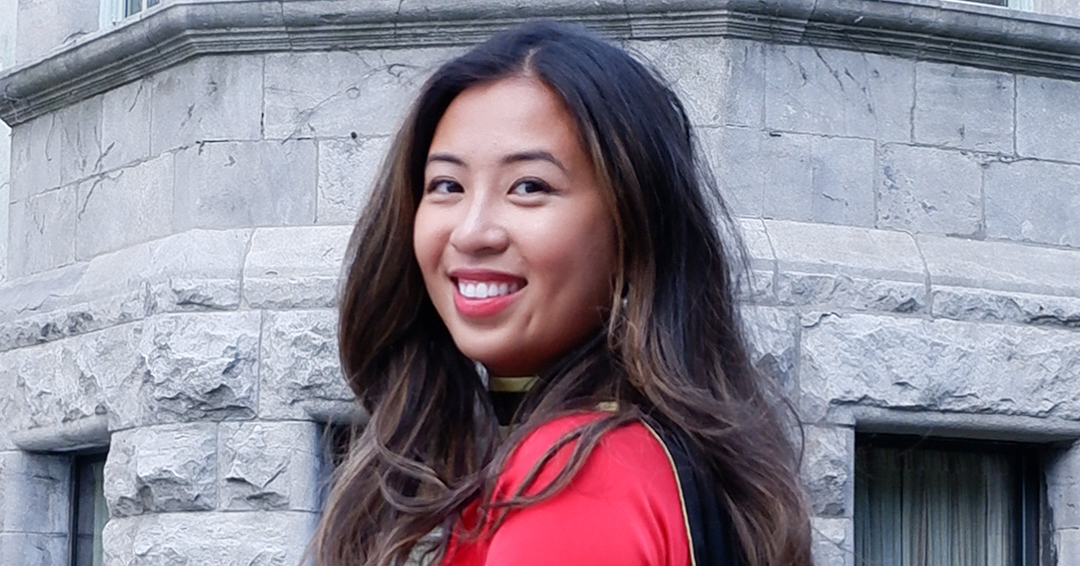 McGill graduate among 150 selected from nearly 3,000 applicants worldwide, for the distinguished program at Beijing's Tsinghua University
Tammy Bui, who recently completed her Master's degree in Public Health at McGill University's Faculty of Medicine and Health Sciences will study for a one-year Masters of Management Science in Global Affairs at Tsinghua University, one of China's most prestigious institutes of higher education with a 100 year history of strengthening ties between China and the rest of the world.
"Being part of the Schwarzman community means that I have the potential to effect real-world change in the communities I care most about whether it be marginalized communities or my future Schwarzman one," says Tammy. "In addition, it means I can build meaningful relationships with a diverse set of young leaders from across the globe."
A challenging and competitive program
Inspired by the Rhodes scholarship, the Schwarzman Scholars is a program designed to help future leaders meet the challenges of the 21st century and beyond by preparing them to better understand China's culture, economy, governance and motivations. This highly selective program provides a fully-funded and unrivalled opportunity to live in Beijing for a year of study and cultural immersion, attending lectures, travelling and developing first-hand exposure to China and its people.
"The application process was challenging but also self-reflexive," notes Tammy. "University programs that I have applied to in the past have looked at my GPA and reference letters, but I found the Schwarzman Scholars program has one of the most holistic review processes."
Making an impact on her community
The Schwarzman Scholars program looks for candidates with diverse work histories and transformative leadership experiences. "I think one of my experiences that caught their eye was working towards a cause that I was passionate about – reducing barriers to accessing health resources of marginalized groups," says Tammy. "I am the co-founder of WeCanVax, a community-led organization dedicated to promoting COVID-19 vaccine confidence in racialized communities. In this role, I worked closely with community members in Parc-Extension to overcome vaccine hesitancy through an arts-based community led campaign. To date, we have distributed over 150+ posters, sent youth to NBA basketball camp and helped vaccination rates increase to surpass the Montreal average. One exciting project WeCanVax has in store is a #WeCanArt, community mural which incorporates the youths' ideas of what "community" looked like during the COVID pandemic. The final mural will be showcased in a clinic within Parc-Extension with the goal of reducing barriers to accessing health through art."
Beyond WeCanVax, Tammy has actively participated in student government and experiential learning programs, including the Dr. Roberta Bondar Career Development Program and NEXT36, Canada's top entrepreneurial program.
"Most importantly, I engaged in opportunities that I thought would bring me most joy and fulfilment – not necessarily the most success," says Tammy. "I am the daughter of Vietnamese refugees and there was always a part of me that wanted to immerse myself in Asian culture never having travelled there. The Schwarzman Scholars program has provided me with the opportunity to study abroad – an opportunity that I likely wouldn't be able to afford if it wasn't for the scholarship. I am forever grateful for the chance to study outside of Canada and am excited to embark on an experience of a lifetime in Asia."
Tammy leaves to begin her year in Beijing on August 30.
Congratulations Tammy!