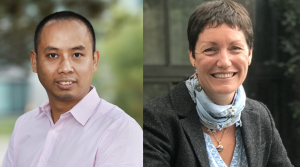 By Meaghan Thurston, via McGill Newsroom
Landing your first faculty position isn't easy, but the work has only just begun. Two McGill researchers have been chosen as 
CIFAR Azrieli Global Scholars
, a two-year appointment designed to support young investigators in the first five years of their careers. Daryl Haggard, Assistant Professor of Physics in the McGill Space Institute, and Khanh Huy Bui, Assistant Professor of Anatomy and Cell Biology, will join an international cohort of 15 emerging research leaders from the United States, Canada, India, Ghana, and Italy. This is the second year in a row that the prestigious program has selected a pair of McGill researchers to join it.
Scholars are chosen for their academic excellence, collaborative work, community involvement and leadership skills. During their two-year appointment, they receive $100,000 in undesignated research support as well as specialized leadership and communication skills training. They will have the opportunity to be mentored by a senior researcher in their field and to network within a community of top-tier research-leaders.
"The enthusiasm and energy that McGill's early-career scholars bring to the international research ecosystem have the potential to generate solutions to some of the most pressing challenges facing the world today," said Martha Crago, Vice-Principal, Research and Innovation. "McGill is thrilled that Professors Haggard and Bui have been selected as CIFAR Azrieli Global Scholars, an opportunity that will inevitably lead to new collaborations with colleagues from diverse disciplines."
Professor Haggard joined McGill two years ago in 2015. She studies active galactic nuclei (accreting supermassive black holes) and their host galaxies. As a CIFAR Azrieli Global Scholar, she will join CIFAR's Gravity and the Extreme Universe (GEU) program, led by McGill's own Professor Vicky Kaspi. The GEU program aims to tackle some of the most difficult questions facing astrophysics researchers today, such as, what is the nature of extreme gravity, and how can it help us understand the origin and evolution of the universe?
"Receiving the CIFAR Azrieli Global Scholars award is an incredible honor and opportunity for an early-career faculty member like myself," said Professor Haggard. "I have had several opportunities to interact with the scientists in the CIFAR GEU program and they are leaders in every sense of the word: committed, insightful, brilliant, and kind. Words cannot describe how excited I am to work with these people over the next few years."
Haggard is optimistic that in the two years she is supported by the program, she will be a part of ground-breaking research in her field, particularly related to multiwavelength, electromagnetic (and gravitational) observations of black holes and neutron stars.
"At McGill, I believe we are on the cusp of connecting tests of Einstein's theory of general relativity with the full richness of astrophysics," she said. "These are exciting times, and the next two years represent an incredible opportunity to make inroads into this new discovery space." Professor Haggard has been an elected member of the AAS High Energy Astrophysics Division (HEAD) Executive Committee, and an Editor for the AASWOMEN Newsletter. She has participated in visits to the United States Congress to advocate for STEM (science, technology, engineering, and mathematics) research and education.
Professor Bui joined McGill in 2015. His research focuses on the structure and function of the cilia, hair-like structures protruding out of the cell, which are responsible for a variety of biological processes. Cilia play such an essential role in the development and function of the cell that cilia-related diseases may result in blindness and chronic respiratory diseases, among other health and wellness issues. By advancing understanding of how cilia function, Professor Bui hopes to improve diagnostic and treatment options for cilia-related diseases.
"Being appointed a global scholar means joining a network of more than 400 leading researchers to exchange ideas and learn from them in science, leadership and management," Professor Bui said. "The unrestricted funding from CIFAR is crucial at this stage of my career. I can use it to explore ideas that are both risky and highly promising."
Professor Bui's objective for his tenure as a Global Scholar is to explore a technique called cryo-focus ion beam (cryo-FIB). By focusing an ion beam to cut into frozen hydrated cells, Professor Bui will look inside the cells using cryo-electron microscopy (cryo-EM), a technique to image biomolecules and reconstruct biomolecular 3D structures that was pioneered by Jacques Dubochet, Joachim Frank and Richard Henderson, winners of the 2017 Nobel Prize in Chemistry. For Professor Bui, the potential of "opening a window into the cell" is as exciting as the opportunity the program provides to expand his research network and to hone his leadership and management skills.
"One of CIFAR's highest priorities is to nurture the careers of the next generation of emerging research leaders," said CIFAR President and CEO Dr. Alan Bernstein. "The future of research depends on young people, and their energy and innovative thinking is key to developing new approaches for the challenges facing our world today. We are thrilled to provide opportunities for these emerging research leaders."
The CIFAR Azrieli Global Scholars program is enabled by the generous support of the Azrieli Foundation, which funds scientific and medical research, higher education, youth empowerment and school perseverance, Holocaust education, music and the arts, architecture, and quality of life initiatives for people with developmental disabilities.
October 12, 2017