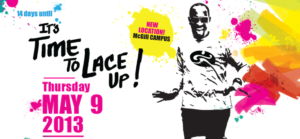 On Thursday, May 9, hundreds of runners will gather at the beautiful McGill University campus to warm up for the run of their lives. For 2 km through the seductive streets of downtown Montreal, runners from over 75 groups and corporations will show the city how we reach out, give back, and share.

Registration: 10:30 am to noon

Where: Roddick Gates, McGill University, rue Sherbrooke West

Upon registration pick up your Parasuco complimentary drawstring bag along with your Parasuco & Canderel sponsored Défi T-shirt.

Everyone wears the Défi race day T-shirt! Bring your branded company cap to show your corporate pride.

Prepare for the day with complimentary coffee, baked goods, and yogourt. Take our water bottles with you on the run. Post race, runners will enjoy a healthy Java U Catering lunch & beverage, compliments of Canderel. And when all is said and done, enjoy a complementary chair massage from Cochez Santé.

This year, Team Captains and Runners can create their Profile page to help raise funds. Pledge requests can be sent to family, friends and colleagues. Individual runners who raise over $500, will receive a beautiful silver bracelet designed by Clio blue! (retail value $185).

Pharmascience Raffle!

Don't forget to tuck $5 bills into your socks and participate to win an iPod, iPad or MacBookPro Air!

McGill Athletic Department Sports Challenges!

Back by popular demand and wilder than ever, our pre-run sports challenges get the blood flowing and the team spirit going! Huddle with your team and step up to the plate! For teams interested in participating, the Challenges begin at 11 am.

April 19, 2013