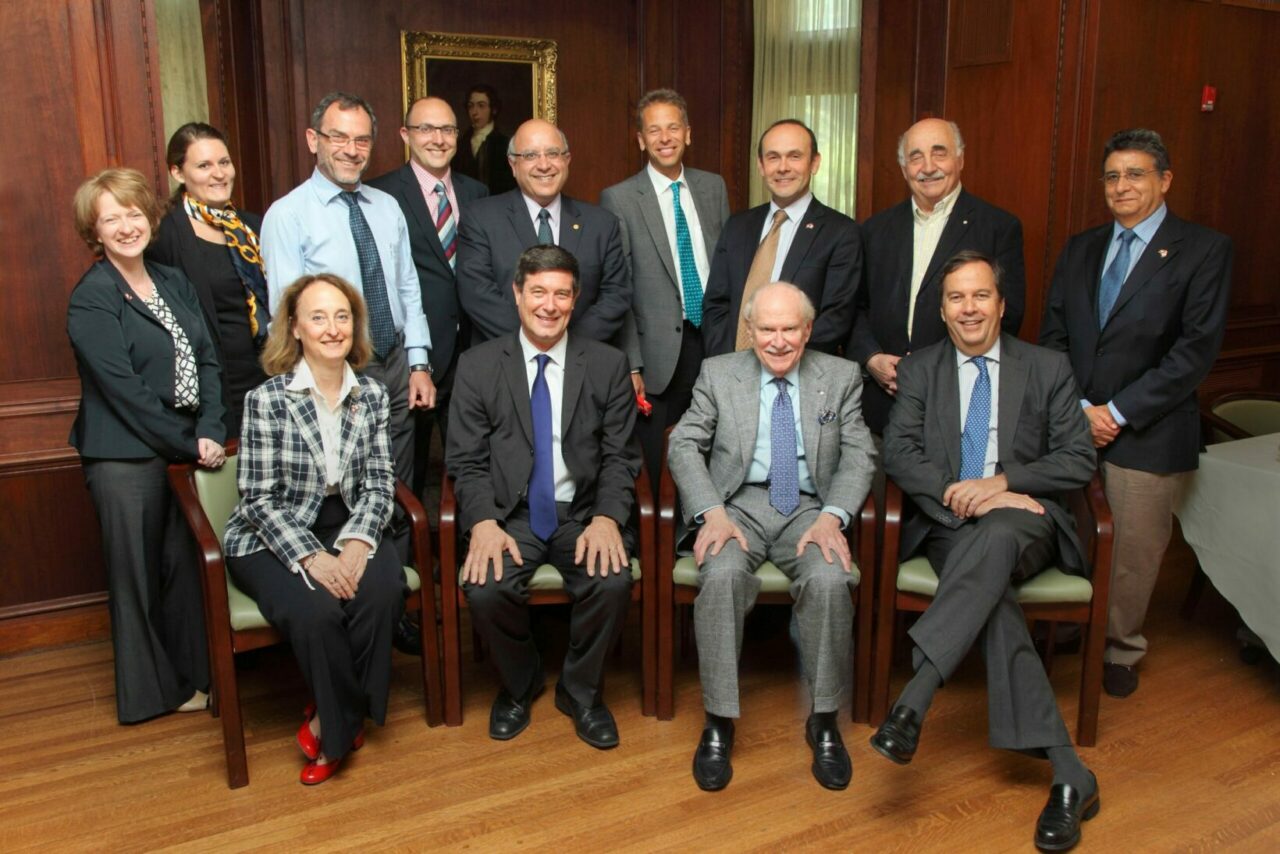 Estimates for the number of neurons in the human brain range from 80 billion to 120 billion. Even simple actions that we take for granted – breathing, watching television, reading this article – cause these nerve cells to light up an MRI screen like fireworks.

Considering the complexity of the subject, it's only logical that neuroscience researchers would employ as many tools and perspectives as possible to start filling in the gaps in our comprehension of how the brain and nervous system work.

Brain@McGill
is particularly adroit at building new bridges in the name of stronger science. Founded in 2009, the group brings together the vast amount of neuroscience knowledge available within the McGill network, including hundreds of researchers, a dozen affiliated hospitals and institutes, and three world-class partners: Oxford University, Imperial College London, and the Neuroscience Center of Zurich (ZNZ). The group's ambitious goals not only focus on promoting advanced training and groundbreaking neuroscience research, but also on championing connectivity between key players in the field and linking brain research with the arts, culture, and society.
The initiative was born of an exercise in imagining how neurosciences at McGill could evolve to meet the societal challenges ahead. At the centre of the Brain@McGill vision is the notion that partnership between leading international institutions can accelerate discovery and optimize research dollars.

"It is quite a unique formula, one that has been successful," said Claudio Cuello, Brain@McGill Chair and Charles E. Frosst / Merck Chair in Pharmacology. "We are very passionate about it, and we are very encouraged by the tremendous communion of ideas."

On May 23, McGill hosted a high-profile delegation from the Swiss government, led by Mauro Dell'Ambrogio, State Secretary for Education and Research, and Ulrich Lehner, Ambassador of Switzerland to Canada and the Bahamas. Also in attendance were Jean-Marc Fritschy, Director of ZNZ, and Wolfgang Knecht, Administrative Director of ZNZ.

The delegation visited McGill's downtown campus to celebrate Brain@McGill and its partnership with ZNZ. Over the course of the morning, the group took part in tours, presentations, and discussions with McGill faculty, students, and administrators. At the same time, the visit gained added significance when it was announced that Dell'Ambrogio will receive an expanded mandate in 2013, when he becomes Switzerland's first State Secretary for Education, Research, and Innovation.

ZNZ and Brain@McGill joined forces in October 2010 to enhance neuroscience research in fields such as pain therapy, Alzheimer's, synapse modelling and repair, neuroimmunology, and the genetic mechanisms of brain diseases. The collaboration has resulted in seven pilot projects and one workshop so far.

"In the coming months and years, we will see the McGill-ZNZ partnership emerge as another major pillar in the relationship between Switzerland, Canada and Quebec in the fields of science, technology and higher education," said Dell'Ambrogio at a reception hosted by the Swiss Consulate-General and attended by McGill researchers and government representatives. "Programs like this, which I consider to be a crucial field of research, need appropriate support, given their importance for society and the economy."

During the visit's closing luncheon, McGill Chancellor Arnold Steinberg highlighted the significance of the Swiss government's public support for the Brain@McGill-ZNZ partnership.

"Your visit here sends a strong message to researchers, staff and students that their work is important," he said. "Every day they improve our understanding of the brain and nervous system, and this event confirms that their dedication does not go unnoticed."

Faculty and student exchanges, innovative research projects, and graduate fellowships are slated as upcoming projects for the Brain@McGill-ZNZ collaboration. Ultimately, these initiatives will ensure that new perspectives and fresh ideas continue to light up the field of neuroscience far into the future.

To learn more about Brain@McGill, please visit: www.mcgill.ca/brainClick here to see photos from the visit by the Swiss delegation.
In the photo: (standing from left to right) Anne McKinney, Vice-Chair, Brain@McGill; Astrid Kotlinski-DeGaudemar, Science and Technology Counselor of the Swiss Embassy; Jean-Marc Fritschy, Director of ZNZ; Sebastien Hug, Project Leader for Higher Education and Parnerships, Swissnex in Boston; Anthony Masi, Provost, McGill University; Wolfgang Knecht, Administrative Director of ZNZ; Mauro Moruzzi, Head of International Affairs, Switzerland; Albert Aguayo, Member of Brain@McGill; Claudio Cuello, Chair, Brain@McGill; (seated from left to right) Rose Goldstein, Vice-Principal (Research and International Relations), McGill University; Mauro Dell'Ambrogio, Swiss Secretary of State for Education and Research; Arnold Steinberg, Chancellor, McGill University; Ulrich Lehner, Swiss Ambassador.
 June 19, 2012