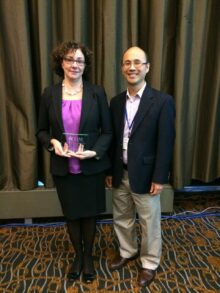 Dr. Susan Kahn, Professor of Medicine, Faculty of Medicine, McGill University and Senior Investigator, Centre for Clinical Epidemiology, Lady Davis Institute at the Jewish General Hospital, was recently presented with the Canadian Society of Internal Medicine's (CSIM) 2016 Dr. David Sackett Senior Investigator Award by Dr. Stephen Hwang, President of the CSIM.

The award recognizes excellence in research by a senior general internist and is intended to increase awareness of, and foster interest in, high quality research by general internists in Canada. Dr. Kahn is internationally recognized for her research and clinical practice in the field of venous thromboembolism. She is the founder and director of the Centre of Excellence in Thrombosis and Anticoagulation Care (CETAC) at the Jewish General Hospital and Co-Director of the Canadian Venous Thromboembolism Clinical Trials and Outcomes Research (CanVECTOR) Network. Dr. Kahn holds a Tier 1 Canada Research Chair, and is Director of the McGill University Thrombosis Fellowship.

Congratulations Dr. Kahn!

November 11, 2016