By Anne Chudobiak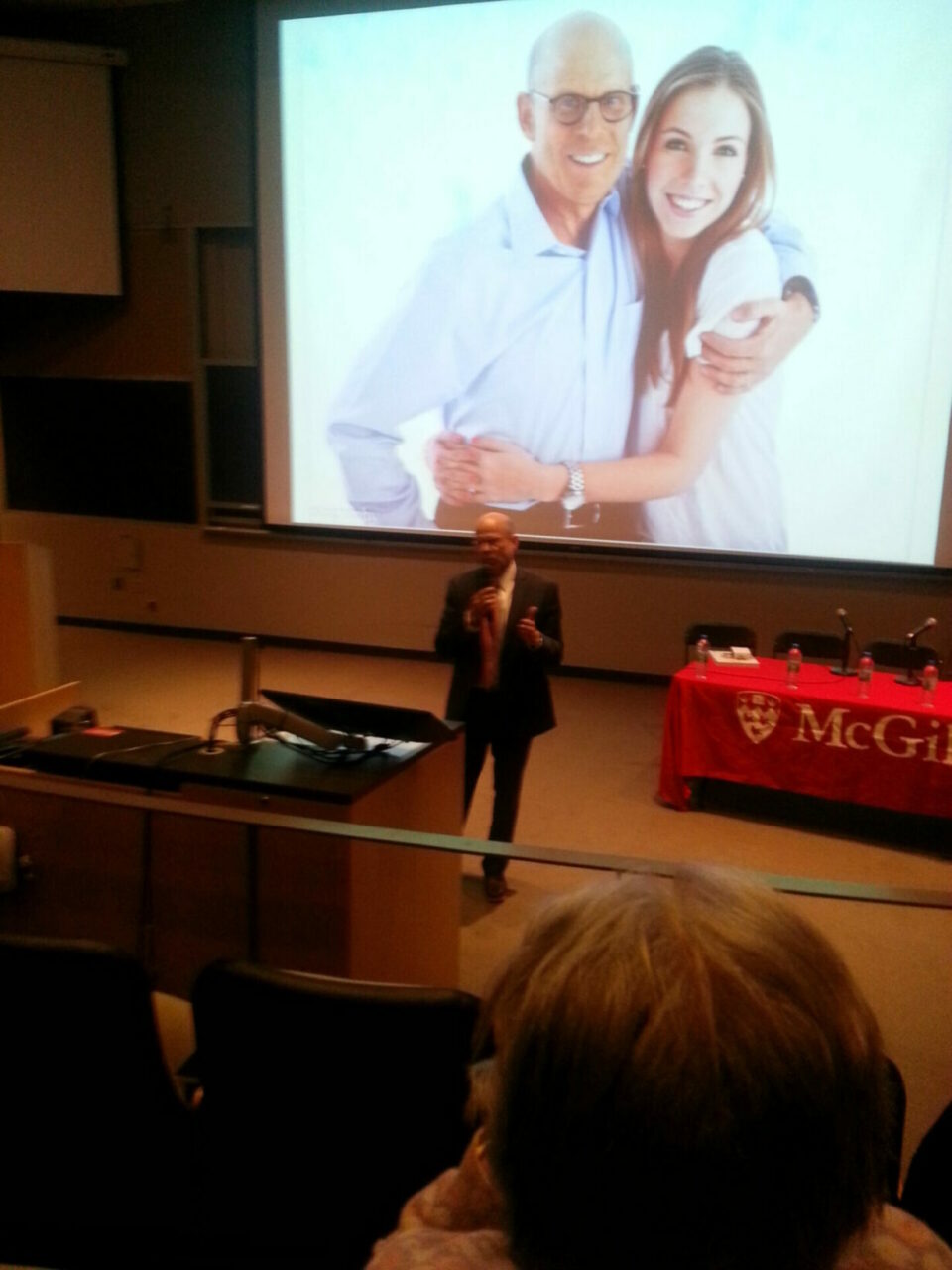 Earlier this week, on a rainy Monday evening, a crowd assembled in the Palmer Theatre for "Survivorship: Living Well Beyond Cancer," the last talk of the academic year in the popular four-part public forum, "Cancer's New Era of Promise and Progress," organized by the Rosalind and Morris Goodman Cancer Research Centre (GCRC). Benefactor and cancer research champion Morris Goodman, LLD'11, was in attendance with daughter Shawna Goodman, BA'93, for the event, which was moderated by Nicole Beauchemin, PhD, Professor, Departments of Biochemistry, Medicine and Oncology, herself a cancer survivor.

But what is a "cancer survivor"?

On the one hand, as speaker Marc Hamel, PhD, Clinical Director, Psychosocial Oncology Program, MUHC, pointed out, the definition is unique to each person, and some may even reject the term. William Brock, BCom'77, BCL'78, LLB'80, who closed the evening with an eloquent testimonial on how past supporters of cancer research had made it possible for him to see his children into adulthood, is a case in point.

On the other hand, "survivor" is a term in wide use, with definitions that have evolved over the past decade, to reflect the better prospects for long-term survival from certain cancers.

Overall, survival rates are increasing from 63% to 80% and higher, said Carmen Loiselle, Associate Professor, Department of Oncology and Ingram School of Nursing.

Whereas in 2005, the Canadian Cancer Society defined "survivor" as "a patient who had lived five years after cancer diagnosis," it has since extended its definition to include "every patient from cancer diagnosis to death," explained Valerie Hamel, Senior Coordinator, Cancer J'écoute, Psychosocial Support Service, Canadian Cancer Society.

The definition of "survivorship" can be expanded further still, to include the loved ones who are also impacted by a cancer diagnosis, said Dr. Hamel, who, with other speakers, also touched on some late effects, i.e., side effects that are experienced after treatment has ended, notably:
Nerve damage or swelling.
Changes in body image: "I don't look the same."
Weight gain.
"Chemo-fog."
Fatigue: "Patients always say, I'm so tired. The fatigue continues even after the treatment is completed."
Relationship issues.
Difficulties with sexuality and intimacy.
Financial problems.
Trouble resuming daily activities, especially returning to work.
"Returning to work after a cancer diagnosis is an important step," noted Hinda Goodman, BSW'97, MSW'98, Survivorship Program Coordinator, Hope & Cope, Jewish General Hospital.

What's in a definition? As Ms. Hamel made clear, if patients start to see themselves as survivors at diagnosis, then they can plan accordingly: "It's important to plan for life after cancer as soon as possible."