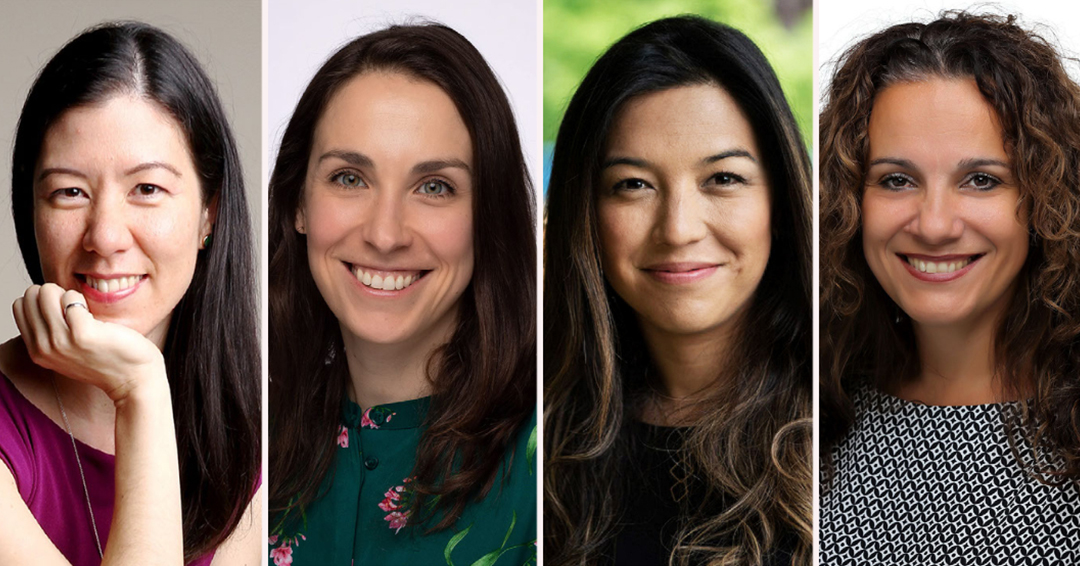 McGill's School of Physical and Occupational Health now holds the most Canada Research Chairs in its field  
The Canada Research Chair (CRC) awarded to Prof. Aliki Thomas places the School of Physical and Occupational Therapy (SPOT) in the unique position of now holding four of these coveted awards – more than any department or school of physical and occupational therapy in the country. Canada's CRC program represents a pinnacle of recognition in national research and leads the country's strategy to become a world leader in research and development for engineering and the natural sciences, health sciences, humanities, and social sciences. How have three occupational therapists and a biomedical engineer (SPOT has 31 researchers in rehabilitation science in total), been able to achieve such remarkable success on the national stage?
The openness of SPOT leadership to embrace diversity in its research, is a large factor in this success, according to Prof.  Thomas. The breadth of research being conducted at SPOT, which ranges from neuro technologies to child advocacy, takes the concept of diversity to a whole new level.  
"Diversity doesn't just come about on its own – it requires leadership with vision," explains Prof. Thomas, who is the most recent CRC recipient, but is also the faculty member who has been at SPOT the longest. "I've seen this transition over the past 25 years and it's an ideal that has been channeled by faculty, staff, and students at every level in the department." 
Prof. Thomas's CRC is in Education, Practice and Policy for Evidence Based Healthcare, and is focused on bringing stakeholders from those three sectors together to synergistically develop, implement, and test innovative knowledge translation strategies that will support evidence-based practice. "I feel that SPOT has been very open to research in this field," she explains.  
Where Prof. Thomas' research aims to ensure that research knowledge informs clinical care, the work of her colleague, Prof. Keiko Shikako, aims to ensure research knowledge informs policymaking, particularly as it relates to children with disabilities. "This is a relatively new field," explains Prof. Shikako, who holds the Canada Research Chair in Childhood Disabilities:  Participation and Knowledge Translation. "Yet for years, policy decisions have been made without this knowledge, which affects the lives of children and families."  
Prof. Shikako's research informs policy on childhood disability at municipal, provincial, federal, and international levels. She regularly presents to the United Nations (UN) Convention on the Rights of Persons with Disabilities in New York and also hosts a panel at the UN on children with disabilities. These relationships are mutually beneficial because Prof. Shikako's research is also a conduit for policy-makers to inform researchers of their needs.  
Prof. Shikako agrees that SPOT research is particularly diverse and emphasizes how the School has recruited with this in mind. She also commends the collaborative nature that exists within SPOT. "You have to have strong environmental support to be successful with a CRC application," she explains. "The program of each researcher needs to fit the strategic vision of both the university and the School – a collaborative environment is essential." 
It is collaboration, not just within SPOT, but also between departments and even separate institutions, that has helped Prof. Marie Brossard-Racine achieve success with her research, as the Canada Research Chair in Brain and Child Development. 
Prof. Brossard-Racine is investigating the underlying mechanisms of function and dysfunction in children with neurodevelopmental disorders. She uses advanced quantitative Magnetic Resonance Imaging (MRI) techniques to detect brain development concerns in high-risk populations such as those born prematurely, with a congenital heart defect or neonatal encephalopathy. This research requires her to work closely with the Neonatal Intensive Care Unit (NICU) at the Montreal Children's Hospital of the McGill University Health Center (MUHC). 
"At first, some may consider my studies better suited to a neuroscience department," she explains.  "However, insight from these studies aims to find effective intervention strategies that will enhance brain recovery and support the child's healthy development as early as possible, when treatment can produce the best outcomes." Occupational therapy (OT) is, without a doubt, the glue that binds this research program together. 
"SPOT has been incredibly supportive of non-traditional OT intervention and the leadership sees the value of using techniques that are used in other fields to redefine OT at large," says Brossard-Racine. "This has led to a diverse, collaborative group of researchers, which is a definite strength of the School." 
Prof. Stefanie Blain-Moraes, a biomedical engineer by education, brings different skills and experience to research at SPOT. Prof. Blain-Moraes, whose Canada Research Chair in Consciousness and Personhood Technology uses brain imaging to assess whether unresponsive patients, such as those in a coma or vegetative state, are actually conscious or have the capacity to become conscious. 
"Once we determine that someone can experience the world around them, the next question is how to interact with them," she explains. This is where Prof. Blain-Moraes' research becomes really innovative. The personhood technology element of her CRC grant is focused on developing communication technologies using autonomic responses, such as skin temperature, heart rate, and even the amount of sweat on the skin. 
"These kinds of cues can fluctuate in response to a range of stimuli, like emotion or someone familiar entering the room," she explains. "They are the same kind of cues used in polygraph tests, and we can use these to help caregivers tune into the needs of patients who are unable to communicate in traditional ways." Prof. Blain-Moraes's research has important implications for patients whose quality of life could rapidly deteriorate without an understanding of their needs.  
Through her engagement at SPOT, Prof. Blain-Moraes has been able to network with many other branches of health care, from hospitals to long-term care facilities. The research at SPOT highlights just how broadly applicable rehabilitation science is across all these different domains. "Manifested in all these diverse research projects, is the goal of determining the elements that make life meaningful for people and figuring out what we need to do to include, support, and create the networks that allow people to lead a meaningful life." explains Prof. Blain-Moraes. "That is at the heart of all our work."