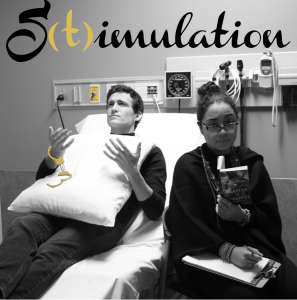 On March 19 and 20, students from the Faculty of Medicine at McGill University will bring S(t)imulation,a creative foray into the world of sex, people and ideas, to Theatre Sainte Catherine (264 Rue Sainte-Catherine Est). S(t)imulation is a collective theatre piece created and performed by McGill medical students that offers a deeply human perspective on sex, sexuality and the power of ideas to mobilize or divide us.

"Medical school can be overwhelming. There is a vast quantity of material to cover and there's a whirlwind of charged human interaction to navigate," says Mary Koziol a second-year medical student at McGill and the Producer of S(t)imulation.  "As students, we need to be able to process and unpack these experiences. We need to be able to take stock of our own perceptions, recognize our own reactions, and acknowledge underlying emotions. Writing this play as a collective, we have committed to an intentional self-discovery; an exploration of our own values and norms in the often sensitive realm of sexuality. The result, I think, is an increased level of confidence in helping patients navigate their own experiences."

S(t)imulation
features McGill medical students
Kendra Bradshaw
,
David D'Arienzo
,
Koray Demir
,
Alexandra Di Lazzaro
,
Mame Daro Faye
,
Jennifer He
,
Bahar Madani
and
Zhuyin Xu
. The play also features performances by selected McGill Medical School choir members
Emilie Daoud
,
Nadine Demko
,
Valerie Henderson
,
Brittney Elliot
and
Woojin Kim.
The play is sponsored by the
McGill Faculty of Medicine
,
the McGill Strategic Planning and Community Involvement Committee of the McGill Medical Students' Society
and the
Students' Society of McGill University.
All proceeds from
S(t)imulation
will be donated to
Project 10,
an organization that
works to promote the personal, social, sexual and mental well-being of lesbian, gay, bisexual, transgender, transsexual, two-spirit, intersected and questioning youth and adults between the ages of 14-25.
"This has been an incredible experience. I wholeheartedly believe that theatre can encourage healthy, open and productive discourse over important social issues such as sex, sexuality and sexual health," says Erin Lindsay, a theatre professional from Montreal who is serving as Director and Facilitator for S(t)imulation.  "It has been such a privilege to work with people who are so creative, so genuine and so completely invested in the future of Canadian health and well-being. It is my hope that this play will generate some form of conversation. I think stories are important and I am so fortunate to have been able to work on collecting and presenting them for this project."

S(t)imulation
is a series of stylized vignettes on the theme of sex and sexuality produced by second-year McGill medical student
Valerie Henderson
, produced and facilitated by
Mary Koziol
and directed and facilitated by
Erin Lindsay
. The piece sprung out of a series of collective workshops facilitated by
Mary Koziol
and
Erin Lindsay.
Poems, prose anecdotes, songs and monologues were submitted by McGill medical students. These pieces were then stitched into a final script that encourages an open dialogue around often stigmatized or taboo subjects relating to sex and sexuality.
S(t)imulation will play at Theatre Sainte Catherine located at 264 Sainte-Catherine Est from 3-4:30 p.m. on March 19 and 20. There will be a talk back after each show.

Tickets are $11 and can be purchased at www.s-t-imulation.eventbrite.com.

For more information visit the S(t)imulation Facebook Event Page at: https://www.facebook.com/events/1137218689668716/

All proceeds from the event will go to Project 10.

February 23, 2016